Inspectors fetch water samples from the Huaihe River at its Huaibin section in Henan Province on November 6, 2014 (XINHUA)
China, a particularly water-starved nation, is determined to tackle its severe water pollution problem.
On April 16, the State Council, China's cabinet, published the Action Plan for Water Pollution Prevention and Control, pledging to reduce pollutants, improve drinking water and promote water conservation.
Targets for improvements by the end of 2020 include reducing the amount of severely polluted water and preventing the spread of groundwater contamination.
According to the plan, more than 70 percent of the water in the nation's seven major river valleys, including the Yangtze and Yellow rivers, are to meet the standard by 2020. The same target is set for offshore areas.
By the end of 2030, more than 75 percent of the water in the seven major river valleys should be clear, with dark and odorous water in urban areas eliminated.
The plan also called for preservation of the country's wetlands, mangrove swamps and coral reefs. Aquatic reserves should be better protected, it emphasized.
"The government's efforts to combat water pollution have been focused on major river valleys. The new plan has more comprehensive and systematic coverage with the inclusion of small water streams," said Wang Dong, a research fellow with the Chinese Academy for Environmental Planning.
The goals set out in the plan are ambitious and require prolonged efforts, particularly where it concerns heavy metal pollutants which are difficult to remove from water, commented Mu Jianxin, a senior engineer from the Department of Irrigation and Drainage with the China Institute of Water Resources and Hydropower Research.
Water pollution is one of the many critical environmental issues plaguing many parts of China today, especially since it threatens the public's health and the nation's economic development.
According to a report released by the Ministry of Environmental Protection (MEP) in June 2014, some 60 percent of ground water checked by 4,778 monitoring stations were rated as bad or very bad.
It said that 40 percent of the water in the seven major river systems is polluted and unsafe to drink and 17 of 31 major freshwater lakes are moderately or slightly polluted, including China's two biggest lakes, Poyang and Dongting, both of which also have shrunk significantly compared to the area they covered at their recorded peaks.
Furthermore, a new report published by the Ministry of Land and Resources on April 23 showed that over 60 percent of monitored areas suffered from very poor or relatively poor water quality in 2014.
The ministry monitored water quality at 4,896 spots in 202 cities across the country last year. Underground water quality was ranked relatively poor in 45.4 percent of spots and very poor in another 16.1 percent in 2014.
Groundwater is the main source of drinking water in many cities, including Beijing, where 40 percent of drinking water came from underground supplies last year.
According to China's underground water standards, water of relatively poor quality can only be used for drinking after proper treatment. Water of very poor quality cannot be used as source of drinking water at all.
Experts say the new comprehensive plan has created a blueprint to alleviate the worsening water problems.
According to the plan, a number of small factories in sectors including papermaking, iron and steel, pesticides, and tanning will be shut down by the end of 2016, as they lack the resources to ensure they are environmentally sound. Bigger plants in these sectors must update their technology to meet emission requirements.
From 2016, a blacklist will name businesses that exceed their pollutant quota, with severe violators risking the possibility of closure.
Pollution checks will be conducted every year and the results will be part of performance reviews for provincial officials. Those who fail to handle water pollution incidents effectively and those who fabricate statistics will be disciplined or demoted. Retired officials will still be pursued for their derelictions of duty when in office, even after they have left their posts.
Meanwhile, the distribution of funds will also depend on the results.
"The definition of the responsibilities for local officials showcased the determination of central authorities to thoroughly curb the water problems. It is the most powerful part of the plan," said Xia Guang, Director of the MEP's Policy Research Center for Environment and Economy.
Multiple government departments and agencies are involved in executing the plan and monitoring the progress.
"There will be challenges in communication and cooperation between the MEP and the Ministry of Water Resources (MWR), as the two departments adopt different priorities when it comes to environmental protection," said Liao Wengen, Associate Chief Engineer with the Institute of Water Resource and Hydropower Planning and Design under the MWR.
The new plan came after the Central Government vowed in March last year to spend over 70 billion yuan ($11.42 billion) to implement a clean water action plan, strengthen the protection of drinking water sources and prevent water pollution in key river basins.
Cleaning up rivers
As the new plan gains momentum, the health of the nation's rivers is due for a thorough examination over the next few years.
The plan sets specific targets for the cleanliness of the country's seven major rivers, including the Yangtze, Yellow, Zhujiang, Songhuajiang, Huaihe, Haihe and Liaohe rivers.
Over the last few decades, industrialization, urbanization and rapid population growth have taken their toll on China's already rare freshwater resources. MEP reports showed that half of China's important lakes and around 40 percent of major rivers are polluted.
According to a special program on water contamination broadcasted by China Central Television in 2014, sample tests of the seven major waterways showed traces of antibiotics, with the Pearl River in south China being the most severely polluted.
According to the plan, it aims to make more than 93 percent of the water supply to cities suitable for drinking by 2020.
"The quality of water sources is deteriorating. To ensure safe drinking water, we must focus on treating water sources," said Wang Hao, an academician with the Chinese Academy of Engineering.
The action plan is just one small step in the right direction, but it won't be easy to clean up China's most polluted rivers.
The Haihe River in the heart of Tianjin Municipality is among the worst. According to a 2013 report by the city, 72.7 percent of water in the Tianjin section is badly polluted.
Zhang Kai, Director of the Tianjin Research Institute for Aquatic Environment, said the river suffers from a severe water shortage. "Per-capita resources along the river have been just over 100 cubic meters for years, compared to 300 in Israel, a country famous for water shortages. Quantity and quality of water are closely related," he said.
Bao Jingling, former chief environmental protection engineer in Tianjin, said, "The shortage of water has led to accumulation of industrial, agricultural and household pollution in the river basin. The pollution is often washed into the city streets by torrential rain."
Pollution control on the river has been obstructed by a lack of collaboration between government departments. An unwritten rule states that water departments deal with problems of water, while the environmental protection departments take charge of pollution on the shore. When pollution in a waterway originates on the riverbank, the division of responsibility is a problem.
The 1,000-km Huaihe River, which crosses five provinces, has been classified as "severely polluted" since the 1990s. Thanks to a national pollution control campaign in place for 20 years, water quality has improved somewhat, but the situation remains grave.
Wang Jiaquan, a professor with the School of Resources and Environmental Engineering under Hefei University of Technology in east China's Anhui Province, said that while water in the main stream of the Huaihe River has become clearer, nearby tributaries and lakes have not received enough attention, so parts of the river are still in a poor state.
On a recent fact-finding mission, media reporters visited a tributary of the Huaihe River in Anhui and found it covered in white foam and dead weeds with a foul smell. Local farmers said the smell is especially bad in summer and people who wade in the river develop a rash.
The problem is not localized to this one spot however, as many tributaries face similar issues. The main streams of rivers are often given more attention than tributaries and lakes. It will be important to attach just as much importance to tributaries in order to hit the new targets, Wang said.
"The response of the local governments to the plan matters," he said. "Can local authorities come up with detailed and feasible policies?"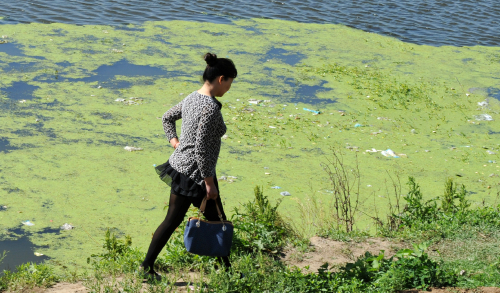 A woman walks along the semi-polluted Lianjiang River, a branch river of the Huaihe River going through Zhumadian, central China's Henan Province, on May 12 (XINHUA)
Targeting major industriesTo curb polluting sources, the action plan will put tough controls on polluting industries with emission limits and provide stricter supervision from authorities and the public.
A series of detailed regulations will need to be released to make the guidelines operable, experts suggested.
Emission of water pollutants will continue to grow, but more slowly, and the tipping point for the overall improvement of water quality has not yet been achieved, said Chen Ming, Deputy Director of the Water Resource Bureau under the MWR.
He estimated that peak water consumption will be reached around 2030 and will be held at 700 billion cubic meters annually.
The plan lists 10 major polluting industries that will have targeted emission reductions.
The industries are papermaking, coking, nitrogenous fertilizer, nonferrous materials, printing and dyeing, agricultural and sideline products processing, the manufacture of drug substances, leather making, agricultural chemicals, and electroplating.
All the outdated capacity in these industries will be phased out, and projects will be restricted to reduce emissions of water pollutants.
Mu with the China Institute of Water Resource and Hydropower Research predicted the plan may encounter resistance from industries and local governments out of concern over potential loss in profits.
"Industries like iron and steel are pillar industries in some provinces. The need to update their machinery will raise their production costs and may even stall economic development in their region," Mu said.
Li Jie, a researcher in environmental science and engineering with Shanghai-based Tongji University, said the action plan will affect polluting enterprises in the short term, but they must face up to closer environmental scrutiny of their operations.
Many small plants operate without any pollution controls or treatment. It is these operations that will be hit hardest.
Meanwhile, Li said, the action plan will bring business opportunities to green industries, as enterprises are pushed to take more responsibility for their emissions, driving the demand for equipment designed to limit pollution.
According to the MEP, implementation of the new measures will increase the GDP by 5.7 trillion yuan ($929.85 billion) and create 3.9 million urban jobs.
Sewage treatment businesses will be the first to benefit, said Li, referring to the plan's target to see dark and odorous water in urban areas eliminated by 2030.
Xia, with the MEP's Policy Research Center for Environment and Economy, said the action plan will create new customers for both domestic green enterprises and foreign ones.
Foreign firms have already taken a sizable share of the pollution treatment market.
Furthermore, there will also be efforts to improve water consumption efficiency in industrial production, according to the action plan.
The water consumption per dollar value of industrial value-added was at least two times that of developed countries, and the effective utilization of water in irrigation was 0.52, lower than the world average of 0.7, according to the MEP.
The plan also outlines principles to prevent and control pollution for underground water, bays, rivers and lakes, laying the foundations for management of water pollution, noted Wu Shunze, Vice President of the Chinese Academy for Environmental Planning. There will be a series of detailed regulations to follow, he said.
According to the plan, governments are required to release water quality statistics regularly to the public. Cities will make the data public in 2016, and all counties will release the numbers in 2018.
There is a long way to go to reach the goal, considering the majority of cities do not provide the information, but it is not hard to achieve with the help of comprehensive efforts in the implementation of the action plan, Wu said.
Social capital encouraged
The Chinese Government plans to encourage more social investment to team up with the government in water pollution prevention and control, according to a guideline issued on May 6.
The efforts will first focus on drinking water sources and additional water pollution prevention. In addition, control will be opened for public investment, said the guideline, jointly issued by the Ministry of Finance and the MEP.
Water pollution prevention and control, including river protection, drinking water safety and environmental monitoring, currently depend on government investments.
The guideline encourages public-private-partnership participation in water pollution prevention and control areas; and requires clarifying boundaries for projects, improving return mechanisms and standardizing operating procedures.
"The government will offer more preferential financial policies to support project operation and reward outstanding performers," said Zhao Hualin, a senior financial official with MEP.
Expanded investment will help intensify the government's fight against water pollution and implement the Action Plan for Water Pollution Prevention and Control, said Zhao.
However, water pollution control projects are always time-consuming and highly reliant on investment.
A single water pollution control plant might cost thousands of millions of yuan. Some analysts expect total investment would reach 4-5 trillion yuan ($653-816 billion) if the outlined targets in the Action Plan for Water Pollution Prevention and Control are to be met in 2020.
Meanwhile, most water clean-up projects only offer returns of 8-9 percent, while the financing cost for private firms from the banks could reach more than 7 percent.
"High cost and low returns have turned many private investors away, and the whole mechanism is more administration-controlled than market-driven," said Chang Jiwen, Deputy Director of the Research Institute for Resources and Environment Policies under the Development Research Center of the State Council, China's cabinet.
Chang suggested the government lower the investment cost and threshold for social capital to make water pollution control an affordable and profitable business.
"Banks and other financial institutions can roll out innovative environment-related financial products such as stocks or bonds to expand financing channels," Chang said.
Copyedited by Kieran Pringle
Comments to yinpumin@bjreview.com