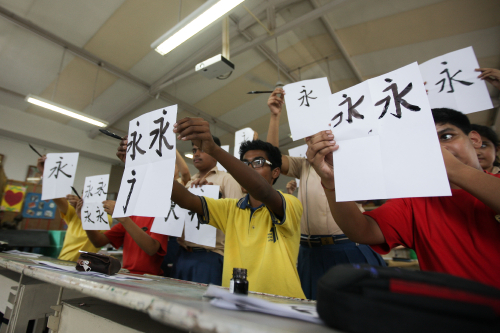 Indian students at Tagore International School in New Dehli show off their Chinese calligraphy works on September 16, 2014 (XINHUA)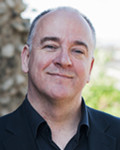 In their book An Uncertain Glory published in 2013, India's Nobel Prize winner in economics Amartya Sen and his compatriot scholar Jean Dreze compare the different developmental trajectories of India and its neighbor, China. They show that while India has maintained political stability across its complicated and diverse landmass and population since independence from the British in 1947, its developmental challenges remain huge.
One area they look at in detail is healthcare, where they show a wide disparity in provision across India's states. Malnutrition remains tragically all too common. Basic healthcare is often lacking, never mind quality urban hospitals. Perhaps most important of all, in education--largely agreed by economists to be one of the most crucial areas for investment for the global future--India is able to produce world-class students, constituting perhaps 1 percent of its population under 35, and yet it still suffers large levels of illiteracy, especially amongst the rural poor and females, where discrimination prevails even today.
Amongst the BRICS group of emerging economies (Brazil, Russia, India, China and South Africa), India has the lowest per-capita GDP, coming in at a quarter of that of Russia, and half of China. Its population growth is likely to make it the world's most populous nation by the middle of the next decade. In contrast to this, its annual GDP increase has been patchy over the last decade, sometimes over 7 percent, but more often hovering around 5-6 percent. Foreign enterprises complain of bureaucracy, corruption and a complex legal system that, while ultimately reliable, swallows up large amounts of time to deliver judgment.
The People's Republic of China, founded two years after India became independent in 1947, faced many of the same developmental challenges as India in the early years. Life expectancy in 1949 in China was just over 30 years. Illiteracy was widespread. Unsurprisingly, over a decade of war, first against the Japanese, and then the civil war from 1946, had left much of the country's infrastructure destroyed. The new government had to spend most its first decade in power establishing a reconstruction plan. More than 65 years on, most would agree that, with their economy three times that of India, China's development model had proved more successful. Life expectancy, literacy, food supply, and most other human development measures put China in front. This is not to deny that India has made big strides--it is just that China's have been bigger.
India and China's political relationship, despite common ground shared by the developmental challenges they both face, has never been a straightforward one. Border disputes erupted into military conflict in the early 1960s. Over the next few decades, the relationship was a distant one. During the 1990s, however, as India started to wrestle with some of its more entrenched economic challenges, it looked at some of the reforms that China had undertaken since 1978, and the basis for a closer dialogue came about.
India has never tried simply to copy what China has done. As one economist described to me in Beijing in 2009, it would be more accurate to say that China's experiences of development had many things that other developing countries could look at, and many in India have done this. There were also things in India that China has studied, from its success at creating hi-tech industries, to aspects of its educational system regarding its top-level students. Almost inevitably, the two have slowly grown closer.
In terms of population, India and China constitute almost a third of all the people in the whole world despite being only two countries. Their transition to more developed economic models and the emergence of a middle class in both countries that could become the source future GDP growth have inevitably attracted attention. Political leaders, business people and analysts outside these two nations have tried to work out a framework that can place the two countries closely together and help make sense of them. Such a framework has proved elusive. Saying they are both part of Asia simply recognizes a geographical accident. Culturally, politically, ethnically and linguistically they could not be more different. Their legal, business and social systems are dissimilar. There are many more Chinese now who have taken the long journey to Europe or the United States than who have made the relatively short trip to India. And while Australians and Africans are all keen to start learning Mandarin, finding Chinese speakers in India is surprisingly difficult.
Perhaps the easiest common framework to place the two countries in is simply to see them as the world's largest and most dynamic emerging economies that are modernizing their infrastructure and economic systems in order to deliver better living standards to their huge populations, albeit in different ways. A challenging decade from the early 2000s led India to try to promote more growth through trade liberalization, more openness to the global economy, and marketization, things China had started in the late 1970s. Even so, for India the results in the early days were sometimes underwhelming. The election of Narendra Modi as prime minister in 2014, who gained one of the largest mandates ever granted to an Indian leader, was a sign that the population wanted to see a different approach, less talk and more action. Modi attacked two things in his first year--corruption and bureaucracy.
These two targets are similar to those that Modi's neighboring Chinese President Xi Jinping has also focused on. The other issue they have in common is unleashing sources of growth against an increasing more challenging domestic and global environment. The low hanging fruit is now largely harvested in. From now on, for India and China, every percentage of GDP growth will be won as a result of greater effort, with more focus on sustainability and efficiency. Like China, India too has a grave environmental situation. Unlike China, however, its policy response has lacked coherency. There has been no U.S.-India carbon emissions deal along the same lines at that Presidents Obama and Xi signed in late 2014.
The visit by Xi to India in 2014 at least set out the new parameters for a relationship that was becoming more diverse and deeper. China and India in fact have great potential. Their intellectual engagement could increase dramatically. Their dialogue can only be enhanced. In terms of local governance, public health, security, and the creation of welfare systems, both countries are able to speak a much more shared language than current partners like the EU or the United States where they are at different stages and need to face different issues. The governments of China and India both need to focus on a large, diverse and increasingly expectant population, ones that want the benefits of development as quickly as possible. Inequality is a major issue in both, along with disparities between regions, not to mention rural and urban places. Xi signed a major trade deal with India while in New Delhi last September. Modi's visit to China this May will no doubt see similar deals announced.
The standard narrative is that in some ways China and India are competitors, vying to be the dominant economy of the coming century. This "winner takes all" interpretation ignores the fact that for both, finding and developing opportunities within and between each other's economies will almost certainly be as, if not more, important than working with the current standard partners like the United States or the EU. India and China do surprisingly little trade with each other. This has to increase. On the whole, India runs a deficit with China, importing far more than it exports. That too is likely to change. In terms of services provisions to each other, there is almost nothing at the moment. It is an anomaly that two such vast economic spaces don't have more services links. In this context, a comprehensive free trade arrangement would help unleash new opportunities for growth for both. In that sense, they will move from being part of a story of potential competition to one of deep partnership.
This notion of partnership is not one the outside world associates with China and India at the moment. It understands them in separate ways and tends to view them competing, not co-operating. Modi's May visit offers a great chance to reframe that story, and push the idea of India and China being partners much more to the forefront. This is no more than recognizing what was there right at the start, in the 1950s, when they were more closely associated with each other. Despite their differences, the benefits of them being partners far outweigh the disadvantages. With a bit of trust, the China-India partnership would be one of the most important of the modern era. Under this framework, talking of which one will ultimately prevail and dominate the future becomes redundant. Together, they can both reach new heights.
The author is an op-ed contributor to Beijing Review and executive director of the China Studies Center at the University of Sydney
Copyedited by Kieran Pringle