OPINION
Protection No More
China's traditional manufacturing industries have been cornered into a desperate situation--it's either change or die.
The Ministry of Finance said in a statement on May 25 that China would slash import taxes on some consumer goods, including skincare products, Western-style suits, ankle-high boots and diapers, by more than 50 percent on average starting on June 1.
The decision follows a statement by an executive meeting of the State Council on April 28 that it would look into reducing import tariffs on some consumer goods on a trial basis.
This round of tariff reduction is mainly for imports from traditional manufacturing industries. Taxes on Western-style suits and fur garments will be reduced to 7-10 percent from the current 14-23 percent. Import tariffs on ankle-high boots and sports shoes will be halved to 12 percent from the current 22-24 percent, while import taxes on diapers and skincare products will drop to 2 percent from 7.5 percent and 5 percent, respectively.
The tariff cut is evidence of the Chinese Government's determination to adjust its economic structure toward one that is more consumption-based. However, it's bound to deal a heavy blow to domestic traditional manufacturing products reliant on low-price strategies.
Although the number of products affected by the tariff cut only accounts for a small proportion of all imported goods, it's been a clear signal that days ahead for the country's low-end manufacturing industries will only get tougher.
China's excessive capacity in low-end manufacturing industries is being gradually transferred to Southeast Asian and South Asian countries, and any policy change would determine the viability of those businesses. For instance, the average price for plastic shoes exported from China dropped 5.5 percent year on year to $2.3 a pair in April 2010, the lowest level since 2009. The best-selling low-end plastic shoes was priced at only $1.7 a pair on average during the first four months of 2010. Those low-end manufacturing businesses used to count on tax rebates in the face of price declines. Now, the tax rebate policy has been changed and import tariffs for foreign products have been lowered. Those businesses need to find a new way to survive.
As painful as the process may be, it's an opportunity to be reborn. Any traditional businesses that fail to catch up will be eliminated from the market, giving way to new businesses that are in possession of new technology and brand.
Slashing tariffs is part of China's opening-up process. Since it's an inevitable trend for the decline of China's comparatively low-cost advantage, the country might as well open up the market wider to let indigenous businesses get used to severe competition with their foreign counterparts.
China levies three types of tariffs on imports from different countries--90 percent of tariffs on imports from countries that have signed bilateral free-trade agreements (FTAs) with China, such as Switzerland and New Zealand, will be gradually paired down to zero; WTO member countries enjoy most-favored-nation treatment when exporting to China; for those non-WTO member countries that haven't signed FTAs with China, ordinary tariffs are levied. Take the electric cooker for instance--the tariff rate is 15 percent for most favored nations but ordinary tariffs for non-WTO members could go as high as 130 percent.
Anyhow, tariffs can hardly protect those industries that are doomed to decline. Exorbitant tariffs have driven cash-rich Chinese to splurge during their overseas travel trips or to buy foreign products online through e-commerce platforms.
Another challenge faced by domestic manufacturing industries is the appreciation of the Chinese currency--the yuan--along its globalization process. Despite outcries from these manufacturing companies, it's highly unlikely that China would let the yuan depreciate sharply to trade for the survival of traditional manufacturing industries.
The manufacturing industry is mired in more difficulties than ever. Small changes can hardly make a difference and an all-round revolution in technology and branding is required to do the job. It's a test for those businesses, as well as the government.
This is an edited excerpt of an article by Ye Tan, a financial commentator, published in the National Business Daily
NUMBERS
2.6%
Profit growth for Chinese industrial enterprises above the designated size--principal business revenue of more than 20 million yuan ($3.15 million)--in April, reversing the 0.4-percent dip in March
100 bln yuan
Value of a subway transportation fund set up by Chinese real estate giant Greenland Holding Group, together with China Construction Bank and a number of partners on May 26, in a bid to support the construction of transit lines in Chinese cities
6.1%
Decrease of coal production in China in the first four months of the year, as the impact of the government's clean air and renewable energy policies began to weigh down the industry
69.58 mln tons
Crude oil output in China in the first four months, a year-on-year increase of 1.6 percent
$1.31 mln
Compensation that China Railway Construction Corp. is expected to receive after a high-speed rail project it won in a bidding process in Mexico last year was suspended for four months
504 mln yuan
Amount of money that Duzhe Publishing & Media Co. Ltd., the publisher of China's most popular magazine The Duzhe (Readers), plans to raise in its IPO on Shanghai Stock Exchange
56,339 yuan
Average income of urban Chinese who work in public sectors in 2014, up 7.1 percent, adjusted for inflation
36,390 yuan
Average income of urban Chinese who work in the private sector in 2014, up 9 percent, adjusted for inflation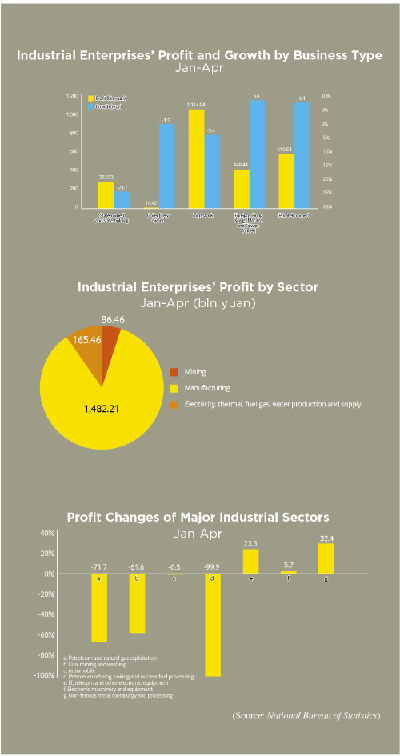 Copyedited by Kylee McIntyre
Comments to yushujun@bjreview.com