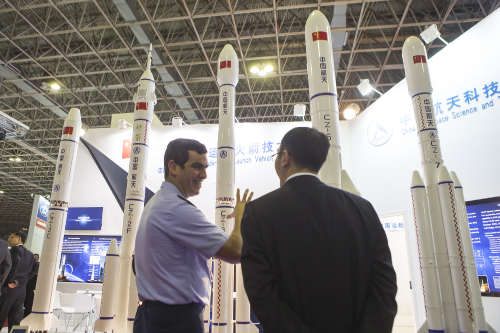 A visitor talks with a Chinese staff member about the Long March carrier rockets in an exhibition held in Rio de Janeiro, Brazil, on April 15 (XINHUA)
In the plant of a hi-tech company in south China's Shenzhen, rows of mechanical arms polish and burnish soon-to-be mobile phones. "The process, which needed 650 workers engaged in manual grinding, now can be mastered by 60 workers with these robotic laborers in service," said Xiang Sheng, General Manager of Shenzhen Everwin Precision Technology Co. Ltd.
Aside from reduced worker costs, the resulting products' quality also turns out to be more gratifying and stable. The reject ratio of manual and mechanical grinding is 25.2 percent and 4.5 percent, and for every set of equipment, the production capacity of manual and mechanical grinding is 8,599 and 21,511, respectively, according to company statistics.
That's just a miniature of China's endeavors to upgrade from low-end to mid- and high-end manufacturing. On May 19, the State Council unveiled a national plan, dubbed Made in China 2025, which calls for green, intelligent manufacturing, with a focus on quality and Internet integration. The plan aims to lift China from its current position as a powerhouse to a superpower in the manufacturing industry.
With a basic principle of being innovation-driven, focusing on quality, seeking green development, pushing structural improvement and talent foremost, China now eyes for a complete transformation by 2049.
To be a manufacturing powerhouse, a nation needs to maintain the enormous size of its manufacturing sector and rapid industrial expansion. To grow into a manufacturing superpower, an emphasis should be laid on production efficiency and competitiveness, said He Jun, an expert at the Institute of Industrial Economics of the Chinese Academy of Social Sciences.
Miao Wei, Minister of Industry and Information Technology outlined the nation's four advantages in realizing its ambition. "China has a huge market and vigorously growing market demand, a bunch of vibrant enterprises, a long-term guideline for the development of its manufacturing sector, and myriad of high-quality professionals."
Innovation is key
"In a broad sense, innovation is conducive to the elevation of competitiveness, creativity and productivity. As far as the Made in China 2025 plan is concerned, the recipe of vitalizing the manufacturing industry lies in technological innovation," said Vice Minister of Industry and Information Technology Mao Weiming, who advocates the establishment of an innovation system encompassing production, learning, research and application.
As Mao pointed out, China now frowns upon its large but not strong manufacturing industry, because there has been a lack of independent innovation capacity and the most core technologies are still controlled by foreign giants.
"Take chip manufacturing for example. Currently, 80 percent of chips used in Chinese-made products were produced by overseas companies. Most Chinese enterprises in this trade are located at the low end of the value chain, such as processing and assembling," said Mao.
By making breakthroughs in core technologies encompassing the upstream and downstream of strategic emerging industries which are vital to the elevation of industrial level, China will gradually climb to the mid- and high-end of the value and industrial chains, said Zhang Monan, an associate research fellow at the China Center for International Economic Exchanges.
Beyond that, an innovation chain should be put in place to shore up traditionally predominant industries, and enterprises that have core and key technologies under their belts should be encouraged to unite their best resources to drive the transformation and upgrading of these industries, Zhang added.
Quality and brand valued
China lacks globally influential multinationals and brands, and quality scandals occur from time to time, said Mao. "Considering that, priority should be given to improving brand and quality."
Sha Nansheng, Deputy Director of the Science and Technology Division of the Ministry of Industry and Information Technology (MIIT), said that a focus should be put on quality to surmount the bottleneck China's manufacturing industry faces.
For one thing, the nation is highly dependent on the importing of key material, components and core systems in fundamental areas, because domestic products are not trustable in terms of quality and reliability; for another, its design and manufacturing of high-end industrial products are also inferior to those of developed countries.
Sha argued that the high quality of products also contributes to the sustainable and stable development of the manufacturing industry. To stimulate demand and consumption, efforts should be made to increase the added value of products, which can be secured through better product performance.
"In fact, what prop up German's Industry 4.0 are quality and brand, which are also the essence of a leading manufacturing power. Without them, China will be ousted from the position of manufacturing giant and steer away from its eventual goal," said Sha.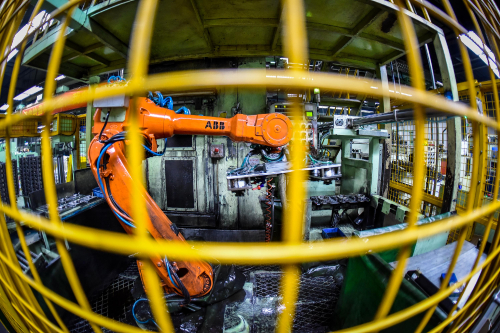 A mechanical arm operates in a Midea Group factory in Guangzhou, capital of south China's Guangdong Province (XINHUA)
Intelligent manufacturing
The Made in China 2025 plan considers intelligent manufacturing an effective approach and major direction.
"Since most industrial robots are program-controlled at their current stage, if they are operated incorrectly, workers may get injured. If artificial intelligence is added into them, they will stop operation when people stride over safe distance," said MIIT Minister Miao, noting that it's of paramount importance to combine informationization with industrialization in this process.
In the massive transformation, intelligent manufacturing needs to be promoted as a revolutionary production model in three aspects--developing intelligent equipment and products, intelligentizing every manufacturing process, and fostering new industrial patterns, said Luo Wen, President of the CCID Research Institute of the MIIT.
Li Dong, Deputy Director of Equipment Manufacturing Division of the MIIT, noted that the practice of intelligent manufacturing will significantly boost production and resource utilization efficiency. Meanwhile, the lead time, operating cost and reject ratio of products will drop considerably.
There are concerns that the intelligent production model will reduce the supply of jobs, which is overruled by Li. For a single enterprise, the realization of intelligent manufacturing will substantially cut the quantity of labor force and improve the quality of manpower. From the perspective of the entire manufacturing sector, the labor market will probably undergo a structural reshuffling. More specifically, labor force will flow from processing and manufacturing to producer service sectors.
While Industry 2.0 and 3.0 mean electrification and automation respectively, Industry 4.0 is interpreted as intelligentization, As a matter of fact, some Chinese enterprises are still struggling to realize electrification, indicating that the status of manufacturing development is quite uneven. "Only by carrying out this process in steps, giving different guidance and applying different measures to enterprises at different development levels can intelligent manufacturing be correctly transitioned into reality," said Li.
The other day, the MIIT affirmed that a total of over 30 intelligent manufacturing pilot programs will be jump-started this year, and the program's scope will be expanded holistically in 2017.
Alongside the Made in China 2025 strategy, an Internet Plus plan was also put forward to promote the deep integration of informationization and industrialization.
As mentioned in the plan of Made in China 2025, to accelerate the development of intelligent equipment and products as well as propel the intelligentization of production processes, China needs to expand the application of the Internet in the manufacturing sector and strengthen Internet infrastructure construction.
"It's not a rigid combination of manufacturing and the Internet; rather, it's a complete integration of the two, which means that new information technology will be employed to improve the model of production, investment, management and business," said Gong Xiaofeng, Director of the MIIT's Center for International Economic and Technological Cooperation.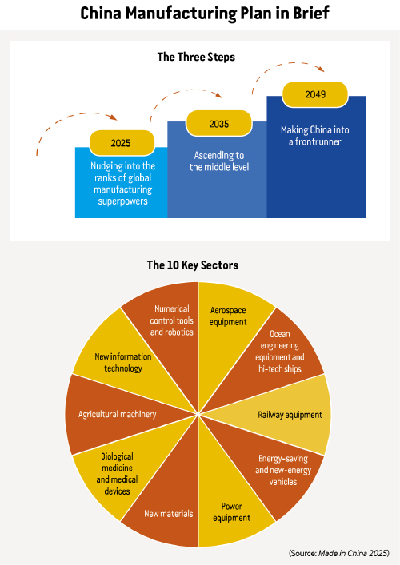 Copyedited by Kylee McIntyre 
Comments to dengyaqing@bjreview.com