OPINION
Credit Is an Important Asset
Under the "new normal" of the Chinese economy, the circumstances for real estate development, major project investment and investment promotion are undergoing changes. (Note: The "new normal" of the Chinese economy means the economy has shifted gear from previous high speed growth to medium-to-high speed growth; the economic structure is constantly improved and upgraded; and the economy is increasingly driven by innovation instead of investment.)
The focus of competition among regional economies is also shifting from "hard factors" to distinctive features and a favorable environment.
Distinctive features can be reflected in urban construction, cultural atmosphere, industries and resources. A favorable environment denotes a combination of ecological balance, comfortable living conditions, satisfying public services, propitious industrial development, sufficient human resources and good credit.
In the future, a region's competitiveness, to a large extent, will come from distinguishing features and the overall environment, instead of the input of "hard factors" like preferential tax policies, intense investments and industrial parks.
Therefore, local governments should shift their focus from stimulating the market and encouraging project investment to fostering their own features and providing a favorable environment.
A featureless region with a bad overall environment will find it hard to win sustainable development or attract talent, enterprises and investors to settle down.
It's expected that the local environment will become increasingly important in the competition among regions during the 13th Five-Year Plan period (2016-20).
In terms of environment construction, local governments are used to valuing a tangible rather than intangible environment. For instance, they tend to pay much attention to afforestation, ecological and urban environment, infrastructure and supporting facilities.
Many local governments have been improving their services, which belong to the intangible environment, but another important factor of the intangible environment—the credit environment—has often been ignored.
The credit environment of a region not only has to do with the credit of individuals and enterprises but also with that of the government. In most cases, government credit is of paramount importance to the local credit environment.
In the days when local governments never worried about project financing and investment, the credit environment seemed not so important. However, things have changed since the economy entered the "new normal."
Local governments should deem credit as part of their assets. These days, intangible assets like the credit environment are playing a dominant role over tangible assets such as resources, land, infrastructure, industrial parks and transportation facilities in attracting investment.
Specifically, northwest China lags behind southeast coastal regions in credit building, which is basically in line with their development level of market economy.
According to my knowledge, a southeastern enterprise once reached a deal with a northwestern state-owned enterprise (SOE) affiliated to the local state assets authority to jointly purchase and market Xinjiang-grown quality cotton. A coastal joint-stock bank was resorted to provide financing services for the two companies and had provided loans amounting to hundreds of millions of yuan. Yet, when the SOE manager and head of the local state assets authority were arrested for corruption, the local state assets authority tried to get rid of the debt by claiming the bankruptcy of the SOE. Out of this ulterior motive, the local state assets authority even mobilized economic police to investigate the case under the pretext of signing fake contracts. The joint-stock bank hasn't got back the money despite numerous attempts. If the hundreds of millions of yuan turns into bad loans, the bank will suffer a lot and reputation of the local government will also suffer, which will undermine the future development of the region.
Credit is essential to a market economy. While "hard factors" competition is cooling down, the status of "soft factors" is ascending. For this reason, local governments should safeguard their credit the same way they do to their tangible assets.
This is an edited excerpt of an article by He Jun, a research fellow from Anbang Consulting, published in Securities Times
NUMBERS
$45.41 bln
Outbound direct investment in non-financial sectors from the Chinese mainland in the first five months, up 47.4 percent year on year and covering 3,426 overseas-based companies across 146 countries and regions
6.1%
Growth of China's industrial output in May, up from 5.9-percent growth in April and 5.6-percent growth in March
100,000
Forecasted increase in the number of tourists to northwest China's Xinjiang Uygur Autonomous Region because of the expanded train routes this year
$42.5 bln
Value of China's service outsourcing contracts in the first five months, up 6.3 percent year on year
$10 bln
Amount of investment promised by Cisco Systems Inc., the U.S. multinational technology company, to China on June 18 to support local innovation over the upcoming several years
17.12 tln yuan
China's fixed asset investment in the first five months, a surge of 11.4 percent year on year
1.62 mln
Number of newly registered businesses in China in the first five months, a year-on-year jump of 22.9 percent
$7.5 bln
Chinese companies' investment in the overseas commercial and residential real estate market in the first quarter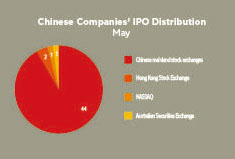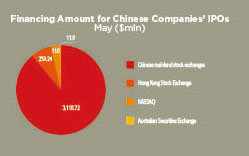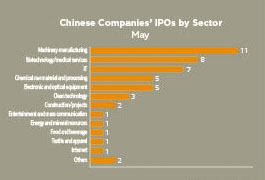 Copyedited by Kylee McIntyre
Comments to yushujun@bjreview.com