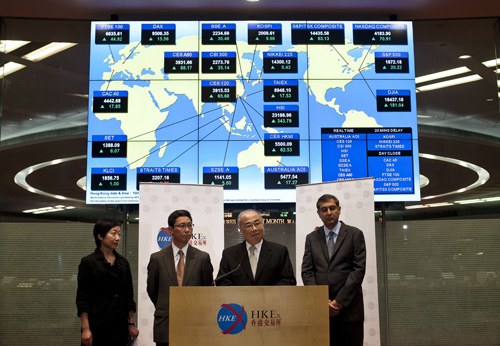 NEW TRADE: Chow Chung Kong (second right), Chairman of Hong Kong Exchanges and Clearing Ltd., is present at a press conference on April 10 for the inauguration of Shanghai-Hong Kong Stock Connect (LU XIAOWEI)
The China Securities Regulatory Commission (CSRC) and the Securities and Futures Commission of Hong Kong (SFC) jointly announced on April 10 that Shanghai Stock Exchange and the Stock Exchange of Hong Kong Ltd. will enable investors to trade eligible shares listed on the other's market through local securities firms or brokers. It should take approximately six months to complete the preparation for the formal launch of Shanghai-Hong Kong Stock Connect.
That is to say, investors from the mainland will be able to trade Hong Kong-listed shares through the Shanghai market as of October, and investors from Hong Kong and foreign countries will also be able to trade Shanghai-listed shares through the Hong Kong market. This is a solid step for China's capital market to go global, a goal to which it has aspired since the early 1990s.
China has two stock exchanges, in Shanghai and Shenzhen, respectively. At a press conference on April 11, the CSRC spokesman Zhang Xiaojun said that the fact that the Shenzhen Stock Exchange is not included in the pilot program for the time being owes to the considerations related to the desire to open up China's capital markets steadily.
Shanghai-Hong Kong Stock Connect is an important step in promoting the internationalization of China's capital markets, for which the relevant mechanism arrangements are yet to be implemented in practice. Initially, it is more prudent to develop a pilot program operated by the Shanghai and Hong Kong exchanges. Moreover, since the gap in valuation is not significant between the Shanghai and Hong Kong markets, Shanghai-Hong Kong Stock Connect will have less impact on their respective market valuation levels, which is helpful for a smooth start for the pilot program.
Zhang elaborated that based on the pilot experience of Shanghai-Hong Kong Stock Connect, the Shenzhen and Hong Kong markets will be better positioned to independently explore various forms of partnership, including mutual stock market access, from a higher starting point.
Qi Bin, director of the CSRC's Department of Innovative Business Supervision, said Shanghai-Hong Kong Stock Connect will help reevaluate stock pricing for both locations, raise the revenue for securities companies from the brokerage business and offer a channel for overseas investors to directly invest in stocks on the Chinese mainland. In the meantime, it also opens a channel for domestic investors to invest in international corporations.
Wang Yong, a macroeconomic analyst with CITIC Securities Co. Ltd., said under the condition of capital flow control, overseas investors have to rely on the programs of qualified foreign institutional investors (QFII) and renminbi qualified foreign institutional investors (RQFII). However, quotas for QFII and RQFII are very small. Therefore, China's A-share market is a closed market only available for domestic investors. Shanghai-Hong Kong Stock Connect will ultimately change the participants in the A-share market where foreign investors can also trade through securities companies in Hong Kong.
Promoting the yuan
At the April 11 press conference, Zhang made it clear that Shanghai-Hong Kong Stock Connect allows only yuan as its trading currency and thus investors have to invest with yuan funding.
The joint announcement of the CSRC and SFC says Shanghai-Hong Kong Stock Connect will enable mainland investors to directly participate in the Hong Kong stock market by using yuan and expanding investment channels for offshore yuan funds, thus facilitating an orderly flow of yuan funds between the two markets. It will also help the development of Hong Kong as an offshore yuan business center and promote the yuan's internationalization.
Zhao Xijun, vice dean of the School of Finance of Renmin University of China, said as yuan's "going-global" process has accelerated, Hong Kong has become the world's biggest offshore market of the yuan. But investors have few channels to invest with the offshore yuan, slowing down the process of the yuan becoming an international currency. Shanghai-Hong Kong Stock Connect is conducive to setting up a smooth channel for offshore yuan to become onshore.
However, since Hong Kong-listed shares are denominated and traded in Hong Kong dollars, how can investors directly invest in Hong Kong-listed shares with the yuan? The CSRC says mainland investors pay yuan to mainland securities companies. The yuan they have paid will be converted into HK dollars and used for trading in Hong Kong by China Securities Depository and Clearing Corp. Ltd. (CSDC). When they sell out Hong Kong shares, CSDC will help them to convert HK dollars into yuan and send back yuan into the investors' mainland accounts. Hong Kong investors will follow a similar path when they trade Shanghai-listed shares, and the yuan they change into HK dollars cannot be used for other investment purposes such as real estate.
Such a pattern will effectively prevent money laundering and control the risks of hot money. Moreover, since all the money exchange activities are carried out in an offshore yuan capital pool, the exchange rate for onshore yuan will not be affected.