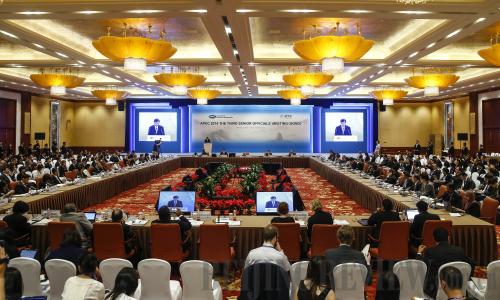 SEEKING CONSENSUS: The APEC 2014 Third Senior Officials' Meeting continues its session at the Beijing Hotel in Beijing on August 20 (CNSPHOTO)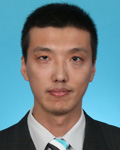 Since China became slated to host the 2014 Asia-Pacific Economic Cooperation (APEC) summit two years ago, the Chinese Government has poured a slew of efforts into the preparation process. The APEC 2014 Third Senior Officials' Meeting (SOM3) and related meetings held from August 6 to 21 is the last senior officials' meeting before APEC Economic Leaders' Meeting in Beijing this year. The SOM3 consists of about 100 meeting sessions, covering a broad range of areas arranged under such topics as Trade and Investment, Standards and Conformance, Customs Procedures, Connectivity, Agriculture and Food, Forestry, Electronic Commerce, Anti-corruption, Disaster Management and Health.
Ambitious goal
China chose the theme "Jointly Build a Future-oriented Asia-Pacific Partnership" for the 2014 APEC Economic Leaders' Meeting, where leaders will discuss how to promote regional economic integration, encourage economic innovation, reform and expansion, and to enhance construction of infrastructure and connectivity.
At the 2013 APEC summit in Bali, Indonesia, Chinese President Xi Jinping gained a head start in promoting the meeting's subject matter as part of China's effort to help bolster the construction of economic corridors in various sub-regions and foster a vast Asia-Pacific market covering 21 economies and 2.8 billion people. Meanwhile, Xi also officially proposed the establishment of the Asian Infrastructure Investment Bank (AIIB). Since then, China has taken significant steps in the preparation work, setting an initial registered capital target for the AIIB at $50 billion.
China's contributed more than 50 percent of Asian economic growth for two years in a row. In 2013, China's trade with APEC member economies accounted for 60 percent of its total foreign trade value; about 70 percent of China's outbound investment goes to APEC member economies, while 83 percent of China's paid-in foreign direct investment comes from APEC members. Eight of China's top 10 trade partners are APEC members. By the end of 2013, China had signed 12 free trade agreements (FTA) with 20 countries and regions, with six in the process of negotiation—the majority of which were composed of APEC members.
Trade disagreements
The 2014 APEC summit arrives at a time of complex circumstances. The world is continuing its march to globalization; the Doha round of WTO negotiations is progressing slowly after being restarted; regional and bilateral FTAs are being signed one after another; and Asia-Pacific economic cooperation is at a crossroads of integration and fragmentation.
As the most important regional cooperation organization in the Asia-Pacific, APEC first proposed the Free Trade Agreement of the Asia-Pacific (FTAAP) as early as 2004. In 2006, the APEC Hanoi Declaration made FTAAP a long-term vision for study.
In fact, two other important FTA arrangements concerning the Asia-Pacific are already in the negotiation stage—respectively the Trans-Pacific Partnership Agreement (TPP) and the Regional Comprehensive Economic Partnership (RCEP).
The U.S.-led TPP—which now includes 12 countries including Australia, Malaysia, Japan and Viet Nam participating in the negotiation—has thus far excluded China. The proposed TPP will attempt to make new trade rules that involve not only tariff exemption but also intellectual property protection and incentives to state-owned enterprises. The U.S. Government hopes to sign a preliminary framework agreement at the end of 2014, but has thus far been stagnated due to its diverging views with Japan on tariffs on agricultural products and automobiles.