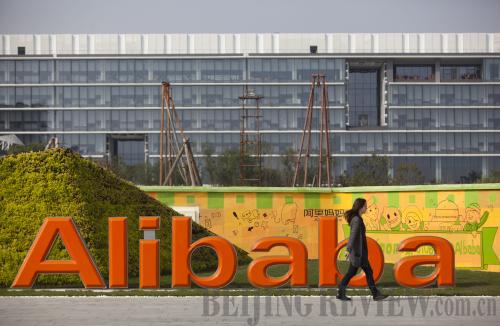 READY TO GO OVERSEAS: Alibaba Group's new base on the outskirts of Hangzhou, east China's Zhejiang Province (CFP)
Alibaba Group Holding Ltd., China's largest e-commerce vendor, confirmed on March 16 that it will initiate its long-awaited initial public offering (IPO) in the United States. The news sent shockwaves across the U.S. financial community as it is bound to bring a huge windfall to U.S. underwriters and investors.
"The decision will make Alibaba a more global company and enhance its transparency, as well as allowing it to continue to pursue our long-term vision and ideals," the Hangzhou-based e-commerce giant said in a statement.
The company, however, did not specify which bourse it will choose to float its shares, or give a detailed timetable.
Although Alibaba is an e-commerce juggernaut in China, it is not so well known in the United States.
Blending many of the functions of eBay, Amazon and PayPal, Alibaba stands out as unique among Chinese Internet companies. Even though it doesn't directly sell products online, it is highly profitable because merchants who use its websites pay for advertising and other additional services.
Alibaba operates two of the nation's most popular online shopping services—Taobao.com, a customer-to-customer (C2C) marketplace for numerous startup businesses, and Tmall.com, a business-to-customer (B2C) platform.
The business empire has thrived in years past as Chinese consumers increasingly flock to online marketplaces rather than traditional brick-and-mortar stores.
In the fiscal year ending on March 31, 2013, the two platforms' total transaction value exceeded 1 trillion yuan ($163 billion), according to Alibaba.
Based on an average formulated by 12 analysts, Alibaba is estimated to have a market value of $141 billion. With that valuation, and Yahoo selling half its stake, as previously agreed, the IPO could raise more than $17 billion, according to Reuters.
Feng Pengcheng, Director of the China Research Center for Capital Management at the Beijing-based University of International Business and Economics, told Beijing Review that his forecast of market value stood at $150 billion-$160 billion, while he expects the IPO to raise $15 billion-$16 billion.
The company's proposed U.S. listing is the most anticipated IPO since social networking site Facebook raised $16 billion in 2012. If successful, it will be the largest U.S. IPO ever launched by a Chinese company and one of the biggest IPOs in U.S. history.
Why the U.S.?
Early in July 2013, Alibaba was reported to have almost finished their IPO preparations, and the only thing that remained to be decided was where to list—the United States or Hong Kong.
Hong Kong was supposed to be top choice for Alibaba.
Hong Kong regulators, however, refused to approve Alibaba's partnership structure, in which a group of insiders, including founder Jack Ma, control the board despite owning a minority share. Such a corporate structure is allowed in New York and already used by Internet giants Facebook and Google, among others.
The Hong Kong exchange's rules prohibit dual classes of shares and other arrangements that give shareholders more than one vote per share as it defies the "one-share-one-vote" standard applied in Hong Kong.
Alibaba pinned its hopes on a review of Hong Kong's shareholding rules that would keep the door open for a listing in the city. The public consultation, however, moved quite slowly.
While Alibaba waited for Hong Kong regulators to make a decision, smaller Chinese Internet companies such as JD.com and Sina Weibo were forging ahead with their own U.S. listing plans.
JD.com, China's second largest e-commerce company following Alibaba, announced a U.S. listing of its shares on January 30.
On March 15, China's twitter-like micro-blogging service Sina Weibo filed to raise $500 million via a U.S. IPO.
Finally, after nearly one year of talks with Hong Kong's regulatory stock exchange officials, Alibaba lost patience.
Alibaba's choice is a blow to Hong Kong's financial industry, in terms of lost prestige, fees and trading volumes.
Hong Kong's loss is the U.S. financial industry's gain. The deal has the potential to bring in about $300 million in advisory fees alone for the banks involved, based on an estimated 1.75 percent commission.
Feng said Alibaba is more likely to choose New York Stock Exchange (NYSE) over the Nasdaq, although the latter used to be the bourse that hi-tech firms prefer when floating onto the stock market.
In 2013, the number of hi-tech firms that chose to be listed in NYSE surpassed that in Nasdaq for the first time, among which was the high-profile IPO of Twitter.
"Due to several technical glitches that occurred in the Nasdaq during the past two years and NYSE's relentless efforts to court hi-tech firms, many have chosen NYSE over Nasdaq. So far as I know, the NYSE also made publicity efforts to court Alibaba. So I think it will win over Alibaba in the end," Feng told Beijing Review.
Pros and cons
Analysts called Alibaba's move to list in the United States timely, given the slow erosion of its dominance by Tencent Holdings Ltd., which has rolled out mobile payment services via its WeChat instant messaging app and offers services that overlap with Alibaba's.
Feng told Beijing Review the U.S. listing will turn Alibaba into a world-famous company, and help it combat competitors.