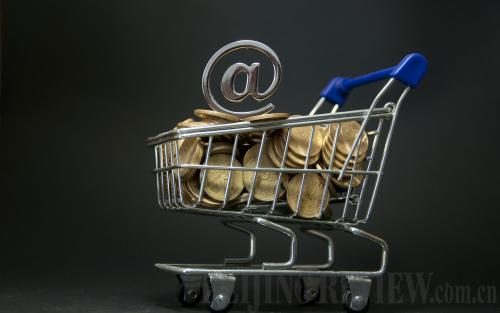 (CFP)
Wang Kang, 27, works for a Beijing branch of the Industrial and Commercial Bank of China (ICBC), a major state-owned commercial bank in China and the largest bank in the world by total assets. Despite the fact that her job has given her better access to various types of bank-backed money management products, Wang chose to deposit her money in Yu'ebao (literally meaning "leftover treasure"), an online investment product provided by Alibaba Group, China's dominant e-commerce company.
Yu'ebao is an online finance platform launched by Alibaba in June 2013 through its third-party payment platform Alipay (a Chinese version of Paypal with 800 million registered accounts), to allow users to convert spare cash into a money market fund holding.
Wang said the reasons she chose Yu'ebao over other investment options include a much higher yield than the government-mandated deposit rate, the lack of a minimum deposit requirement and the ability to transfer and withdraw funds easily and quickly without paying commission.
Wang's is not an isolated case. With its attractive yield, better flexibility and fewer restrictions, Yu'ebao was an instant hit and became China's biggest online investment service. On January 15, Alibaba Group announced that Yu'ebao had boasted 49 million users with aggregate deposits of 250 billion yuan ($41.3 billion).
"China's financial industry, especially the banking industry, only serves 20 percent of clients, and I see there are 80 percent of the clients (who) are not covered. Financial services should be about serving the layman, rather than playing inside your own circles and making money for yourself," said Jack Ma, founder and Executive Chairman of Alibaba, when announcing Alibaba's foray into financial services.
China's financial sector has long been dominated by state-owned or state-controlled banks for decades. Until now, there were few high-yielding and low-risk investment vehicles except for bank-offered wealth management products, which usually have a minimum deposit requirement of at least 50,000 yuan ($8,260).
To that end, Chinese Internet companies are making waves by accelerating their online push into financial services. They are using their online expertise and platforms to make financial products developed by fund management firms more available and accessible to all Internet users.
An upcoming battle
The instant success of Yu'ebao has stirred up competition in the online finance arena. China's major Internet giants have followed suit and launched similar products.
In October 2013, Baidu Inc., China's largest Internet search company, launched an online wealth management platform to offer online investment products which would challenge Yu'ebao.
On January 15, 2014, Tencent Holdings Ltd. rolled out its first financial services product through its mobile messaging app WeChat to compete against Yu'ebao. The product, called Licaitong, saw its annualized interest rate reach 7.4 percent on January 22, while the People's Bank of China (PBC), the country's central bank, sets the benchmark one-year deposit rate at 3.25 percent.
The same day, a similar product was launched by the third-party payment platform affiliated to electronics retailer Suning Commerce Group Co.
The battle is not taking place only among Internet companies, but also between them and traditional banks.