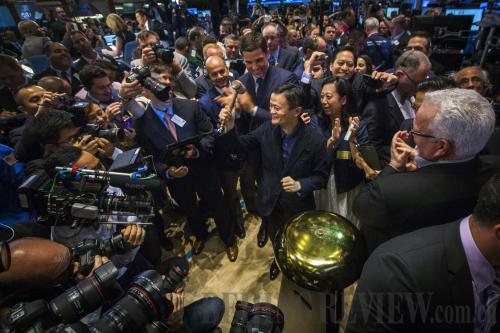 FOR WHOM THE BELL TOLLS: Alibaba Group Holding Ltd. founder Jack Ma holds up the gavel after ringing a ceremonial bell at the NYSE to celebrate the company's initial public offering under the ticker "BABA" in New York City on September 19 (XINHUA/CFP)
Alibaba Group Holding Ltd., the Chinese e-commerce behemoth that rivals Amazon and eBay, just became the biggest tech company that most Americans have never heard of. U.S. investors snapped up shares of Alibaba's debut on the New York Stock Exchange (NYSE) on September 19, pushing the company to a valuation of more than $231 billion—bigger than Facebook or Amazon and eBay combined.
Alibaba raised $21.8 billion through the sale, the largest listing in U.S. history. More than 100 million shares traded within 20 minutes and over 271.6 million shares exchanged hands by the end of the trading day. The offering price was hiked 10 times.
"This puts the United States on notice that global tech is about more than Silicon Valley," Rapid Ratings Chief Executive James Gellert told The Guardian. "Every tech company in the United States that is in Alibaba's general business is paying close attention. This company is going to be a formidable competitor with a tremendous amount of cash."
China is now well established as a major power in the Internet-driven future. While many Americans may be unfamiliar with the brand, a good portion of China's 642 million Internet users—about double the total U.S. population—favors Alibaba. And the market still has room to grow. The company has already invested in six U.S. startups, and is building an American online marketplace called 11 Main. Wall Street is eager to snap up shares of the company, seeing it as their best chance to buy into China's growth. Online shopping in China is expected to grow at an annual rate of 27 percent, according to iResearch Consulting Group.
The United States has much to learn from the meteoric success of Alibaba and its founder Jack Ma. The company has learned from its U.S. counterparts and avoided some of their pitfalls. Unlike eBay, sellers on Alibaba's Taobao site do not pay a fee. Instead, revenue is generated through advertising and extra services, helping Taobao attract 58 million small and medium-sized retailers in addition to millions of amateur sellers. The company offers payment on delivery, a key factor to winning Chinese consumers' trust.
Alibaba doesn't just link buyer and seller as eBay does, or sell to consumers like Amazon, or orchestrate payment fulfillment like PayPal—it does all of the above.
"People keep asking me what's the difference between Amazon, eBay and Alibaba. I would say Amazon and eBay are e-commerce companies and Alibaba is not an e-commerce company," Ma said as he kicked off a global roadshow to raise capital. "Alibaba helps others to do e-commerce. We do not sell things. We call ourselves a company designing a platform, a company that is running an ecosystem."
Alibaba has also diversified. While most of its profits come from its e-commerce business, most of its growth over the past few years has been from buying up existing companies. Ma recently bought a soccer team, a bank and a money management firm in China. Market experts expect the buying spree to continue worldwide.
"Alibaba will definitely look for growth, not necessary in the West, but in the economies whose Internet economies are just beginning to accelerate," said Brad Stone of BusinessWeek.