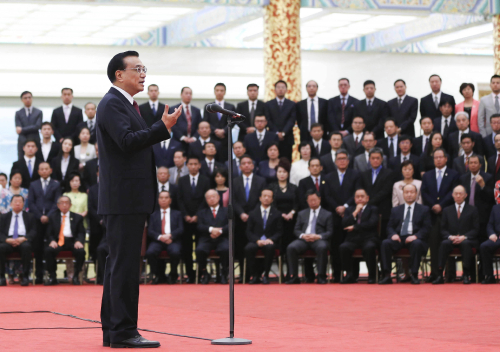 Premier Li Keqiang speaks to attendees of the First Overseas Chinese Industrial and Commercial Congress in Beijing on July 6 (XINHUA)
Decades of living abroad have not meant Seychellois-Chinese entrepreneur James Quincy Liao has forgotten his motherland. The businessman recently returned to China to attend the First Overseas Chinese Industrial and Commercial Congress in Beijing from July 6-7.
Along with some 300 overseas Chinese from 79 countries, Liao was met by Premier Li Keqiang on the first day of the gathering. The term "overseas Chinese" refers to Chinese people who have lived abroad for a long period of time and may or may not have retained their original Chinese citizenship.
Premier Li raised high hopes for those attending the meeting.
He encouraged overseas Chinese entrepreneurs to help China upgrade its economy by making the most of their advantages in terms of capital, technologies and management expertise.
He also expressed hopes that they will use their connections and familiarity with local laws and culture to help Chinese enterprises explore overseas markets and hence make their contributions to the unfolding of the Belt and Road Initiative. The initiative was first put forward by President Xi Jinping in 2013 and aims to enhance connectivity and cooperation along the ancient Silk Road routes.
Moreover, the premier said he expects overseas Chinese entrepreneurs will be able to get along well with local people and contribute to economic and social progress in their adopted countries.
As executive president of the World Chinese Entrepreneurs General Association, Liao said he would respond to Li's speech with concrete measures. His association will select a city in south China's Guangdong Province and help it restructure its industries, transforming its manufacturing-dominated industrial structure into one based primarily on service industries. The association hopes to introduce Internet Plus, a new development strategy that calls for the integration of the Internet with traditional industries, to the chosen city. It will also take measures to help the city's enterprises go global.
Humble beginnings
Liao, 54, hails from Zhongshan, a city in the coastal province of Guangdong. Guangdong is one of the largest source provinces for emigrants in China, partly thanks to its vicinity to Southeast Asian countries.
Liao landed a job with a state-owned food export and import company in his home city after graduating from university in the 1980s. At that time, China's reform and opening-up drive had just been launched. Private businesses, previously subject to a number of restrictions, were spurred on by the initiative and the Chinese economy experienced a lengthy boom.
Liao seized the opportunity and set up his own company with several friends after resigning from his so-called "iron rice bowl" position. Initially his company produced antennas, before expanding its business to home appliances, furniture and home decoration materials such as ceramic tiles and lights.
Liao went to Singapore, Malaysia and Thailand to trade his products in 1990. His native city Zhongshan is a wellspring of a large number of overseas Chinese. According to statistics from the local government, the city is the ancestral home of over 800,000 people who live abroad or in Hong Kong, Macao and Taiwan, while the number of its permanent residents stands at 3.14 million.
Liao saw many of his fellow countrymen achieve success in their careers overseas. Inspired by their experiences of struggling to earn abroad, he decided to go out into the world to try his luck.
His choice turned out a wise one, given that his products proved popular in the markets of the three aforementioned Southeast Asian countries. His business expanded rapidly and he happened upon a business opportunity in Seychelles, a tropical archipelago country consisting of 115 islands located in the Indian Ocean 1,500 km off the coast of Southeast Africa.
Seychelles boasts idyllic beaches and relies heavily on tourism. Hotels are indispensable to the tourist business of the country, which is home to many luxurious hotels. Liao sold his products such as tiles and lights, to hotels there to help them improve their general appearance.
In order to facilitate his business in Seychelles, Liao assumed local citizenship in 1996. "The country has a fantastic natural environment and is very inclusive. In addition, it has bilateral and multilateral trade agreements and visa exemptions with many countries, which has been convenient to me when doing business," said Liao.
In recent years, Liao bought a piece of land in Seychelles and built on it a boutique hotel with modern Chinese design using Chinese materials. The hotel, aimed at catering to the needs of Chinese tourists, will open at the end of this year.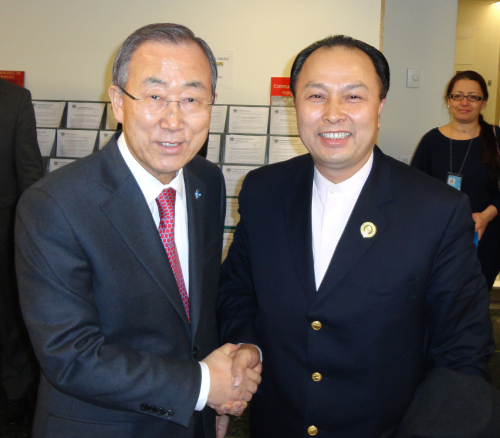 James Quincy Liao (right) shakes hands with UN Secretary General Ban Ki-moon during the UN's Third International Conference on Small Island Developing States in Apia, Samoa, in September 2014 (COURTESY OF JAMES QUINCY LIAO)
Social engagement
In addition to keeping his own business running, Liao has an extensive presence in business associations for overseas Chinese entrepreneurs in Hong Kong, Macao and Southeast Asian countries.
"Although there are no material rewards to be gleaned from the process, I feel accomplished in having helped members of the associations invest in China or develop their businesses in foreign countries," said Liao.
Liao pointed out that when the rights and interests of overseas Chinese entrepreneurs are infringed upon, business associations can file a lawsuit to local courts on their behalf.
Liao often returns to China to increase interactions between his association and the Chinese Government. This year's conference represented only one of such endeavors.
As he has lived in an island country for two decades, Liao has gained deep insight into the development of island countries. In recent years, he has been engaged in boosting cooperation between China and island countries. Last year, he participated in the UN's Third International Conference on Small Island Developing States in Apia, capital of the South Pacific country of Samoa, and brought up a proposal to the conference on the development of these states.
He said his association is going to establish a fund management company for island countries in the free trade zones in Shenzhen and Hong Kong to promote cooperation between China and island countries. He also plans to help several island countries in the Caribbean Sea, the Pacific Ocean and the Indian Ocean set up special economic zones like China's Shenzhen.
Liao, who is willing to make suggestions to governments in both China and his adopted country, advised the Chinese Government to issue an identification card to overseas Chinese, which identifies their Chinese origin and exempts them from visa application procedures.
Liao doesn't have to apply for visas when coming back to China because China and Seychelles signed a visa exemption agreement two years ago. However, he still wishes such a card could be in place to save troubles for his cohorts abroad.
Assimilation
Liao regards credibility and familiarity with local laws and culture as the most important factors for Chinese entrepreneurs in conducting business abroad.
"Now mobile phones and computers produced by China are popular in African countries. However, to ensure long-term success, Chinese companies should uphold their credibility and pay more attention to the quality of their products. For instance, one of the criteria of judging whether a phone is of sound quality is how long its screen can last," said Liao.
He also pointed out that one should follow the procedure of reporting taxes through local accounting and law firms in foreign countries.
"Some countries have the habit of saying prayers before a meal, which should be respected," Liao added.
When asked whether foreign culture has an influence on his habits after decades of living abroad, Liao said that apart from respecting local culture and customs, he has maintained a strong strain of Chinese culture in his day-to-day activities. For example, he prefers Chinese dishes and requires his son to learn Mandarin and Cantonese besides English, French and Portuguese.
With regards to religion, Liao has adopted a dualistic approach. He attends the Catholic church every weekend while at home, and he worships three statues of Guanyin, a deity of mercy in Buddhism.
 
Copyedited by Kylee McIntyre
Comments to yushujun@bjreview.com