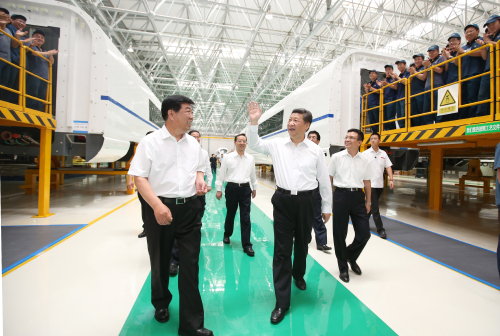 Chinese President Xi Jinping (center) talks with workers during his visit to Changchun Railway Vehicles Co. Ltd. in Changchun, capital of northeast China's Jilin Province, on July 17 (XINHUA)
Founded in 1954, Changchun Railway Vehicles Co. Ltd. is China's largest manufacturer of railway passenger trains and urban rail vehicles. Located in Changchun, capital of northeast China's Jilin Province, the company, a subsidiary of the newly formed CRRC Corp. Ltd., employs over 13,000 people and occupies a total area of 4.95 million square meters. In 2014, its sales revenue exceeded 30 billion yuan ($4.83 billion), up 22.8 percent year on year. The company's products have been exported to over 18 countries and regions worldwide.
The company has come under media scrutiny since it was visited by two of China's top leaders. On July 17, President Xi Jinping made an inspection tour of the company, three months after Premier Li Keqiang's visit in April.
These visits have been made not only because the state leadership pins high hopes on the development of an advanced equipment-manufacturing sector, but also because of Changchun Railway Vehicles' potential role in the revival of a region mired in unprecedented difficulties.
Jilin, along with neighboring Heilongjiang and Liaoning provinces, used to be one of China's major economic powerhouses, as the three are major heavy industry hubs and boast abundant natural resources. However, as China gradually steers away from reliance on resource- and heavy industry-driven growth, many local cities are struggling to find new growth stimuli, and fresh efforts are needed to revive the fortunes of the region, which stands on the brink of decline.
Workers operate a machine in a workshop of the Hafei Airbus Composite Manufacturing Center in Harbin, capital of northeast China's Heilongjiang Province, on December 12, 2014 (XINHUA)
Desperate times
Occupying one seventh of China's total territory with a population of over 100 million, the three northeastern provinces are of vital significance to the country. In addition to constituting a major grain producer, they had operated as centers for heavy industry manufacturing and energy production for more than four decades following the founding of the People's Republic of China in 1949. Best known as an "old industrial base," the region is where the first piece of China-made steel and first domestically manufactured car were produced.
In the 1990s, however, the economy of the three provinces began to decline after resources were severely over exploited. As China made large strides in reforming its bloated state-owned enterprises (SOEs) at the end of the 1990s, about 30 million workers were laid off, one fourth of whom were in the northeastern region where SOEs accounted for a large proportion of the local economy.
Lackluster economic performance continued into the 21st century. The three northeastern provinces' GDP growth rates were among the bottom five nationwide last year. In 2014, the GDP of Heilongjiang, Jilin and Liaoning grew by 5.6 percent, 6.5 percent and 5.8 percent year on year, respectively, much lower than the national average of 7.4 percent.
In the first quarter of this year, Liaoning's economy only expanded 1.9 percent over the previous year, ranking it last among all of the provinces, municipalities and autonomous regions on the Chinese mainland. Heilongjiang, Jilin and Liaoning respectively registered 5.1 percent, 6.1 percent and 2.6 percent for GDP growth on an annual basis from January to June, still slower than the national average of 7 percent.
Fiscal revenues have also shrunk. In January to June, the fiscal revenue of Liaoning declined 22.7 percent year on year. In the first five months, the fiscal revenues of Heilongjiang and Jilin provinces shrank by 19 percent and 5.9 percent from a year earlier, respectively.
Feng Lei, a researcher with the Economic Development Research Center under the Chinese Academy of Social Sciences (CASS), said that the three northeastern provinces have similar economic structures--all dominated by equipment manufacturing, petrochemical and agricultural industries.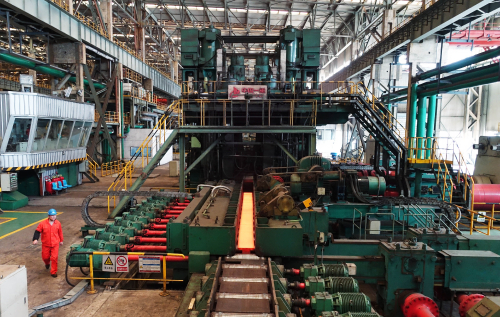 Workers make die steel at Dalian Special Steel Co. , Liaoning Province, on April 29 (CFP)
"This kind of industrial structure is extremely vulnerable to outside changes, such as a decline in commodity demand and prices in the international market," Feng said.
Worse still, the population of the three provinces is shrinking due to migration and extremely low fertility rates, which experts maintained will severely hinder local economic recovery.
According to the 2010 national census, about 1.8 million people had moved out of the provinces of Heilongjiang, Jilin and Liaoning, in search of better job opportunities in the economically developed eastern and southern regions.
The results of the census also showed that the three provinces registered the lowest fertility rates in the country--0.74 in Liaoning, 0.75 in Heilongjiang and 0.76 in Jilin, far below the 2.1 generally considered to be the level at which the population would be replenished.
According to Wang Guangzhou, a researcher with the CASS Institute of Population and Labor Economics, the northeastern region has been trapped in a vicious circle.
"Sluggish economic growth has caused talent outflow, and that will in turn worsen the already challenged economy," Wang said.
Xu Hongwei, an assistant researcher with the Research Institute for Economic and Social Development with Dongbei University of Finance and Economics in Dalian, Liaoning, revealed that the aging problem is more pronounced in northeast China than in any other part of the country.
"More and more young people left the region in quest of better job opportunities. That, combined with the low fertility rate, makes the aging problem extremely severe in the northeastern region," Xu said. "In the future, some universities in the region will have difficulty in recruiting enough students because there simply aren't enough candidates."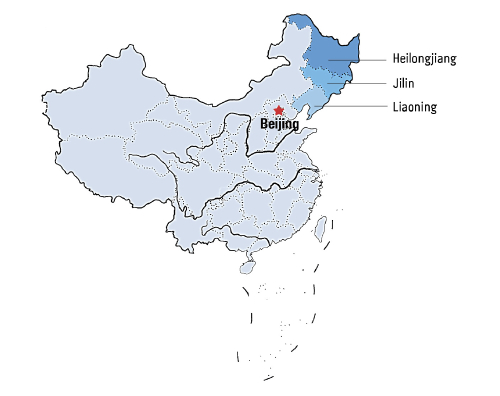 Revival efforts
In 2013, the Chinese Government released a plan to revitalize the old industrial bases in the three northeastern provinces, pledging to provide more investment in the next five years. It is the second document of this kind, following the first one having been rolled out in 2003.
When President Xi visited Jilin in mid-July, he prescribed a remedy for the northeastern economy--sparing no efforts in developing the region's equipment manufacturing industry, stepping up efforts to foster emerging industries, boosting the service industry, optimizing and upgrading traditional industries, intensifying infrastructural construction and unleashing the vigor of the private economy.
"Now is the critical moment for the revitalization of northeast China," Xi said.
On July 31, the National Development and Reform Commission (NDRC), China's top economic planner, announced that it had allocated 50 million yuan ($8 million) to fund pre-project researches for major projects in the three northeastern provinces. The NDRC said that it would intensify support for the revitalization of northeast China by releasing more favorable policies, encouraging local innovation and entrepreneurship, improving people's livelihood and accelerating economic restructuring.
Liang Qidong, Vice President of the Liaoning Provincial Academy of Social Sciences, said that efforts to revitalize northeast China should focus on establishing an innovation-driven growth pattern, tapping domestic demand for intrinsic growth, improving people's living conditions, bolstering reforms and further opening up to the outside.
"To get out of its difficult situation, the region should make the best use of its existing advantages, particularly its edge in equipment manufacturing. In the meantime, substantive progress should be made in reforming the region's SOEs," said Liu Shijin, former Deputy Director of the Development Research Center of the State Council, China's cabinet. "Although China has kissed goodbye to breakneck expansion, the country still has large demand for heavy industry products."
On May 6, an executive meeting of the State Council presided over by Premier Li made deployments in international cooperation in capacity and equipment manufacturing. Great efforts will be made to help export China-manufactured equipment, said a statement released after the meeting.
Describing high-speed trains produced in northeast China as "a much sought-after commodity" in the country's economic and technological cooperation overseas in his July visit, Xi urged local equipment manufacturers to seize opportunities to invest more in research and development and build the country into a modern equipment-manufacturing power on the world stage.
Lin Muxi, Dean of the School of Economics at Liaoning University in Shenyang, Liaoning Province, stressed that rejuvenating northeast China requires greater efforts to reform SOEs and the government administration.
According to him, the northeastern region was the first in China to have implemented the centrally planned economy but the longstanding practice of the rigid system has turned out to be a big obstacle to advancing reforms.
"The whole region has a poor ability to adapt to market-based resource allocation. Therefore, it's extremely important to transform the functions of government departments and streamline administrative procedures," Lin said.
"I've heard of an extreme case. A project in a city in northeast China needed to collect 133 stamps from the government to start construction. By the time the project was scheduled to start, they were 12 stamps short. This case shows how much constraint government administration has imposed on businesses. Once the shackles are off, market vitality will definitely be unleashed."
Zhu Fuen, a researcher with the Heilongjiang Institute of Socialism, holds that regional integration is the key to northeast China's economic recovery.
He suggested that a plan to revitalize the region be issued by the Central Government to allow the region to fit into national development strategy.
The three northeastern provinces should be integrated to an economic area, instead of only being an administrative area, similar to China's Pearl River Delta, Yangtze River Delta and Beijing-Tianjin-Hebei region, Zhu said, adding that more vitality from the market and society can be unleashed if the three are combined into one market entity to realize more coordinated development.
Copyedited by Kylee McIntyre
Comments to zhouxiaoyan@bjreview.com