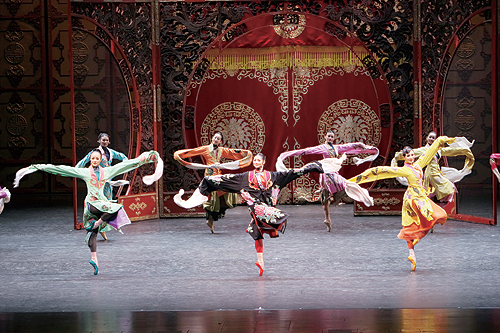 Raise the Red Lantern (COURTESY OF THE NATIONAL BALLET OF CHINA)
With The Red Detachment of Women, Swan Lake and four more representative works, the National Ballet of China (NBC) kicked off its 2009 performance season last December, a grand ballet feast celebrating the company's 50th anniversary.
As China's first ballet company, NBC is seen as a pioneer of the country's ballet art, and its growth as epitomizing the art form's development. In 50 years, it has realized a tremendous transition from being an experimental troupe at the Beijing Dance School (today's Beijing Dance Academy) to one of the most important companies on the world ballet stage.
Tough start
On December 31, 1959, the Experimental Ballet of the Beijing Dance School was founded. In 1963, it was renamed the National Ballet of China.
The birth of the company directly relates to the founding of the Beijing Dance School in 1954, when ballet became one of the subjects. The school, which had been built with the help of Russian experts, became known as "the cradle of Chinese ballet." The first group of graduates from its ballet major became the earliest dancers of NBC. Among them was Zhao Ruheng, who later became president of NBC.
"We have beautiful memories about those years. The Central Government greatly supported us. We did not need to pay for study at the school and we had a nutritious diet including eggs, bread and butter, which was much better than in other schools at that time, when the country was very poor," Zhao said.
"We received very professional and strict training," said Zhao. Besides dance, students there also took courses in other subjects, including Chinese, mathematics and fine arts, which developed them as rounded and versatile people.
Teaching at the school was very strong, Zhao said. Most of the teachers, such as ballet master Pyotr Gusev, came from Russia. Other teachers were Chinese who had been strictly trained by Russian tutors such as O. A.Yealina, the first Russian expert in China at that time, who had arrived before the opening of the school.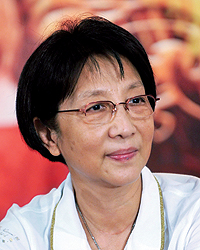 Zhao Ruheng, ballet dancer and President of NBC from 1993-2008 (CFP)

"If you had been to Russia to learn ballet, you might not have been lucky enough to be taught by so many excellent masters. In this sense, Russian experts were undoubtedly the founders of Chinese ballet," said Zhao.

Swan Lake was the first work the school's students learned and performed. In 1958, the school presented it to a Chinese audience with Zhao as a swan.

Recalling those years, Zhao said the school's rapid development in its early stages was attributable to the direct guidance of state leaders, especially Premier Zhou Enlai.

"Most of our state leaders had studied abroad and had their own appreciation of art, so they greatly supported introducing all sorts of the world's excellent art forms to China," Zhao said. She considers it is a farsighted decision to set up a ballet school and then a national ballet company when the country's economy was still in recovery.

Difficulties soon arrived. In 1961, Russian experts left China because of the breakup of two countries' relations, a blow to the young company. But the teaching at the dance school and the development of the company did not stop. Many students who had majored in ballet overseas returned and successfully took up the tasks of teaching and training.

"No matter what difficulties we encountered, we never stopped dancing," Zhao said. "All the difficulties taught us how to survive in adversity and about the true meaning of art."

Because they persisted, within the following 10 years, Chinese choreographers and dancers were able to create, rehearse and perform ballet dramas without the help of foreign experts. Since 1964, NBC has been creating its own works based on Chinese cultural elements. Most of the nation's first generation of choreographers had backgrounds in traditional Chinese dance, and that directly helped their explorations.

In that year, Li Chengxiang, Wang Xixian and Jiang Zuhui choreographed The Red Detachment of Women with the theme of Chinese Communist revolution, marking the birth of ballet with Chinese cultural characteristics. For the first time on the world ballet stage appeared a group of ballet dancers in army uniform and holding guns. Audiences were deeply impressed, as they had never imagined elegant ballerinas could perform tough characters. This work also won world acclaim when it was performed on foreign stages.