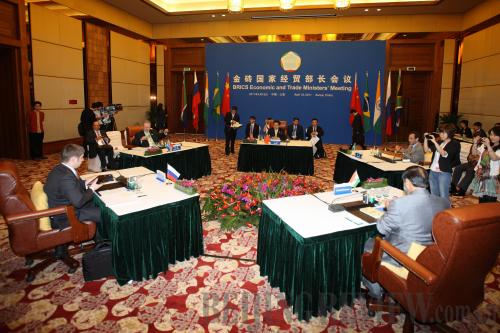 PRACTICAL DISCUSSIONS: Economic and trade ministers from China, India, Russia, Brazil and South Africa meet in Sanya on April 13, a day before the Third BRICS Summit (IC)
On April 14, leaders of Brazil, Russia, India, China and South Africa, known as BRICS, held a one-day summit in Sanya, a resort city in south China's Hainan Province. The group's third summit presented thriving cooperation momentum among these emerging economies.
Achievements
The Sanya Declaration was the major policy statement to emerge from the conference. While including economic spheres, it covered topics far beyond them: from international monetary and financial system reform, trade and economic cooperation, climate change, energy and food security to nuclear security.
The declaration showed BRICS' attention to the international economic and financial governance structure and changes in the world economic pattern. This is consistent with the previous two summits, and serves as evidence of the continuity of cooperation among BRICS countries.
The declaration also framed a five-nation cooperation action plan, which called for efforts to seek new areas of cooperation while consolidating existing efforts. The action plan charted the course for future cooperation among BRICS nations.
In particular, the declaration included the five countries' common views on political and security issues such as the situation in Libya and counterterrorism.
Without doubt, the achievements of this summit will lead to greater practical cooperation. This will have a wide range of positive effects for BRICS countries, other emerging economies and the world at large.
Economic, trade and financial cooperation will be deepened among BRICS countries. Their coordinated positions and common views on global issues will help strengthen emerging economies' voices in the international arena. In the long term, the cooperation of BRICS countries will promote the reform of the global economic and financial order.
It will contribute to the sustainable development of the global economy and to the development of multi-polar, democratic international relations. The new international political and economic order, which will be more just and reasonable than the current one, will not only be good for BRICS, but also benefit developed countries.
Features
The Sanya summit illustrated several prominent features of the development of the BRICS cooperation mechanism. For instance, BRICS is now more representative. In December 2010, Brazil, Russia, India and China agreed to add South Africa to their ranks. As an emerging economy from Africa, South Africa's joining highlighted the BRICS club's nature of South-South cooperation. BRICS now covers Europe, Asia, Latin America and Africa and carries greater global significance.
Also, the BRICS mechanism has been further improved. After years of development, BRICS has formed a multi-level and wide-ranging cooperation framework. This framework uses summits as its main channel, senior officials including foreign and finance ministers, central bank governors and envoys to multilateral institutions as assistants, and the practical cooperation of think tanks, business sectors and development banks as its support.
This new form of cooperation among emerging economies is inclusive. BRICS is not a bloc or a political alliance in the traditional sense. Against the backdrop of deepening interdependence between all countries because of the development of multi-polarization and economic globalization, BRICS countries' strengthening cooperation to pursue common development is a great innovation in improving global economic governance and promoting democracy in international relations.