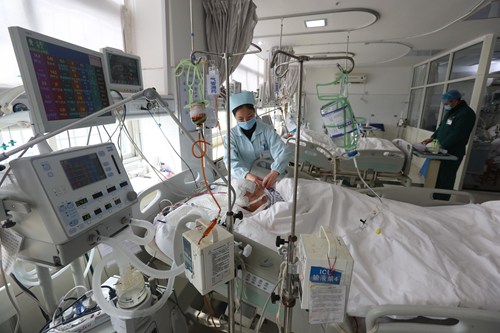 TUBES AND MACHINES: A nurse takes care of a patient in the Intensive Care Unit of a hospital in Loudi, central China's Hunan Province, on January 18 (CFP)
What medical treatment are you willing to receive before you pass away?
Would you accept life-support treatment if that was the only way to keep you alive?
Who would you want to trust with your healthcare decisions when you are unable to make them yourself?
All these questions come from a "living will" available on the public website Choice and Dignity (http://www.xzyzy.com/index.html). It is the first website in China helping people write up their own living will—a document to make known their wishes regarding life-prolonging medical treatment when they are not capable of stating them outright. There are five main questions to be answered explicitly on the living will. They are referred to as the "five wishes" and under each one follows a number of lesser questions that can be answered to clarify details and specifics of the person's desires regarding treatment. Altogether there are 42 questions for people to answer on the Choice and Dignity living will.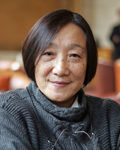 ADVOCATE: Luo Diandian, co-founder of the website Choice and Dignity, the first in China to provide online advice on making living wills (CFP)

Luo Diandian, co-founder of the website, is 62 years old and has been working as a doctor for more than 20 years. In her line of work she has seen many patients with terminal illnesses being treated in the Intensive Care Unit (ICU). "They lie in bed with all those tubes sticking out of them and they can't even talk or think properly," Luo said. "It is really a painful way to live."

Luo, together with some of her fellow doctors, formed an informal organization that they called the "no tube club," declaring that they would not accept life-support treatment when they were nearing death.

After seeing an English document called Five Wishes online, Luo considered making a career out of the issue. Five Wishes is a document signed by more than 4 million people in the United States, choosing what treatment they do or don't want to have with terminal illnesses.

"If people can make decisions themselves while conscious, and they can discuss their wishes with family members and friends, many unnecessary treatment and medical expenses can be reduced," Luo said.

Unresolved debate

In the 1990s, the debate over living wills heated up in the United States when Terri Schiavo, a resident in Florida, collapsed at home after a cardiac arrest and then suffered brain damage, culminating in a persistent vegetative state.

After years of attempts to return her to a state of consciousness failed, her husband petitioned to have her feeding tube removed in order to let her pass away. However, Terri Schiavo's parents disagreed with her husband and a legal battle commenced. With more than 10 appeals and numerous monitions, petitions and hearings, the feeding tube was removed in 2001, but reinserted after interventions. The case had spurred intensive debate all over the country and even then U.S. President George W. Bush signed legislation to keep her alive. In the end, the feeding tube was removed permanently in 2005 but the debate continued.

"Terri Schiavo spent 15 years in hospital in a vegetative state. If she had made a living will before that, things would have been much simpler," Luo said.

Chen Zuobing, a doctor at the First Affiliated Hospital of Zhejiang University Medical School in Hangzhou, east China's Zhejiang Province, argued that Luo's comment simplifies the matter somewhat.

After being diagnosed with late-stage cancer in April 2011, Chen's father decided not to stay in hospital for chemotherapy, but to go back to his hometown so he could spend his last days with family and friends.

Chen's father made the decision himself, after serious consideration. Despite this, Chen received criticism from many people all over the country after his father's story was featured on TV. "Some people didn't understand why I would agree with my father and prevent him from getting treatment. They said that I had killed my father," Chen said. "But I have never regretted my decision. My father passed away peacefully and did many things that he wouldn't have been able to if he stayed hospitalized."

"In China, if a person's children don't try every treatment possible to prolong their parents' lives, they will be considered unfilial, which is a grave judgment on your character," said Luo, who revealed that she had to make a similar decision as Chen when her mother-in-law was diagnosed with a terminal illness.

"Seeing my mother-in-law in bed at the ICU with all the tubes sticking out of her, I collapsed emotionally," Luo said. "Things are different when you are in that situation no matter how level-headed you thought you would be."

Luo finally decided to cease life-support treatment for her mother-in-law, but she still feared the decision was the wrong one until she saw a note that her mother-in-law had left, saying that at the end of her life, Luo had the right to decide on what medical treatment she should receive.