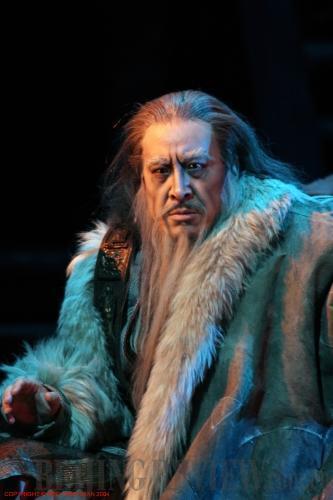 TIAN IN TURANDOT: Hao Jiang Tian completed eight performances of the role of Timur in Turandot at New York's Metropolitan Opera (BETH BERGMAN)
From the opening notes of Hao Jiang Tian's recital commemorating his 30-year career as one of the world's most celebrated operatic bass voices, including 19 years at the New York Metropolitan Opera, the audience could sense it was one of the singer's most personal performances. The teenage Chinese factory worker with a "big voice" was transformed into a king of Verdi and Mozart, taking listeners through a repertoire of classic Chinese folk songs, Russian love ballads and revolutionary odes.
On December 17, 1983, the 29-year-old Tian from Beijing stepped off the plane at New York's John F. Kennedy airport. He had $35 in his pocket and knew only a few words in English. On his second night in the Big Apple, he spent $8 on a ticket to see the opera Ernani, starring famed tenor Luciano Pavarotti, at the Metropolitan Opera. He knew from that moment that his destiny was to be an opera singer.
Thirty years later to the day, Tian took the stage at Carnegie Hall to celebrate an unbelievable career spanning 19 years at the Metropolitan Opera and performances at many of the world's greatest opera houses. He has even performed opposite Pavarotti in Verdi's Lombardi, coming full circle from a self-described "wild child" to achieve international greatness.
"This concert is very special to me," Tian told Beijing Review. "Every single recital is personal but relatable to everyone. We all feel the same thing—happy, sad, and passionate. I feel the audience will sing with you, they will breathe with you; they will think with you and share the song with you. I always like to give recitals because you are facing hundreds of beautiful eyes. You can see a lot from those eyes. Opera houses are a little bit different."
The comparatively intimate setting of Carnegie Hall fosters what Tian said is the best part of performing, connecting with the audience and sharing their energy.
"I think the greatest enjoyment for me as a singer is feeling the qi (spirit) in the hall," Tian said. "No matter if it's big or small, the qi will be there."
In 2008, Tian adapted his autobiography Along the Roaring River: My Wild Ride From Mao to the Met into a one-man musical show, weaving story and song together as he told tales of playing the accordion and singing rebellious love songs for fellow workers at the factory he was assigned to during the "cultural revolution" (1966-76). However, his 30th anniversary recital focused more on singing rather than storytelling, Tian commented.
"I could never have dreamed up what my life would be. I just wanted a new world, a new environment and a new life. I'm not quiet. I wanted to try something different and I was curious," Tian said.
Starting with Eastward the River Rushes, Tian moved through a selection of Chinese folk songs in the first section of his retrospective, gathering cheers and misty eyes from the audience enthralled with Thoughts of Home and The Crimson River.
It was the third section, entitled My Songbook, which moved the audience most, with such intimate renditions of Danny Boy and Mother's Stories. Sweet, nostalgic jewels of song rolled from the stage to the audience, culminating in Some Enchanted Evening from the musical South Pacific in a romantic tribute to Tian's beloved wife, Martha Liao.
Taking the stage with Tian in his final selections were students from I Sing Beijing, a program started by the couple to introduce promising Western opera singers to Chinese culture and Mandarin as a lyrical language. With each phrase and familiar tune in Mandarin uttered by the young singers, the audience roared in approval. Tian had come full circle, a 30-year journey of hard work and enormous success. As he wiped away tears of joy, Tian applauded his young protégés and the audience before him­—overwhelmed with the moment. It was a pit-stop on a long and wonderful journey, a time to rest and remember, but also to look ahead. The audience clamored for an encore, and Tian obliged.
"All of the songs are related to my singing career. For example, the aria I chose was the very first aria I learned in Beijing. I knew nothing about the opera," Tian said, adding that he had an opportunity to sing for a master opera singer from Italy, who assigned him Guiseppe Verde's Ella giammai m'amò from Don Carlo.
"It was 12 pages. I opened it and I didn't know where to start to learn. I didn't know Italian and it was hard even to find a recording at that time. I worked day and night on this aria. The first time I sang for him he said, of course, that I didn't sing it well and that I had no clue to understanding this aria at all. My diction was terrible but he said one day I may sing this aria in the future, and he was right," Tian said. "Exactly 20 years later I performed this in Italy. I was probably the first Chinese singer to perform this aria in Italy."
Each song in the concert was deeply personal, in particular, Mother's Stories by Chinese singer Qu Xixian. Tian said he sings it in his dressing room before each performance to quell stage fright.
"A children's song will bring you back to pureness. We always should be a child," he said. "I'm a nervous guy before I go onstage. So, my secret is to play this song to calm me down."
Tian attributes his success to hard work. After graduating from the University of Denver, he was making ends meet as a piano player in a bar. Driven by a desire to marry the love of his life—Dr. Liao, a biochemist who has been Tian's faithful partner for many years—Tian said he drew on his life experiences to understand and emote the characters he played on stage. He prepared himself for his big break.
"For a Chinese singer it is extremely difficult, because it is Western culture and high art. In Chinese, we say it is coldest at the top of the mountain. The opera world is like that, it's small. Only a handful of singers can reach the top. Is there room for a Chinese bass? I didn't know," Tian said. "My voice is not a world-class voice. Also, my sensibilities of the music are not world class. I started late. I came to this country already at the age of 29. So, I worked hard—at least three or four times harder than my Western colleagues."
Developing a strong connection with his characters has propelled Tian into a relatively long career at the Met and worldwide acclaim. Now, he gives back in the form of I Sing Beijing, fostering and mentoring young Chinese and Western opera singers.
"If we can help a little bit, it means a lot to a struggling singer. Martha and I have been helping young singers for over 20 years to study and find scholarships and bring them to see operas and meet directors," he said. "The change in China is huge."
The author is a contributing writer to Beijing Review, living in New York City
Email us at: liuyunyun@bjreview.com