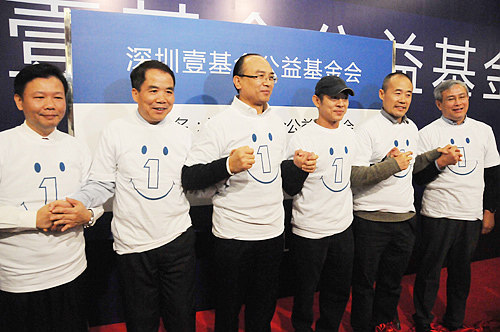 ONE FOR ALL: Xu Qin (third left), Mayor of Shenzhen, and Jet Li (third right), founder of the One Foundation, celebrate the founding of Shenzhen One Foundation on January 11 (WANG HAOMING)
After years of expectation, a number of NGOs in China welcomed the good news government approval will soon become easier.
On July 4, Minister of Civil Affairs Li Liguo announced independent non-profit organizations working in the fields of charity, social welfare and social services would be able to register directly with civil affairs departments. Previously NGOs had to find a government supervisory body before registering.
The ministry has also revised regulations regarding NGO registration, foundation management and the registration of private non-enterprise units.
"While the government will continue to supervise NGOs it will reduce the role it plays in their internal affairs," said Deng Guosheng, Director of the Center for Innovation and Social Responsibility (CISR) at Tsinghua University.
Longstanding obstacles
A number of Chinese NGOs have emerged in recent years. As of the end of 2010 China had a total of 440,000 registered social organizations; 243,000 social groups, 195,000 private non-enterprise units and more than 2,600 foundations.
"Today's China is undergoing tremendous changes in its social structure. With the country becoming more diversified and modernized, it is difficult for the government to effectively solve all social problems and the participation of NGOs is necessary," said Kang Xiaoguang, Director of the Non-Profit Organization Research Center of Renmin University of China.
Currently NGOs play an important role in the fields of poverty alleviation, environmental protection, cultural education and disaster relief. For example, more than 400 NGOs are involved in work concerning the prevention and control of AIDS. And, following the devastating 8.0-magnitude Wenchuan earthquake in southwest China's Sichuan Province in 2008, many NGOs played an active role in collecting funds and supplies, offering psychological help, and taking part in the reconstruction work.
"Meanwhile, in addition to providing social services, NGOs can advocate ideas and theories that influence public opinion and government decisions," Kang said.
He Daofeng, Deputy Director of the China Foundation for Poverty Alleviation, defines NGOs as assistants to the government. "They provide a platform for ordinary people to solve their own problems by themselves. With the help of NGOs, the government can reduce its role to being a rule maker and arbitrator in disputes," he said.
China's NGOs have long faced difficulties registering and receiving government approval. Yu Keping, Director of the China Center for Government Innovation of Peking University, said about 3 million social organizations remained unregistered with the government at the end of last year, which means almost 90 percent of the organizations therefore were technically illegal.
Current regulations stipulate social organizations must find a government department or agency to be their supervisory body before they register with civil affairs departments.
But many social organizations said most government agencies were reluctant to take responsibility for supervising non-profit organizations, which had left many NGOs in a legal limbo. Without official approval NGOs are unable to enjoy tax breaks, apply for government projects or legally solicit public donations.
As a result of the difficulties they face in obtaining approval, some NGOs have chosen to register as enterprises with the authorities for industry and commerce and pay taxes. The Beijing Stars and Rain Education Institute for Autistic Children, a non-profit organization, for example, was founded in 1993 and has long been an enterprise registered at the Beijing Administration for Industry and Commerce. But this has remarkably increased its financial burden.