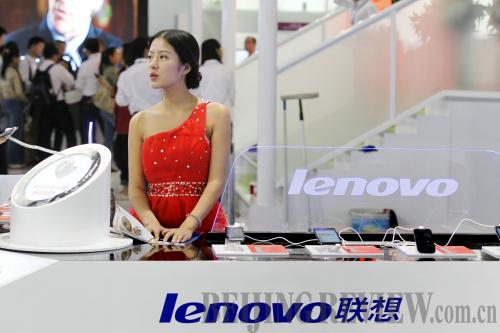 TRY ME: Lenovo smartphones are on display at the PT/EXPO COMM China 2013 in Beijing on September 25 (CFP)
In his two-minute Super Bowl commercial, famous U.S. rocker Bob Dylan had some advice for consumers: "Let Germany brew your beer, let Switzerland make your watch, let Asia assemble your phone."
No doubt Chinese IT companies are more than willing to live up to such a reputation, and they are expanding globally in a more aggressive manner than ever before.
Lenovo Group Ltd., a Chinese IT company known as the world's top PC maker, has been making news headlines around the world for several weeks in a row after it announced two daring overseas purchases in January.
The company announced on January 30 that it would buy Google's Motorola mobile handset business for $2.91 billion, the biggest-ever overseas acquisition by a Chinese company in the technology sector.
The deal came only one week after the Chinese company announced a $2.3-billion deal to buy IBM's low-end server business. Both deals are now awaiting approval from U.S. government regulatory authorities.
Lenovo has become the world's largest seller of personal computers (PCs) since the third quarter of 2013 by overtaking Hewlett-Packard (HP). Being on top of the PC world, however, can hardly allow Lenovo to become complacent.
With shrinking market demand and profitability in the PC sector, the Chinese IT company is scrambling to diversify its operations by turning to other more lucrative sectors in search of new sources of growth for the next decade.
Yang Yuanqing, Chairman and CEO of Lenovo, said the company is building two pillars of growth for the next decade: smartphones and tablets being one, and enterprise products such as servers and storage the other.
Lenovo's smartphone business has grown rapidly as the company became the second largest smartphone vendor by shipments in China, trailing only Samsung.
In April 2010, Lenovo launched its first smartphone model. Two years later, the company started selling smartphones in emerging markets, such as Indonesia, the Philippines, India, Viet Nam and Russia. In 2013, the company made another overseas foray by selling smartphones in foreign countries including Thailand, Malaysia and Saudi Arabia.
Lenovo became the world's fifth largest smartphone vendor with a 4.5 percent market share by shipment volume in 2013, according to research firm IDC. Its global presence, however, is still tiny compared to Samsung at 31.3 percent and Apple at 15.3 percent. Furthermore, it hasn't yet released smartphones in North America or Western Europe.
"The Motorola deal will definitely give us a shortcut into the U.S. market and provide us with a world-wide footprint," Yang said. "In the U.S. and other mature smartphone markets, Motorola's brand recognition and strong relationships with carriers will help Lenovo."
"Lenovo's next goal is to challenge Samsung and Apple, which are both far ahead of Lenovo in terms of sales of intelligent terminals, including traditional PCs, tablets and smartphones," Yang said.
Li Zhipeng, Deputy Director of the Institute of Overseas Investment under the Chinese Academy of International Trade and Economic Cooperation, said it's quite likely that Lenovo will pose a threat to Samsung and Apple after the Motorola deal.
"History is full of examples of this kind of turnaround. For instance, Chinese telecom-equipment makers ZTE and Huawei have managed to take over previously dominant brands, such as Ericsson and Alcatel-Lucent," Li told Beijing Review.
"The center of global high-end manufacturing has shifted from North America to other regions, including Japan, South Korea and the Chinese mainland. It's not at all strange that a Chinese high-end manufacturer would pose a threat to previously dominant brands."
A long shot?
The stock price of Lenovo shares plunged following the announcement of the Motorola deal as investors and analysts became increasingly worried that Lenovo had bitten off more than it could chew.
Things are worsened by Motorola's red ink. The handset firm's net loss widened to $928 million in 2013 from $616 million in 2012, according to Lenovo. Concerns that the deal will hurt Lenovo's profitability led investors to dump the stock.
Investors reacted more positively when Lenovo announced the IBM server deal. When that news came out, Lenovo shares rose.
The Motorola acquisition is a correct move, but will lead to a multi-year negative impact on earnings, Jefferies analyst Ken Hui wrote in a note to investors, as he cut Lenovo's stock rating to "underperform" from "hold."
"Without cutting expenses, Motorola has to double sales to break even, which is challenging," Hui said.