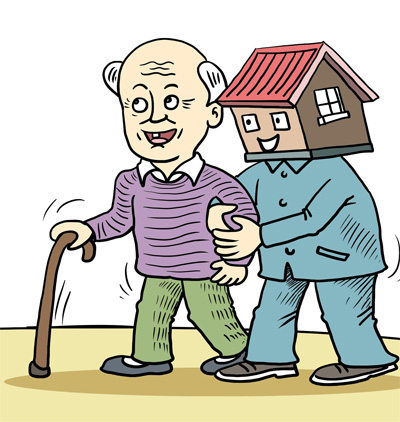 (CFP)
For Xie Sanmei, a 72-year-old retiree living in Beijing, ensuring financial security for herself is a major concern.
After battling cancer for three years, Xie's husband died last December. His death came 10 months after the passing of their only son, who had suffered from mental illness. The father and son's medical bills used up the last of the family's savings, leaving Xie with little. Years of heavy housework have also left Xie suffering from high blood pressure, heart disease and other chronic illnesses.
Currently, Xie lives on a pension of 1,800 yuan ($295) a month. "After paying for food and medical expenses, I have little left to save," said Xie, who is anxious about how she will pay for nursing services when she becomes unable to take care of herself.
Fortunately, the launch of a new "reverse" mortgage policy has come as relief to Xie, who owns a two-bedroom apartment. Xie and her husband bought the property more than 10 years ago after the government privatized home ownership.
New solutions
In an effort to explore elderly care solutions for China's rapidly aging society, the State Council, China's cabinet, issued a document on September 13 that promised a comprehensive social care network for people over age 60 by 2020, when the age group is expected to reach 243 million.
Together with a group of other policies, such as encouraging private investment in elderly care services, the reverse mortgage program was proposed and will be piloted next year in a bid to increase available financing for elderly care services.
A reverse mortgage allows the elderly to deed their houses to insurance companies or banks, which will then determine the value of their houses and the life expectancy of the owners, granting monthly payments in accordance with the evaluation.
Meng Xiaosu, Chairman of the Supervisory Board of Beijing-based Happy Life Insurance Co. Ltd., first proposed the idea to the Central Government in 2003.
"They can live in their houses until they die or move out, then insurance companies or banks claim the houses unless their families pay back the money plus interest," Meng explained.
"Reverse mortgages are good news to the elderly, insurers and banks," said Zhan Chengfu, Director of the Department for Social Welfare and Charity Promotion under the Ministry of Civil Affairs (MCA). Zhan added that once successfully implemented, the program would help ease the shortage of funding for elderly care, revitalize housing resources and expand the insurance business.
Thirteen years ago, China was put on the UN list of aging countries when 10 percent of the population was found to be over 60.
By the end of 2012, the number of citizens over 60 had already reached 194 million in China, accounting for 14.3 percent of the total population and making for the largest senior society on earth. According to a report released by the Beijing-based China Research Center on Aging in February , the figure is expected to hit 202 million, or 14.8 percent of the total population, by the end of 2013.
The rising senior population has created a heavy financial burden. A joint study by the Bank of China and Deutsche Bank last year estimated that the aging population would leave China with a shortfall of 18.3 trillion yuan ($3 trillion) in pension funds by 2013.
Zheng Bingwen, Director of the Center for International Social Security Studies at the Chinese Academy of Social Sciences (CASS), likened China's pension system to a pyramid with the ground level being the basic pension pool, the middle level being companies' supplementary pensions, and the top level being individuals' commercial insurance.
"We need different channels to supplement funds. Reverse mortgages provide a plausible solution to supplementing elderly care," Zheng said.
No easy answers
However, since its proposal, the house-for-pension program has received a mixed response, with many suggesting it signals the government is preparing to pay less attention to elderly care.
Facing criticism, the MCA delivered a statement on September 20, saying that the pilot program for reverse mortgages will only cover a portion of the insurance fund's investment in elderly care services. It also stated that the State Council's decision to pilot the program is well thought out and appropriate based on studies and international experience in the field.