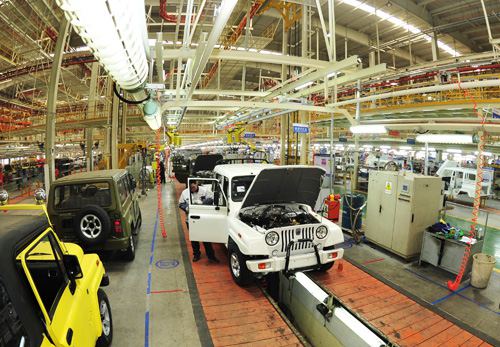 ACCELERATING PRODUCTION: Workers assemble cars in a workshop of BAIC Group in Shijiazhuang, north China's Hebei Province (MOU YU)
China's economic growth slipped to 7.4 percent in the first quarter, signaling more downward pressure for the world's second largest economy. However, authorities have ruled out the possibility of major stimulus to fight short-term dips in growth and plan to seek growth momentum in deep-seated reforms and promising domestic consumption.
The first-quarter growth rate marked the lowest quarterly growth level since the third quarter of 2012. But even so, the figure still far outperformed the 6.6-percent growth in the first quarter of 2009 when the global financial crisis was wreaking havoc.
"The figures suggest growth in the world's second largest economy in the beginning of the year 2014 was stable and that the economy was generally in good health, as Chinese authorities are more focused on reforms, restructuring and the improvement of people's wellbeing," said Sheng Laiyun, spokesman of the National Bureau of Statistics (NBS) when releasing first-quarter economic figures at a press conference on April 16.
China is shifting gear in terms of growth rates, adjusting its economic structure and digesting the aftereffects of previous stimulus packages. To shield its economy from the torrents of the global financial crisis, a 4-trillion-yuan ($644.4 billion) stimulus package was launched in November 2008, which pushed up asset prices and resulted in severe overcapacity.
"A slower growth rate represents a conscious choice on the country's behalf. Local governments at various levels have expedited the phase-out of outdated capacity. They have sacrificed growth rate for greener and more sustainable development. There is certainly a price to pay. But this shift in thinking should definitely be encouraged," said Sheng.
China's macroeconomy will inevitably come under downward pressure in 2014. However, the ostensibly weak data also contains positive factors, bolstered by many achievements in economic restructuring.
Traditional industries such as steel and cement are experiencing an obvious fall, while hi-tech industries show accelerating growth. The share of gross investment in the service industry and private investment continues to rise.
Along with slowed industrial production growth, the service sector continued to grow in the first three months and make a larger contribution to GDP growth.
NBS spokesman Sheng said the trend indicated the Chinese economy is shifting from an industry-led growth to a service-led one. "We should adopt a new perspective on viewing the changes in the Chinese economy," said Sheng.
Target achievable
The Chinese Government has set a target of around 7.5 percent for economic growth in 2014. It has said that a figure slightly above or below the target would be acceptable because its main focus is on creating jobs and improving people's wellbeing.
Earlier, when addressing the Boao Forum for Asia annual conference in south China's Hainan Province, Chinese Premier Li Keqiang emphasized that the Chinese Government will not opt for a massive short-term stimulus because of temporary volatility.
"A growth rate under the 7.5-percent target is acceptable so long as sufficient creation of employment is ensured," Li said.
"With all the principles established and policy options at our disposal, we can handle all possible risks and challenges," the premier said. Streamlining administration and further tax reforms are two of the options on the agenda. "The Chinese economy has got off to a stable and good start."
A slew of more targeted pro-growth measures, including tax cuts for small and micro enterprises, greater support for shantytown renovation and more investment in railways construction in underdeveloped regions, have been adopted in an attempt to steady growth around its target without disrupting plans to restructure the economy.