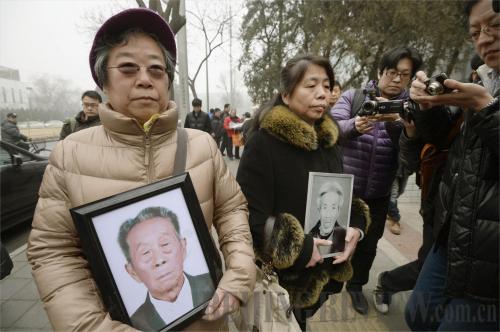 WAITING FOR JUSTICE: Relatives hold portraits of Chinese victims of forced labor, as they stood outside the Beijing No. 1 Intermediate People's Court on February 26 (IC)
Zhang Shijie, 88, gave out a sigh of relief when his son Zhang Yang told him that a Beijing court had accepted a lawsuit against two Japanese firms that forced him and another 36 plaintiffs to work as free laborers in Japan during World War II. "I finally have something to look forward to," Zhang Shijie told Global Times, a daily newspaper published in Beijing.
Like other forced laborers from the time, Zhang Shijie's biggest hope has been to receive compensation from the Japanese companies. Despite long-held grievances over the issue and the high profiles of some of the Japanese companies involved, March 18 marked the first time a Chinese court accepted a case of this kind.
"They forced us to dig coal all day long and didn't give us enough food to eat in the evenings. We were treated like prisoners," Zhang Shijie said on the day the lawsuit was filed at the Beijing No. 1 Intermediate People's Court on February 26.
The two companies sued in the lawsuit are Japan's Mitsubishi Materials Corp. and the Nippon Coke and Engineering Co., formerly known as Mitsui Mining. The two are alleged to have forced 9,415 Chinese workers to work for them without compensation, with 1,745 of those having died in Japan as a result of forced labor.
According to the indictment, two survivors and 35 people whose relatives were forced into hard labor are demanding 1 million yuan ($161,600) in compensation for each worker, as well as apologies printed in newspapers in both China and Japan. The number of plaintiffs eventually grew to 40 and the court approved their application for deferral of court costs.
"I cannot find any reason that we cannot win this case based on the facts and evidence collected," Kang Jian, a Beijing-based lawyer representing the plaintiffs, told Beijing Times newspaper. Kang has spent almost 20 years finding and visiting the victims of forced labor, collecting evidence and filing lawsuits in Japan and China alike.
Official documents from Japan's Ministry of Foreign Affairs showed that a total of 38,953 Chinese people, aged 11 to 78, were captured by the Japanese army from April 1943 to May 1945 and forced to work for at least 35 enterprises. And 6,830 had died when Japan returned them to China after its surrender in August 1945.
On April 5, Beijing's Museum of the War of Chinese People's Resistance Against Japanese Aggression published a name list of 34,282 Chinese people forced into labor and taken to Japan during World War II.
According to a museum statement, the list was compiled in 1964 by an association based in Japan which collected the names of Chinese war casualties.
Inspired by the acceptance of the case in Beijing, two groups of forced laborers and their descendants filed two separate cases to two courts in north China's Hebei Province on March 26 and April 1, respectively. Neither court has decided whether it will accept the litigations or not.
Yan Zizhen, 88, and his eight fellow plaintiffs, brought their complaint to the Tangshan City Intermediate People's Court in Hebei on March 26, requesting Coke Industry Co. Ltd. of Japan (formerly Mitsui Mining Co. Ltd.), Mitsubishi Materials Corp. (formerly Mitsubishi Mining Co. Ltd.) and the Japanese Government pay 1.8 million yuan ($290,000) as compensation for forced labor.
They also demanded the defendants apologize to them and other victims through newspapers and on television.
Yan said he has got 17 scars from when he was forced to work in Japan for two years starting in 1943.
More than 4,000 workers were captured in Tangshan and brought to Japan to work. Only 1,700 survived and returned home.
"What my father wants more than compensation is an apology. Meanwhile, the lawsuit will help remind the younger generation [of what their elders went through]," said Yan Min, son of Yan Zizhen.