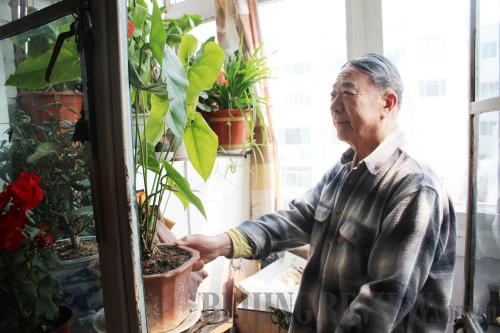 INDEPENDENT LIVING: Liang Zhenwu, a retired company executive, attends to his plants on the balcony of his apartment in downtown Beijing's Guangnei Sub-District, where he lives with his 80-year-old wife (LI LI)
After living in a one-bedroom apartment for almost three decades in the southwestern corner of downtown Beijing, 78-year-old Liang Zhenwu, a retired company executive, feels the staircases leading to his home on the fifth floor grow longer every year.
Liang said that like many elderly residents in his community in Guangnei Sub-district, he looks forward to the installment of an elevator in the six-story building. "But it won't be easy, as the government probably won't pay all the expenses of the reconstruction and many people living on the first and second floors won't be willing to share the bill," Liang said.
Liang, who only suffers from mildly high blood pressure, leads an independent life with his 80-year-old wife. He said that he enjoys his daily life, which includes one-hour of taiji, a Chinese martial art, in the morning with a group of friends in a nearby park, shopping for groceries, taking a nap and cooking. Two of the couple's three sons live not far away and visit them regularly.
According to Liang, he has never thought about a possible change of lifestyle, but he complained about the difficulty in going to a public-funded care facility. "The waiting lists at some sought-after facilities are too long. A bed only becomes available after a current resident dies," he said.
Liang was also amazed by the cost of private facilities. "Some friends recently checked into one and the two of them together pay 8,900 yuan ($1,434) per month. I can't possibly afford that," Liang said. He revealed that the monthly pensions for him and his wife add up to around 7,000 yuan ($1,128) and his sons are not well-off.
Currently, China has 200 million people aged 60 and over. This number accounts for 14 percent of the nation's total population, and is expected to surge to 400 million by 2050. In comparison, the country had a mere 40,000 nursing homes at the end of 2013, with less than 3.9 million beds available in those facilities.
Many cities including Beijing have proposed taking care of their elderly population by helping 90 percent of them spend their golden years in the comfort of their own homes. Of the remaining 10 percent, 6 percent would live mainly on care provided within the community and 4 percent would go to retirement homes.
In this context, the campaign to build virtual nursing homes, a new brand for government's upgraded community-based services for the elderly, has sprung up in provincial-level regions including Jiangsu, Gansu, Hunan, Anhui and Beijing, offering convenience and reducing demand for resources.
Community services
Guangnei is home to a permanent population of more than 80,000, 26.3 percent of whom are elderly people, aged 60 or above. Less than 2 percent of the elderly there have chosen to live in care homes.
Like nearly 1,000 local households with elderly people in Guangnei, Liang's apartment has a large buttoned telephone that was installed free of charge by the local government. The phone has shortcuts so that the couple can conveniently call their sons, call for first aid, consult physicians from community clinics, make reservations at hospitals, call a support center to receive other help and services and hire housekeepers.
Guangnei's programs that provide care to elderly residents, branded under the local campaign of building virtual nursing homes starting in 2013, include establishing a unified database for the senior population and providing a free shopping service for seniors with mobility difficulties. They have also organized nearly 150 local businesses to offer seniors discounts, set up a day-care center for seniors incapable of independent living, arrange celebrations for the 60th wedding anniversary for old couples and offer psychotherapy to seniors.
Guangnei has nearly 500 households with "empty-nesters" aged 80 and above whose children are not living nearby. In 2013, the local government introduced a program that pairs all these households up with volunteering neighbors, who commit themselves on paper to checking up on the seniors every day by paying visits or calling them.
Zhang Zhihuai, a local civil affairs official, said that the program had saved the lives of at least two seniors who suddenly collapsed in their own homes but were discovered by volunteers who called for help.