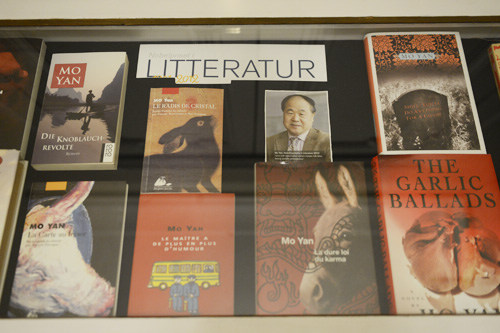 HOOKED ON BOOKS: Translated works of Chinese writer Mo Yan, the 2012 Nobel Literature Prize laureate, on display at Swedish Academy on December 6, 2012 (WU WEI)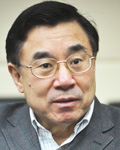 Huang Youyi (WEI YAO)
It's hard to imagine the world without translators, who connect people of different cultures. On December 24, 2012, Beijing Review reporters Liu Yunyun and Ji Jing interviewed Huang Youyi, Vice Chairman and Secretary General of the Translators Association of China and Vice President of China International Publishing Group, who talked about his experience and gave suggestions on how to improve translation services in China. Excerpts of the interview follow:
Beijing Review: Chinese writer Mo Yan won the Nobel Prize for Literature last October. To what extent should his success be attributed to translators?
Huang Youyi: Mo couldn't have won the prize without his work being adopted into foreign languages.
To reach a wider audience, his literary agent first suggested the move while negotiating publishing contracts. Mo is one of the first Chinese writers to hire such an agent to promote his work abroad, where his books have been available in over 30 languages since 2004.
In addition, foreign readers are extremely attracted to his novels, which depict scenes of village life they can only imagine.
What makes a good translation?
I think Chinese and foreign translators should work together, especially in terms of literary writing. For example, The Romance of the Three Kingdoms was translated by Moss Roberts, a professor in East Asian studies at New York University. He knows this classic novel well, having done extensive research on it. However, in translating the novel, he came across Chinese idioms he couldn't understand without the help of a local counterpart.
In the international field, translators adopt foreign languages into their mother tongues. However, in China things are different. Currently, Chinese-to-English translations mainly fall to local bred specialists due to a lack of foreign experts in China's culture and language. Even though Chinese has become a popular language, learning it versus being able to translate it are two different matters.
Thus, to conduct a good Chinese-to-English translation amidst the lack of qualified foreign experts who have a deep insight into Chinese culture and language, we need Chinese translators, and native English speakers to polish the works.
I'll give you another successful example. The Culture and Civilization of China series has been well received internationally. It is a joint Sino-U.S. project initiated by Yale University Press and China International Publishing Group (CIPG) in 1990, involving efforts of translators and scholars from both countries. The two sides first discuss what Chinese and foreign readers want to know most about China before writing or undertaking revisions. The series has sold hundreds of thousands of copies, proving a successful move in introducing Chinese culture to a global audience. CIPG has actively conducted all-around international cultural exchanges, which have increased the mutual understanding and friendship between the Chinese people and those from other countries.