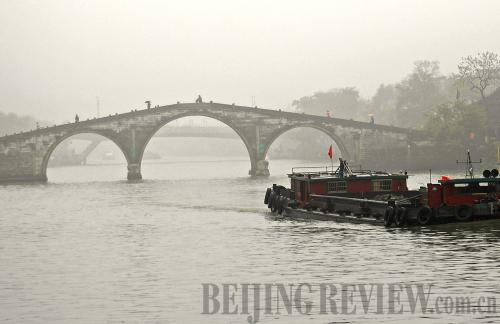 BUSY WATER WAY: A barge passes beneath an old stone bridge on the Grand Canal in Hangzhou, east China's Zhejiang Province, where the canal originates (XINHUA)
'Our job is done," said Chai Maoshan, reinforcement engineer at the Xiejia Dam, the Cangzhou section of the Grand Canal in Hebei Province.
Chai spent every day between June and September last year doing repairs on the ancient artificial river project as part of efforts to gain UNESCO World Heritage recognition.
It has been five years since China first submitted an application for the Grand Canal to gain UNESCO World Heritage status in March 2008.
Among locals, the dam is nicknamed "sticky rice dam," according to the engineer, "because the dam was made with materials including sticky rice soup."
The dam is located in Dongguang County, southeast Hebei. It is 235 meters long, 3.6 meters wide and 5 meters high, covering an area of 1,175 square meters.
Chai and his construction team met unexpected difficulties during the dam-strengthening project. "Despite undergoing no major repair work until last year, the dam is still very sturdy. We could hardly drive a nail into it," he said.
The superb construction technology used on the ancient water project is impressive.
Sun Jingchang, in charge of heritage protection for the Grand Canal section in Hebei Province, said, "Locals adopted the sticky rice grouting technique while building the dam some 200 years ago."
Sticky rice, similar to cement, was widely used in ancient Chinese construction, including dams and castle walls. Thanks to this technique, the dam has stood the test of time, Sun said.
"There are only two sections of the Grand Canal that employ this unique method, with both located in Hebei," he added.
Two hundred years ago, during the latter half of the Qing Dynasty (1644-1911), the curving embankments of the Xiejia Dam were eroded due to frequent floods. A rich local gentleman surnamed Xie subsequently contributed money to rebuilding the collapsed dam, using a special technique.
Xie bought over 5,000 kg of sticky rice from south China, which was boiled in many large iron pots for days on end. Over time, all that remained was a thick liquid, which was mixed with lime and loess, and used as mortar. The concoction was so solid that the dam never collapsed. In commemoration, the dam thus received its present name.
"Despite a history of more than two centuries, the Xiejia Dam has remained intact and functional," Sun noted.
At present, strengthening work, including environmental restoration, gardening and construction of facilities, has been completed. "We are well prepared for the upcoming inspection of UNESCO's World Heritage Committee this summer," Sun said.
However, repairing the dam was no walk in the park, Chai said. "We had to ensure that we didn't change the original look and function. Therefore, we adopted traditional techniques to rebuild weathered and damaged areas."