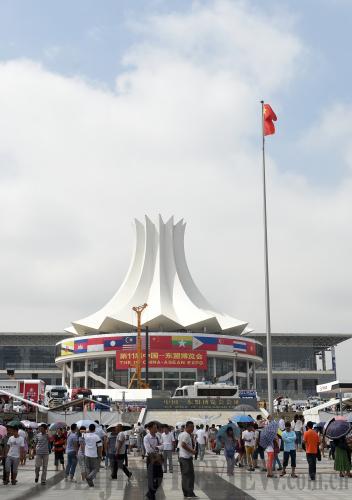 A BEACON FOR OUR ASEAN NEIGHBORS: People enter and exit the Nanning International Convention and Exhibition Center on September 19 (LU BOAN)
Wilson Too, a clean-cut and fresh-faced Malaysian entrepreneur in his 40s, was busy promoting his Western restaurant brand Station One at his Western-style tasting booth during the 11th China-ASEAN Expo, which was held in Nanning, capital city of south China's Guangxi Zhuang Autonomous Region, from September 16 to 19. Streams of guests speaking many different languages savored the piping hot Malaysian-made coffee offered by his booth.
"We have opened more than 50 restaurants in Malaysia, and now, our next target is China," said Too, who founded the business with another three college classmates and is banking on Chinese consumers sharing a taste for gustatory adventure similar to that of their Malaysian counterparts.
"For exploring potential business opportunities in neighboring overseas markets, the China-ASEAN Expo is undoubtedly the best choice," Too told Beijing Review, saying that he had already spotted some promising potential business partners who displayed readiness to do business with him.
This was but one of the scenes in progress at the venue of the China-ASEAN Expo. The enthusiasm demonstrated by both domestic and overseas enterprises for attending the expo has grown stronger every year. According to statistics from the organizer, demand for booths exceeded supply by some 30 percent this year, with a total of 2,330 enterprises putting their products on display.
The booming demand for booths during the expo mirrors the constantly expanding trade between China and its ASEAN neighbors. In 2013, trade between China and ASEAN countries grew by 10.9 percent to reach $443.61 billion, surging from $292.8 billion in 2010 when the China-ASEAN Free Trade Area (CAFTA) was officially launched, according to China Customs figures.
"Now, a focus should be placed on improving the quality and performance of the China-ASEAN Free Trade Area (CAFTA)," said Chinese Vice Premier Zhang Gaoli at the opening ceremony of the 11th China-ASEAN Expo, echoing the decision made on August 26 to initiate the negotiation on upgrading CAFTA at the 13th China-ASEAN ministerial meeting.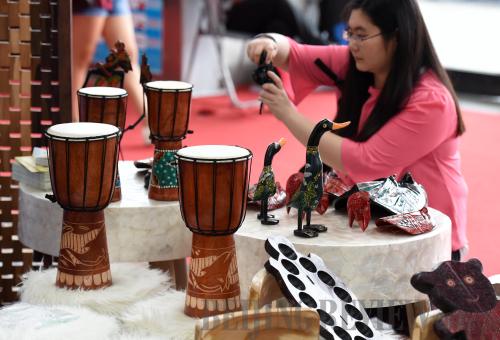 NICHE CARVINGS: A visitor takes pictures of Indonesian commodities at an exhibition hall (ZHOU HUA)
Potential and challenges
Four years have passed since the birth of the largest free trade area built by developing countries in the world. According to Vice Premier Zhang, ASEAN has been China's third largest trade partner, fourth largest export destination and second largest source of imports for three consecutive years, while China has in turn become ASEAN countries' largest trade partner.
According to statistics from China Customs, in the first eight months this year, trade between China and ASEAN stood at $301.43 billion, up 4.2 percent year on year. In sharp contrast, bilateral trade only registered at a mere $54.77 billion in 2002 when the framework agreement of the CAFTA was signed.
"Since China and ASEAN have been able to build a golden decade of cooperation in the past 10 years, they are now surely capable of turning the next 10 years into a 'diamond decade'," Premier Li Keqiang said at the last China-ASEAN Expo, when proposing to upgrade the FTA.
As the content and scope of the CAFTA is expanded step by step, bilateral trade between China and ASEAN countries is expected to reach $500 billion in 2015 and $1,000 billion in 2020, according to a joint statement issued by Chinese and ASEAN leaders last October. Over the next eight years, the target for two-way investment is $150 billion.
As it stands, some of the elementary groundwork required for further opening up has already been completed. However, further progress can be made only by touching upon some sensitive areas. Chen Zhou, Director of the Department of Asian Affairs of the Ministry of Commerce, noted that upgrading the CAFTA will not only facilitate bilateral trade and investment, but also make some institutional arrangements pertaining to mutual connectivity and reciprocal recognition of standards.
However, achieving such an upgrade is no easy task. Xu Ningning, Executive Director of the China-ASEAN Business Council, held that the uneven development of ASEAN members is a major stumbling block. For example, some countries, such as Indonesia, have expressed worries over possible market shocks brought about by opening up.
Zhang Yunling, a professor of International Economics at the Chinese Academy of Social Science, pointed out the CAFTA has not been fully put into operation. For one thing, many sectors have not been opened to the outside world. For another, there are still many restrictions existent in optimizing the current economic development environment and intensifying the mutual connectivity of financing, laws and regulations.