| | |
| --- | --- |
| | |
| STUNNING DEBUT: Li Na returns the ball at this year's Australian Open final on January 29. The rookie finalist Li was defeated by former World No. 1-ranked Kim Clijsters of Belgium with a score of 1-2 (XINHUA) | GLORIOUS MOMENT: Li Na holds the runner-up plate at this year's Australian Open award ceremony on January 29. Li was defeated by Kim Clijsters of Belgium with a score of 1-2 in the final match (XINHUA) |
Fame is just one of the perks of being a world-class tennis player, as Li Na has recently found. As the first Chinese player to play in the final match of a Grand Slam singles event, her name has burned up search engines across the country since January 27, the day she defeated Women's Tennis Association's (WTA) World No. 1-ranked Danish player Caroline Wozniacki with a score of 2-1 in the semifinals.
"I'm happy to be the first Chinese player to play in a Grand Slam's singles final," said Li, the ninth seed. She went on to play Belgian tennis phenom Kim Clijsters in the final match on January 29. Li had previously defeated the seven-time Grand Slam finalist on January 14 at the Sydney International tennis tournament.
Shortly before entering the 14,820-seat Rod Laver Arena in Melbourne Park for her final match against Clijsters, Li did a quick television interview, saying that her victory over Clijsters two weeks before "meant nothing" in regards to the Australian Open final match.
"I am in the [Australian Open] final already, so I just want to enjoy the game," Li said.
But the game did not come easy – she lost eight points in a row at the beginning of the match.
"Tennis is played with six games per set, so I still have a chance," Li recalled. "Yes, I lost two games, but I didn't give up."
Despite coming out on top after the first set, Li eventually lost the game with a score of 1-2.
"I want to give congratulations to Kim, and thanks to my team," Li said at the tournament's award ceremony. "As for myself, it didn't matter today if I won or lost, because I know I tried my best."
"It was very hard for her," said Li's mother Li Yanping, who watched the live broadcast game for the first time with butterflies in her stomach.
"I was almost too nervous to watch it. I'm truly proud of my daughter," said Li. "I hope she can do even better next time."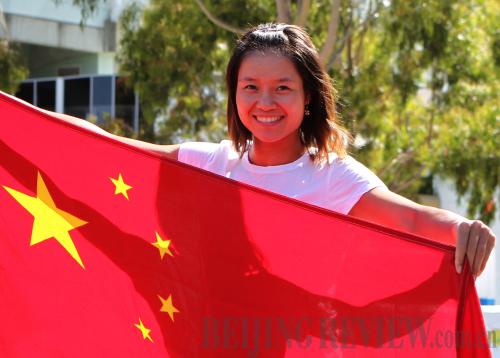 RISING STAR: Li Na displays China's national flag in Melbourne Park on January 28, one day before the final match of the Australian Open (XINHUA)
Born on February 26, 1982 in the city of Wuhan in central China's Hubei Province, Li trained as a badminton player before switching to tennis at the age of 8. She went pro in 1999 and claimed 19 ITF (International Tennis Federation) singles titles, as well as 16 doubles titles.
Li's current coach is her husband Jiang Shan, a former tennis player himself. "I've made many jokes about my husband, but it doesn't matter if you are fat or skinny, handsome or ugly, I will always follow you and always love you," Li said at the Australian Open award ceremony.
Her wins at that tournament have made her the highest-ranked Asian player in the world; she is ranked No. 7 in the world overall. Her total winnings amount to $4.52 million. In 2010, Li donated 1.6 million yuan (about $230,000) to children whose parents died in the Yushu earthquake. She has also donated money to children in her hometown through China's Children and Teenagers' Fund.


"I was excited to see her performance," said Sun Jinfang, Director of China's Tennis Management Center. "It's hard to describe how she will influence tennis in China. It's a big push for the sport's promotion nationwide, and I'm sure that younger players will follow her to pursue their dreams."
Li has been hailed as "China's hero" by Stephen Healy, President of Tennis Australia, the governing body of Australian tennis. Along with superstar NBA player Yao Ming and Olympic gold medalist Liu Xiang, Li has become something of an idol for many young Chinese athletes. However, Li is not one to rest on her laurels.
"The Australian Open is over, and so is my glory," Li said calmly after the game. "I will move on and get myself prepared for the next game."