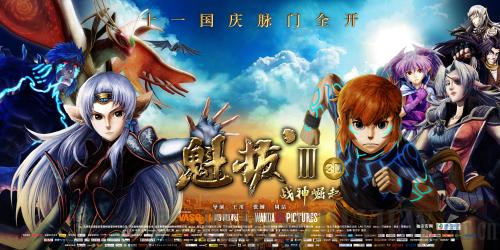 NEW RELEASE: Kuiba 3 is expected to be an even bigger box office hit than its predecessors (CFP)
A cartoon movie series made by a Chinese animation group is set to release the highly anticipated third installment of its five-part story on October 1. Compared to the original, which was released three years ago and drew in only one tenth of its initial investment in box office sales, this sequel has created quite a buzz in the weeks leading up to its release date.
Kuiba is now a series that has been heralded by many as a milestone in China's animation movie-making history thanks to its sophisticated story-telling style and success in the world market.
Gaining popularity
The movie tells a story of a monkey boy, Manji, who fights his inner demons to become a hero. The first two installments were released in 2011 and 2013, respectively.
Wang Chuan, director of the movie, founded Vasoon Animation, the company producing Kuiba, in 1992 with his wife Wu Hanqing. Both graduated from the prestigious Peking University with majors in Chinese literature. Wang said there is one thing that connects literature and animation so well—they are both narrative arts, centered on telling stories.
"Normally, in China, people regard animation as a medium aimed primarily at kids," said Wang. "But that doesn't explain why the Kung Fu Panda series attracted so many adults to the cinema and became such a big success."
Wang and his team spent more than five years writing the story of Manji to make it sophisticated and comprehensible enough for a general audience. Having worked in the animation industry for about 20 years, none of the five core members of Vasoon Animation have ever received academic training in animation. The technology director Kuang Yuqi and financier Zhang Jianwei studied economics, which enabled Kuang to design a mathematical formula for setting a story's conflict. Art consultant Wu Guanying has a degree in book design.
The writers have built a completely new world called Vast, much like the fantastical alternate universes created in The Lord of the Rings or Star Wars. For Wang, compared with live-action TV shows and movies, characters in animation can have vague national identities and therefore ring true with a wider resonance.
Vasoon's efforts have touched the hearts of both viewers and critics alike. The film not only carries inspiring themes, such as courage, perseverance, and self-discovery, but also explores the relationship between father and son and comments on various social issues.
"There was a sad assumption amongst audiences before that domestic animation was not worth the ticket price," said Wang. "That's one of the reasons that this series failed in the domestic market in 2011."
After the underwhelming first edition, the Vasoon team buckled down and started on the second installment, which adopted more modern 3D technologies.
"Films are demanding a greater number of visual special effects, especially after Kung Fu Panda and Avatar," said Wang. "Without dazzling effects, movies lack visual impact and allure."
However, one thing that sets Wang and his team apart is the hand-sketched style of animation used in the Kuiba series. Images generated by a computer have much less feeling than those drawn by hand and highly digitized animation technology doesn't create the same beauty as randomness.
"Now Disney is working on increasing the hand-drawn quality of animation while relying on CG technology. In this regard, Vasoon is at the same starting line as Hollywood," said Wang.
Vasoon's efforts haven't been made in vain. Even though box office sales from the original movie were only 350,000 yuan (about $57,000) in China, far less than the initial investment of 3.5 million ($570,500), the group sold the copyright overseas and enjoyed a 3 million euro ($3.8 million) return from the European market alone.
Encouraged by its overseas sales, the Vasoon team revised the script based on viewers' feedback, added new characters and rewrote some of the battle scenes.
The second film received considerable buzz. Opening day box office receipts from June 1, 2013, totaled 3.5 million yuan ($564,520), or the entire production cost of the first movie.