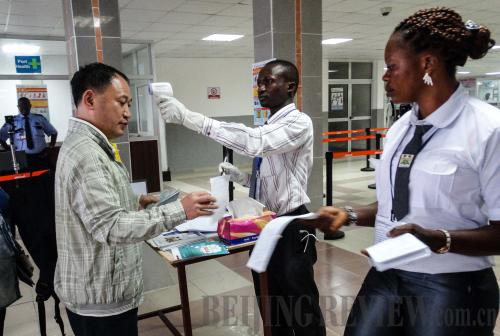 DOCTORS NEEDED: A security officer measures the body temperature of Xu Daomiao, a Chinese medical expert who arrived at Freetown Lungi International Airport, Sierra Leone on August 17 (XINHUA)
As the deadly Ebola virus spreads across the African continent, China has sent three teams of disease-control experts and medical supplies to Guinea, Liberia and Sierra Leone—the three West African countries most affected by the virus.
There are a total of nine medical personnel across the three teams, each of which includes one epidemiologist and two specialists in disinfection and protection from the Chinese Center for Disease Control and Prevention (China CDC) and other institutions. Their duties involve disinfection and protection training for local medical workers, as well as helping to deliver relief goods and medical supplies donated by China.
On August 11, three Chinese cargo planes carrying 80 tons of medical supplies, donated by China at a cost of 30 million yuan ($4.9 million), arrived in Guinea, Liberia and Sierra Leone.
"The supplies mainly consist of epidemic control items, including protective suits, disinfectants, thermometers and medicines," said Wang Shengwen, Director General of the Department of Foreign Assistance of China's Ministry of Commerce.
"The West African nations, lacking certain medication and disease prevention skills, are in urgent need of material support and expertise as the epidemic has not yet been brought under control," said Wang Yu, Director of China CDC.
As part of the international response, China sent its first batch of relief goods to four African countries—Guinea, Liberia, Sierra Leone and Guinea-Bissau—in May, with each country receiving goods valued at 1 million yuan ($162,600).
Facing the disease
In addition to the nine newly arrived disease-control experts, 38 medical personnel in the three Chinese medical teams that had been working in Guinea, Liberia and Sierra Leone are staying put to continue their valiant efforts to stop Ebola from further spreading.
Stationed in Guinea, Cao Guang likens the fight against Ebola as a "war." Cao touched an Ebola patient's eyelids with his bare hands during a treatment session. After spending 21 days in quarantine, Cao was confirmed as affected.
As one of the first Chinese medical staff exposed to Ebola in West Africa, Cao said that from the moment they were enrolled in the medical team two years ago to work in Africa, they were prepared to face and overcome any difficulties accompanying their tasks.
Guinea was the first West African country to suffer an Ebola outbreak, and the first patients infected in its capital Conakry were treated in March in the Sino-Guinean Friendship Hospital where the Chinese medical team is based. Nine medical staff in the hospital were infected, and six of them died.
"Two of our team members, including Cao, who had contact with the first patient, were put in isolation. Fortunately, they tested negative," said Kong Qingyu, leader of the Chinese medical team in Guinea. "Now, we continue receiving patients and are working as normal."
The Chinese Government has provided medical assistance to Guinea since June 1968; the current team is the 23rd, with 19 members from Beijing Anzhen Hospital.
"There is a high risk of becoming infected after having contact with Ebola patients. However, the virus rarely goes airborne, or spreads through water and food," Kong said, adding that besides formulating an emergency plan to cope with Ebola outbreaks, one thing his team is focusing on is to help local people learn how to prevent Ebola from spreading.
The nine-member Chinese medical team in Liberia said they would remain in the country to assist the local government, which has announced a national state of emergency following their outbreak.
"There used to be doctors from other countries at the hospital where we are working in Monrovia [capital of Liberia]. But shortly after the Ebola outbreak, some have left, including those from the United States and Egypt," said medical team leader Zhou Yongjun. "But our staff have stayed."
The medical team, which came from northeast China's Heilongjiang Province, first arrived in Liberia in 2013. This April, they gave lectures on Ebola control and prevention to local medical workers, and the team went on to spread knowledge about the disease to locals in Monrovia, Zhou said.