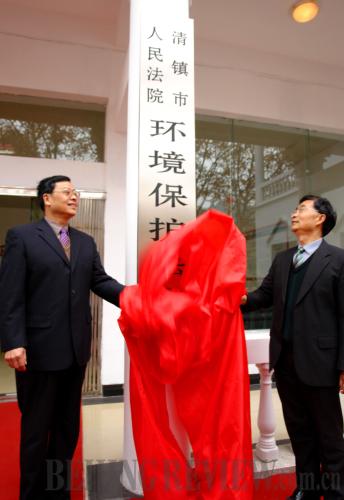 NEW START: The inauguration of the Ecological Protection Tribunal of Qingzhen People's Court in Guizhou Province on November 20, 2007 (CNSPHOTO)
On October 1, the Supreme People's Court (SPC) began to solicit feedback on an interpretation it published on adjudicating environment-related civil public interest lawsuits.
The 34-article document is an interpretation of the application of several environment-related laws, including the Environment Protection Law adopted by the National People's Congress on April 24, and will go into effect in January 2015. The document covers such topics as the requirements for prosecution, burden of proof, and liabilities.
In recent years, as China's economy grows by leaps and bounds, the country also faces serious resource constraints, exacerbating environmental pollution and ecological degradation, which jeopardizes the general populace's health and the sustainability of social and economic development.
This June, the Ministry of Environmental Protection (MEP) released the 2013 Report on the State of the Environment in China. The report shows that only 4.1 percent of the 74 cities that applied the new ambient air quality standards (GB3095-2012) reported good air quality. Among the other 256 cities that still use old standards, 69.5 percent met requirements.
Among the state-controlled monitoring stations of 10 major freshwater sources, 9 percent reported water quality worse than Grade V. On the scale, water of the highest quality is rated as Grade I, with Grade III and above considered fit to drink, to swim in and for daily household use.
Of the 4,778 monitoring spots for groundwater, 59.6 percent reported poor or extremely poor water quality.
In addition, another report issued jointly by the MEP and the Ministry of Land and Resources in April showed that about 16.1 percent of the country's soil is polluted.
Moreover, environmental problems have given rise to more and more public disputes and protests, undermining social stability.
While people are aware of environmental rights protection, it is not easy to file environmental cases with the courts. Ma Yong, Deputy Director of the Environment Law Service Center of All-China Environment Federation, told Xinhua News Agency that, last year, the federation brought eight environment public interest litigations to courts, but none of the cases were accepted.
Environmental disputes are different from other disputes, said Lu Zhongmei, President of Hubei University of Economics who has done more than 30 years of research in environment laws. For instance, in environmental cases, the perpetrators are difficult to identify, damages are often not immediately seen, the cause-and-effect relations are hard to establish. These factors make it more difficult to bring environmental disputes to courts.
From 2011 to 2013, every year, an average of about 30,000 environment related criminal, civil and administrative cases were accepted and heard by courts across the country, according to Zheng Xuelin, President of the Environment and Resource Tribunal of the SPC. In contrast, every year, courts in China hear more than 10 million other types of cases in total every year, Zheng said.
Many environment and resource-related cases cannot enter the litigation process, Zheng said.
To facilitate the trial of environmental cases, environmental tribunals have been established in China. The first environmental tribunal was set up in 2007 in Qingzhen, southwest China's Guizhou Province.
So far, 134 environmental tribunals have been set up in 16 provincial-level administrative regions across the country, said Sun Jungong, spokesperson of the SPC on July 3. On that day, the Environment and Resource Tribunal of the SPC was set up.
The tribunal's duties include hearing civil cases involving pollution, exploitation of natural resources and conservation of natural environments such as forests and rivers, and hearing appeal cases forwarded from lower courts, supervising the trial of environmental cases at lower courts and drafting judicial explanations about such cases, Sun said.
The tribunal is also expected to set the standards for trials of environmental cases, guide the work of lower courts and conduct research and draft relevant legal interpretations, Sun explained.