IT'S SHOWTIME: A scene from Avenue Q, a Broadway musical adapted to Chinese audiences (COURTESY OF SEVEN AGES)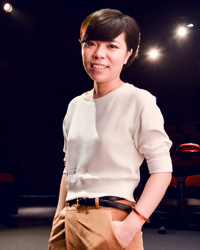 Yang Jiamin, CEO of Seven Ages (COURTESY OF SEVEN AGES)
The Broadway hit Avenue Q, which won the 58th Tony Awards for Best Musical, Best Score and Best Book in 2004, has been brought to Chinese stages with an increasingly common twist—the songs are now in Mandarin.
After a successful run last year of 50 shows in Shanghai and another 32 in Beijing in the first half of this year, the musical moved on to Guangzhou and Shenzhen in south China's Guangdong Province in September and October respectively. Now the producers have their eyes set on provincial capitals such as Nanjing, Hangzhou and Wuhan and a return to Shanghai.
The show, which is set in New York City, tells the story of a recent college graduate named Princeton who moves into an apartment on the fictional Avenue Q of the musical's title. There he meets a group of colorful characters, most of whom take the form of puppets, all adjusting to adulthood and finding their purpose in life.
In an interview with the website Gothamist.com, creators Jeff Marx and Robert Lopez said that their inspiration for Avenue Q—and part of the reason for using puppets—was that "life isn't as easy as we've been led to believe. Our parents told us we were special ... But when we got out of college, we were faced with rent bills and temping and entry-level jobs, if we were even lucky enough to get those … We found to our horror that we weren't all that special after all."
Successful adaptation
Yang Jiamin, CEO of Seven Ages Investment Co. Ltd., who brought the production to China, said that in addition to translating the scripts into Chinese, the Chinese version changed the background into one which combines the city landscapes of Beijing, Shanghai and Qingdao. She added that to ensure the quality of the performance, the company recruited most of the actors from the Shanghai Theater Academy, the Shanghai Conservatory of Music and the Central Academy of Drama in Beijing.
Also, in order to make it easier for Chinese audiences to relate to the story, the production team changed some of the characters' names in the original. For example, the character Princeton was turned into Tsinghua, the name of a prestigious Chinese university. A line or two is even spoken in the Shanghai dialect to make the script feel more natural.
"We tried to localize nearly every gag in the original to make Chinese audiences laugh," Cheng He, the translator of the script to Chinese who works for Seven Ages, told China Daily in June. "We threw away jokes that didn't translate well and replaced them with gags that our audiences can better relate to."
The musical has received mostly positive responses from Chinese audiences for its songs, sets and relevance to viewers, most of whom are young people who have only recently graduated from college. The tickets, which average 200-300 yuan ($33-49), have been selling well and in Shanghai, 95 percent of the 600 seats in the theater were occupied on average.
Pursuing a dream
Seven Ages was founded just a few years ago to bring Broadway musicals to China. Yang, its founder, developed an interest in Western musicals while she was still an English major at Peking University, having taken courses in Western drama, musicals and opera.
After graduating from university in 2009, Yang went to Japan to work for the Strategic Business Innovator Group, where she learned how business startups worked.