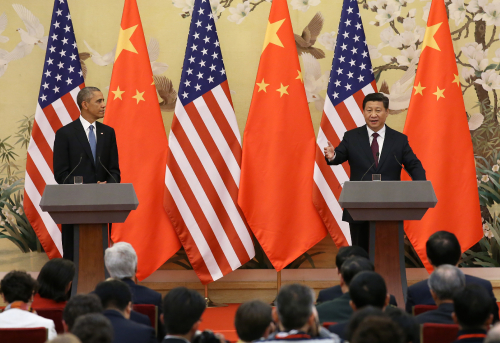 COOPERATION COMMITMENTS: Chinese President Xi Jinping and U.S. President Barack Obama attend a joint press conference following their agreement on a climate deal and other issues in talks in Beijing on November 12 (PANG XINGLEI)
There are many topics on which China and the United States differ, but the need to reduce carbon emissions has become a shining example of bilateral cooperation and the future of the relationship between the world's two largest economies. U.S. President Barack Obama and Chinese President Xi Jinping on November 12 announced their strongest commitment yet on climate change—raising hopes that the foundation for a global accord on reducing greenhouse emissions can be built when representatives of more than 190 nations meet this month in Lima, Peru, at the UN Framework Convention on Climate Change.
While the U.S.-China deal is completely voluntary—no penalties exist for not meeting targets—supporters described it as a historic announcement. Over the next 15 years, China pledges to reach peak emissions of global greenhouse gases and to increase its reliance on non-fossil fuels to 20 percent of its total energy. The United States commits to reducing emissions by 26-28 percent from 2005 levels.
"There has been a lot of reaction, everything from 'this is a game changer' to 'this is business as usual' and a lot of speculation of whether this can really be pivotal in Lima," said Joanna Lewis, an associate professor in the Science, Technology and International Affairs program at Georgetown University's Edmund A. Walsh School of Foreign Service during a November 24 teleconference sponsored by the National Committee on U.S.-China Relations.
While the challenges to implementing the climate change goals are significant, the "ambitious" announcement may motivate other nations to follow suit, Lewis said.
Alex Wang, an assistant professor at the UCLA School of Law, went a step beyond, calling the deal "monumental."
"It's a major step forward," Wang said. "In addition to the targets there have been follow-up announcements. The United States pledged $3 billion to the Green Climate Fund and China announced an energy plan that talked about a coal consumption cap. So, those are important follow-up announcements."
Implementation is the hot button issue, he added. Many critics have said that China has many environmental laws on the books that are not enforced due to regional protectionism and the lack of data collection, but the latest commitments are different—they are part of a broader economic transformation away from heavy industry and toward cleaner, more efficient economic growth.
"Pressure has been intensifying over the last two years with the problems in air pollution," Wang said. "There are concerns of protectionism but the new economy has new interests. There is a lot of money to be made in the clean energy economy."