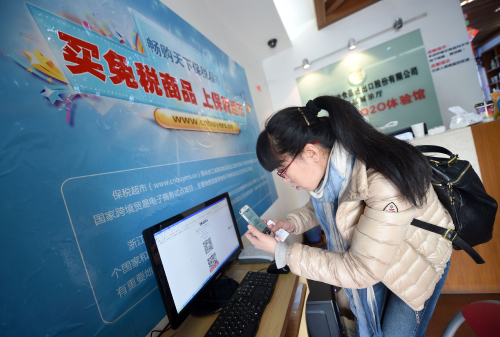 SCAN AND BUY: A shopper scans the QR code of a commodity in a cross-border e-commerce supermarket in Hangzhou, Zhejiang Province, on March 16 (HAN CHUANHAO)
"The pilot zone in Hangzhou, if successful, can be replicated and promoted in other areas of the nation," Yang said.
According to statistics from China E-Business Research Center, the value of China's imports and exports surpassed $4 trillion in 2013, of which the volume of cross-border e-commerce transactions amounted to 3.1 trillion yuan ($499 billion), up 31.3 percent year on year. Moreover, a global trade report released by the Ministry of Commerce has predicted that the industry will keep expanding at an average annual pace of more than 30 percent.
Not that simple
In most cases, online shoppers like Lin don't buy in bulk, and the categories of commodities in one order may encompass a variety of items.
As for cross-border e-commerce platforms, the processing of an order containing several imported commodities, customs clearance in particular, can be complicated and time-consuming, not to mention there are many single items wrapped in packaging that need to be unwrapped when going through inspection procedures.
Moreover, a sound business and supervision model regarding payment, tax reimbursement and settlement of exchanges has not yet come into existence, explained Han Feng, a senior executive of Xi'an Haitaotong E-Business Co. Ltd. in Xi'an, capital of northwest China's Shaanxi Province.
"As far as cross-border e-business companies are concerned, they are expecting a set of strict operation procedures that standardize every aspect of transactions," Han commented. "Only in this way can the goods be prepared, delivered and cleared by the customs in accordance with requirements. With a complete set of operation procedures in place, companies will be relieved from many concerns and focus on expanding their business."
The State Council has suggested that the pilot zone in Hangzhou devise technical standards and establish operation procedures and a supervision model covering payment, logistics, customs clearance, tax refunds and foreign exchange settlements.
"In a broad sense, cross-border e-commerce transactions are classified into business to business (B2B) and business to customer (B2C) categories. Now, B2C is more popular," said Lei Ming, Marketing Director of Shanghai Hank Business Consulting Co. Ltd.
Zhang Hong, head of the School of Economics and Management of Xi'an University of Posts and Telecommunications in Shaanxi, believes B2C will take up more market shares.
"Given advanced Internet technologies and the vogue of personalized consumption, the trend of trade fragmentization has become increasingly conspicuous," Zhang said.
Supervision and support
Since cross-border e-commerce transactions are usually real-time and sporadic, the traditional supervision system doesn't work, said Yang, who calls for a brand new supervision and supporting system to be launched.
In August 2014, the General Administration of Customs promulgated its No.56 Decree, which makes clear matters on the supervision of cargo entry and exit in cross-border e-commerce transactions. "Now, most links of the industry need to be standardized by policies, including tax collection, customs clearance and declaration," said Wang Xiaoxing, an analyst from Analysys International , a leading Chinese Internet consulting company.
In addition, Zhang Xiangli, an analyst with iResearch, a Beijing-based market research and consulting company, noted that most existing e-commerce policies are geared toward regulating business activities and companies in the trade, while enterprises that provide supporting services for them, such as logistics integration, are neglected.
"To smooth the development and standardization of the cross-border e-commerce, authorities should unveil more favorable policies targeted at supporting services providers," he said.
Copyedited by Kylee McIntyre
Comments to dengyaqing@bjreview.com