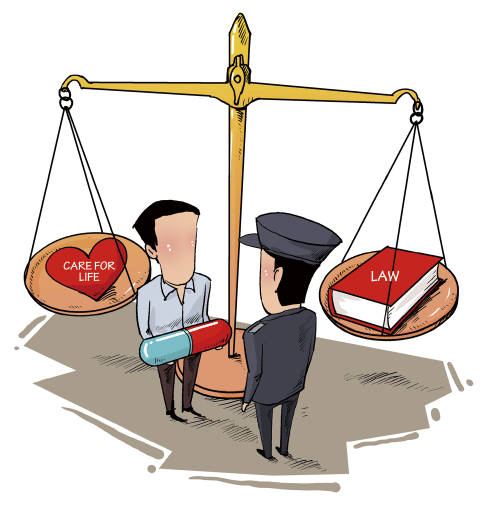 (CFP)
Lu Yong was prosecuted for selling "fake medicine" to as many as 1,000 customers in July 2014. The story might not have been particularly noteworthy were it not for Lu's own circumstances.
Lu was diagnosed with chronic myeloid leukemia in 2002 and began to take Gleevec, developed by Swiss pharmaceutical giant Novartis, for use in the treatment of multiple cancer growths.
Novartis got a license to sell the medicine in China in 2002. The price is around 23,500 yuan ($3,777) per box at that time and he needed to take one box a month.
As the medicine is not covered by the medical insurance system in China, Lu spent 600,000 yuan ($96,774) to 700,000 yuan ($112,903) on his treatment in the first two years after his diagnosis.
"This cost is too high," said Lu. As a business man running a textile export company in Wuxi, Jiangsu Province, Lu still couldn't afford it. In 2004, he was almost broke and was trying in various ways to find an affordable alternative.
A stroke of luck
In an English article Lu came across, he learnt of Veenat, a much cheaper generic version of Gleevec. The cost for the same dosage he was taking was only 3,000 yuan ($483) a month.
He then ordered samples directly by mail and found it worked just as well. He made the choice to switch to Veenat and shared his discovery with other leukemia patients in the online support groups he used.
More than 1,000 members of the group wanted to try it themselves, but the procedure for getting the medication including filing various documents in English for the shipments is complicated, and few could navigate the process by themselves. Lu served as an interpreter for them, free of charge. Lu even made a trip to the drug factory in India to make sure everything was legitimate.
With group purchasing from China, the price of Veenat continued to fall. The cost, including mail charges, dropped to 200 yuan ($32) per box, the dose for one month by September 2013.
The Indian company faced frequent problems due to restrictions and technical issues involved in transnational payments.
It asked for Lu's help with handling payments in China, but Lu didn't want to make the other patients feel he helped them for profit. "I did it purely to help other leukemia patients in need," said Lu. Eventually, Lu agreed and applied for credit cards in 2012 to help handle the payments from the more than 1,000 patients a month.
Lu's actions came to the attention of local police in 2013. In August 2013, Lu was arrested by Yuanjiang Public Security Bureau in Hunan Province for breaching the laws concerning national management of credit cards. In July 2014, Lu was prosecuted in Yuanjiang for the credit card fraud and the sale of fake medication.
A medicinal quandary
The case sparked a debate on the ethics of buying and selling medicine from overseas.
Luo Jian, one of the prosecutors in Yuanjiang who dealt with the case, said that any drug lacking a government license--even one made by a registered pharmaceutical company--is classified as counterfeit under Chinese law.
Ruan Qilin, a professor with China University of Political Science and Law, argued that, although Lu's violation of the drugs-related law is deemed a criminal act according to the interpretation of China's highest court, the Supreme People's Court, it in fact merely constitutes a violation of administrative law, which often entails less serious punishment. "The laws should be updated," suggested Ruan.
Zhuang Yiqiang, Deputy Secretary General of the Chinese Hospital Association, said that overseas drugs are indeed more expensive in China than they are in foreign countries, though this comes as a result of tariffs and the costs of distribution.
"Indian and Chinese drug authorities allow domestic pharmaceutical companies to produce drugs without the permission of the original drug maker in the case of a national emergency or for public interest," said Zhuang. "But China has never permitted this in practice while Indian authorities frequently do so. China should consider the question of whether they want to include costly treatment for diseases like leukemia into the basic health insurance system."
Shi Lichen, a senior partner at the medical and pharmaceutical unit of All PKU, a consultancy in Beijing, said India's patent law allows companies to make generic versions of patented drugs released in developed countries.
According to Shi, Chinese law lets drug firms apply to mass produce generic drugs on the grounds that a major public health threat exists, but few companies have shown interest because the waiting time for receiving permission is lengthy.
The patent for Tenofovir, also known as Viread, which is used to treat HIV and hepatitis B infections, would expire in 2017.
But if a Chinese pharmaceutical company applies for approval of a generic substitute right now, it will have to wait for three years, which is not far away from the expiration date of the drug's patent.
The patent for Gleevec already expired in 2013, and at least two China-based pharmaceutical companies have jumped on the opportunity to produce out generic substitutes.
But a generic version produced by Chia Tai Tianqing Pharmaceutical Group in Jiangsu costs 4,200 yuan ($677) a month and another alternative from Jiangsu Hansoh Pharmaceutical costs 3,800 yuan ($613) a month. The versions from India cost a mere 200 yuan ($32) a month.
"That's why mail orders of (both patented and generic drugs) from overseas suppliers is so popular in China," said an analyst with knowledge of the drug market who did not want to reveal his name.
Test results
The court for Lu's case was scheduled to hear the case in late November 2014, but it was postponed because of Lu's health.
In November 2014, the latest judicial interpretation by the Supreme Court was released, stating that the sale of a small number of unlicensed overseas medicines that do not damage or delay treatment is not considered a crime.
During the process, more than 300 leukemia patients signed an online petition asking the local authorities to exempt Lu from criminal punishment. One patient surnamed Guo wrote, "Lu saved our lives. Leukemia is not covered in the basic medical insurance system, so we have to depend on ourselves. We can't just wait to die!"
Wang Peng (pseudonym) from Sichuan Province is a beneficiary of Lu's help. In 2010, Wang was diagnosed with leukemia on his 25th birthday.
"It felt like my life had suddenly ended," said Wang, who later learned that there are 100,000 people in China with the illness and an average of more than 10,000 are diagnosed every year.
Wang, right after his diagnosis, joined the same online support group as Lu, where almost 480 people shared their stories and provided each other with advice and assistance. It was here that he learned of Lu and his supply of medicine from India.
With the patent for Gleevec expiring in 2013, Novartis offered a promotion in 2010: buy three boxes, and get nine free. Despite this, the cost was still excessive--72,000 yuan ($11,613) for three boxes--especially when the fact that patients have to take it for the rest of their lives is taken into account.
For this first two years with the disease, Wang spent about 200,000 yuan ($32,258) on the medicine and medical tests. "It was a heavy burden for my family, and we even had to get help from relatives," said Wang.
In June 2012, Wang switched to Veenat. "The total cost for one year was only 3,000 yuan ($484),"said Wang, who took the medicine to get professionally analyzed. The results showed Veenat was 99 percent similar to Gleevec.
"Gleevec in China is probably sold at the highest price in the world, much more than the $2,200 per box it costs in the United States," said Lu, who called for support to help pay the medical bills for cancer patients and suggested governments negotiate with companies to cut prices. "I hope more of these drugs can be covered by national medical insurance."
On January 29, Lu was pardoned and no sentence was handed out. Lu said he will continue to help leukemia patients gain access to more affordable treatments.
"If I had a chance to start over, I would do everything the same. Our national policies cannot cover every patient. What I did was complementary to what the government can do," said Lu.