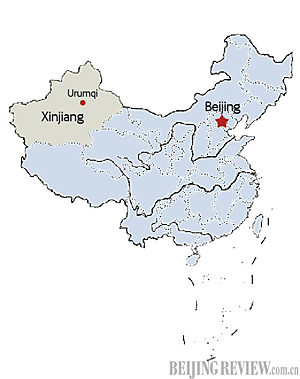 Global Reactions
The terrorist attack in Urumqi, Xinjiang Uygur Autonomous Region, on May 22 has drawn widespread condemnation internationally. Governments and international organizations have also offered their condolences to the Chinese people and the relatives of the victims.
"The secretary general stresses that there is no justification for the killing of civilians and hopes that those responsible will be brought to justice."
—A statement issued by UN Secretary General Ban Ki-moon's spokesman
"Russia is shocked by what happened in Urumqi. We categorically condemn this bloody, barbarous act and hope those responsible will be found and prosecuted."
—Alexander Lukashevich, Russian Foreign Ministry spokesman
"This is a despicable and outrageous act of violence against innocent civilians, and the United States resolutely opposes all forms of terrorism."
—Jay Carney, White House spokesman
"The European Union condemns this senseless act of violence and extends its heartfelt sympathies to the families and friends of the victims."
—Maja Kocijancic, a spokeswoman for EU foreign policy chief Catherine Ashton
"We believe that terrorism in any form and from whichever quarter cannot be condoned."
—South African Department of International Relations and Cooperation
"The Australian Government deplores all forms of terrorism and condemns any attack on innocent people."
—Frances Adamson, Australian Ambassador to China
"Acts of violence and extremism
targeting innocent people anywhere in the world are condemned and such moves have no connection with the principles of Islam at all."
—Marzieh Afkham, Iranian Foreign Ministry spokeswoman
(Compiled by Beijing Review)
Email us at: yinpumin@bjreview.com