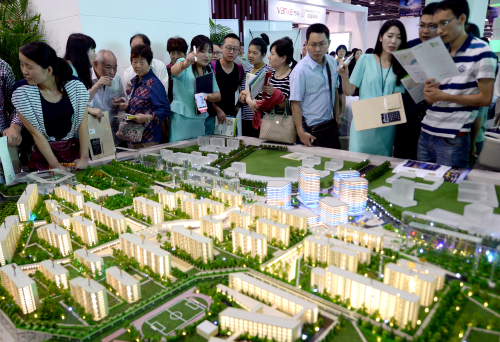 People consult on housing at a property exhibition in Hangzhou, Zhejiang Province, on May 16 (XINHUA)
After months of searching for a school-district home for his school-age daughter, Wang Feng, a resident in Shenzhen, south China's Guangdong Province, finally signed a housing sales contract on March 8 to buy a second-hand home in downtown Shenzhen's Luohu District.
The 68-square-meter apartment was sold to Wang at 2.15 million yuan ($336,690), or 32,000 yuan ($5,011) per square meter, according to the contract. Wang placed 50,000 yuan ($7,830) as an earnest money deposit that day and put 570,000 yuan ($89,260) in a third-party custodian account in a bank as down payment on April 3. All that remained was to fill out some paperwork to secure bank loans in order to finalize the deal.
However, things soon took an unexpected turn for Wang. After the government released a raft of supportive policies to lift the flagging property sector in late March, housing prices in Shenzhen experienced a sudden surge. The homeowner refused to sell the property to Wang because the value of the property had substantially increased--to the tune of 400,000 yuan ($62,640) by the time the transfer of property ownership was scheduled to take place on May 3.
Wang angrily refused the offer of 100,000-yuan ($15,660) compensation from the homeowner and filed a lawsuit against her. On July 31, the People's Court in Luohu District ruled that the homeowner should fulfill the terms of the contract and bear the burden of all the litigation costs incurred during the lawsuit.
"I am very satisfied with the verdict," said Hu Weigang, Wang's attorney. "As soon as the verdict was issued, I put it online to encourage those people whose legitimate rights have been violated to take legal action. This verdict can help subdue the current wave of contract breaches in Shenzhen."
To prevent a sluggish property sector from dragging down an already challenged economy, the central authorities released a slew of supportive policies, including lifting curbs on home purchasing, cutting interest rates, reducing down payment requirements and loosening taxation rules for home purchases. Following those policies, the property market showed strong signs of recovery in the second quarter of the year, especially in first-tier cities--Beijing, Shanghai, Shenzhen and Guangzhou, capital of Guangdong.
Taking Shenzhen for example, after the new policy was introduced, housing prices surged substantially, leaving tens of thousands of buyers like Wang victims of contract breaches as sellers, having realized that they had set their prices too low, attempted to opt out.
With supportive policies targeted at the property sector taking effect, the housing market in China's big cities has witnessed a revival while recovery in smaller cities remains tempered owing to the size of inventories and limited demand. On the other hand, China's long-discussed property tax plan has once again come to the fore following its inclusion in the national legislation plan in early August, boding well for the sector's sound development in the long run.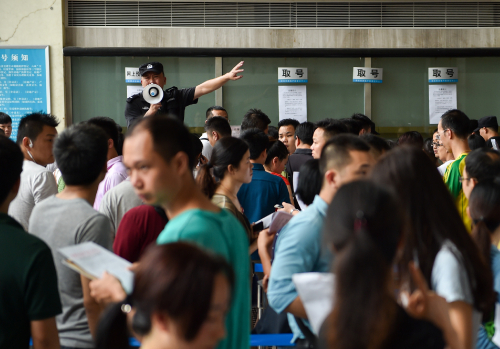 Security personnel maintain order in an overly crowded property right registration center in Shenzhen, south China's Guangdong Province, on July 1 (XINHUA)
A market revival
China's housing market took a downturn in 2014 owing to weak demand and a large inventory of unsold homes, following irrational price surges from 2012 to 2014. The cooling had continued into the first few months of this year, with both sales and prices falling and investment slowing.
To stabilize the sluggish property sector, which accounts for roughly 15 percent of the country's economy and affects 40 industries including glass, cement and steel, the Chinese Government stepped up to the plate.
In March, the government eased payment requirements for second-home purchases to 40 percent from what was previously 60-70 percent, and exempted business tax for sales of homes purchased over two years ago.
Some local governments have also rolled back their restrictions on home purchases to help with the emerging signs of improvement.
To combat the downward pressure, the central bank has cut the benchmark interest rates four times since last November and reduced banks' reserve requirement ratios three times since February.
The effects of those new policies have started to kick in since the second quarter of the year.
From April to June, housing prices and sales volume surged in a sample of 30 cities whereas the figures reached a five-year high in the four first-tier cities, according to data from E-house China R&D Institute, a Shanghai-based property research company.
"First-tier cities took the lead in a housing market rebound in the second quarter of the year," said Yan Yuejin, Research Director of E-house China R&D Institute.
"Acceleration of the de-stocking process has pushed up housing prices. On the other hand, expectations of further hikes in first-tier cities will drive up prices," Yan analyzed.
Investment in the property sector and sales volume continued to warm up in July. From January to July, property investment increased 4.3 percent year on year and the sales volume of commercial housing increased 6.1 percent year on year, according to the latest data from the National Bureau of Statistics.
New home sales in China's 30 major cities surged 44.2 percent year on year in July thanks to policy easing, according to the E-house China R&D Institute.
Of the first-tier cities, Shenzhen witnessed the strongest growth in July compared with a year earlier, with a rate of 186.4 percent, the report said.
"The real estate market is warming up largely because of official easing policies," said Zhang Shuyu, an analyst from the Beijing-based University of International Business and Economics.
"Market confidence has been restored as the central bank moves to combat economic growth slowdown," said Zhang.
Policy easing has helped the biggest cities and also done some good in second-tier cities. Unfortunately, it has done little to revive third- and fourth-tier cities, experts said.
"Property markets in big cities are showing the opposite trend compared to those in third- and fourth-tier cities in recent months, as recovery of housing markets in small cities is weighed down by high inventories," said Zhang Dawei, chief analyst at property agent Centaline.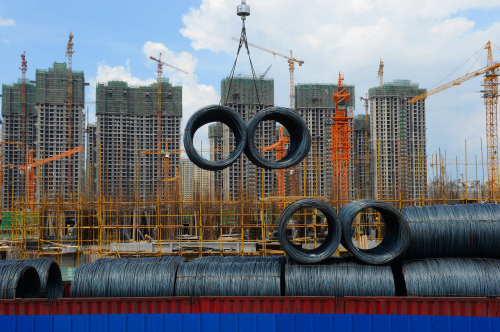 A property construction site in Yanjiao, north China's Hebei Province, on July 13 (CFP)
A look ahead
Zhang said price increases in first-tier cities in the second quarter of 2015 are only the beginning.
"With most property developers regaining enthusiasm in buying land in first- and second-tier cities, the price rise will continue into the second half of 2015 in those cities," Zhang said.
"Some third- and fourth-tier cities had rampantly developed the property sector over the past few years, resulting in a large inventory. These cities will be mired in the structural adjustment of their property sectors for some time to come," said Hu Zhigang, Vice President of China Real Estate Association.
Qin Hong, Director of the Policy Research Center with the Ministry of Housing and Urban-Rural Development, ruled out the possibility of runaway housing prices in China anytime soon in the future.
"Supply in the property sector, after so many years of construction, has exceeded demand, even to the extent of severe oversupply in some areas. Therefore, housing prices skyrocketing once more is unlikely to occur," Qin forecasted.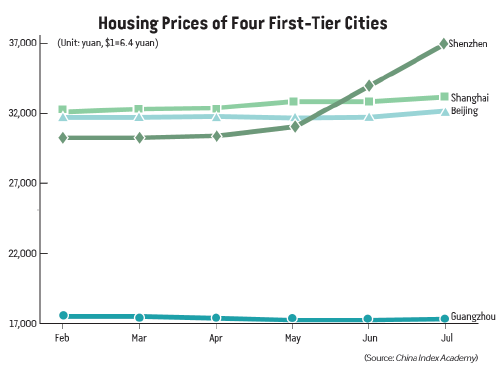 Jia Kang, former Director of the Research Institute for Fiscal Science under the Ministry of Finance, said no quick rebounds for the housing market in small cities and towns would be seen, as many young people are rushing to big cities seeking better employment, education and medical services.
"Differentiated development between large and small cities will become more obvious in the second half of 2015," Jia said.
"As China's urbanization drive continues, first-tier cities will have strong growth momentum owing to increasing demand while recovery in small cities will be hindered by large property inventory."
According to Jia, the property tax will play a fundamental role in the sector's sound development in the long run.
The Standing Committee of the National People's Congress (NPC), China's top legislature, included the Property Tax Law in a legislation plan released on its website on August 3.
"The conditions are ripe to enact these laws, and the 12th NPC plans to review them within its tenure that will last until early 2018," said the document.
With a clear reform roadmap in place and transparent policies, the public can expect to see more policy changes that will help stabilize market expectations in order to avoid wild swings in prices, analysts said.
Ni Pengfei, Director of Research Center for City and Competitiveness under the Chinese Academy of Social Sciences, said that levying the property tax will help the property sector to readjust over the long run and guide the sector down the path of sound development.
"Although levying the tax has limited impact in the short run, proper timing is crucial when it comes to applying the tax."
Shi Zhengwen, a professor of fiscal and financial law at China University of Political Science and Law, said he expected the policymakers to start soliciting public opinion for the draft of the property tax law in 2016 and the legislators to review the draft by the end of that year.
"The law is likely to be passed in 2017. However, even if this happens, it doesn't mean the tax will be levied immediately. The property tax will be collected by local governments. When exactly the tax will be levied will be decided by local governments according to local conditions," Shi said.
Copyedited by Eric Daly
Comments to zhouxiaoyan@bjreview.com