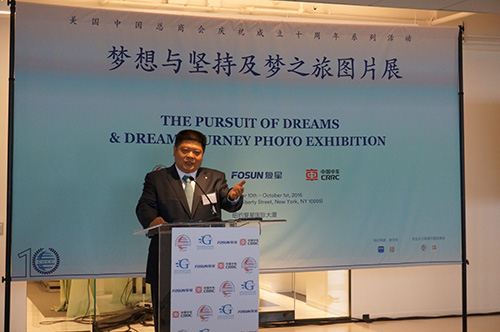 Yu Weiping, Vice President of CRRC, delivers a speech at the opening ceremony of the Pursuit of Dreams & Dream Journey photo exhibition in New York City on September 10 (HUANG WEI)
A month-long photo exhibition showing the transformation of the Sino-U.S. relationship over the past 150 years opened in New York City on September 10 as part of a series celebrating the 10th anniversary of the China General Chamber of Commerce--U.S.A. (CGCC).
The Pursuit of Dreams & Dream Journey exhibition showcases the growth and achievement over the past decade of CGCC members. The exhibition is hosted by China Railway Rolling Stock Corp. (CRRC) and Fosun International Limited, a Chinese investment company.
The photo exhibition reflects the development of China-U.S. economic relations, and demonstrates CGCC's mission and determination to further facilitate bilateral economic and commercial activities, said Xu Chen, Chairman of CGCC and CEO of Bank of China U.S.A.
Ambassador Zhang Qiyue, Chinese Consul General in New York, gave a speech at the opening ceremony, reminiscing about historical moments in the China-U.S. relationship and expressing confidence in further economic cooperation between China and the United States.
Economic relations between China and the United States are playing an increasingly important role in overall diplomatic relations, she said. Although China has slowed its annual GDP growth to around 7 percent, its contribution to the world's economy is still large.
CGCC has served as an effective platform to facilitate a better economic relationship between China and the United States, the ambassador said.
New York Lieutenant Governor Kathy Hochul echoed Ambassador Zhang, saying bilateral economic development is important, but any type of economic relationship is a personal relationship. "I believe the people of New York will continue to build friendship and trust with their partners in China," she said.
New York is prepared to attract additional Chinese entrepreneurs by providing preferential tax terms and labor sources, Hochul said.
Vice President of CRRC Yu Weiping revealed a $60-million investment in Boston at the ceremony, and said the company is willing to be involved in constructing additional high-speed railways in the United States.
Guo Guangchang, Chairman of Fosun Group, one of the largest non-stated-owned investment enterprises in China, believes the photo exhibit will encourage companies from both countries to invest and cooperate.
Fosun is like many other multinational companies shown in the photo exhibit, he said, adding that these companies embrace any opportunities that will lead to mutually beneficial solutions.
The photo exhibit consists of three parts: Sino-U.S. Relations and High-Profile Visits, Chinese Enterprises in the United States and Cultural Exchanges. It is open to the public in the lobby of 28 Liberty, a building that Fosun acquired in 2013, until October 1.
(Reporting from New York)