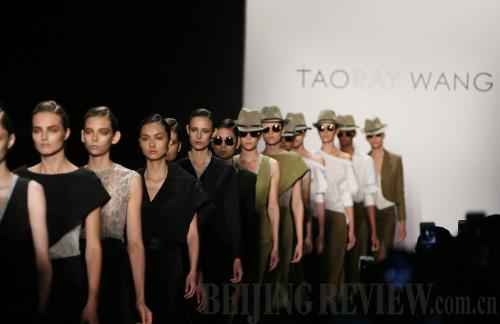 Chinese designer Tao Wang's 2016 spring collection is inspired by the epic film Out of Africa (GUAN LIMING)
Chinese designer Tao Wang launched her 2016 spring Taoray Wang signature collection on September 14 at New York Fashion Week, the global crossroads where fashion meets business and lifestyle.
This season's offering continues to combine strong shapes and soft contouring to present a unique and artistic fashion statement. It emphasizes the style and power of successful women in all walks of life, Wang said.
"I was inspired by the epic film Out of Africa. The heroine performs her daily rituals on a plantation with dignity, elegance and generosity while fighting against the dominance and inevitability of fate. She truly defines what a Taoray Wang muse looks like: independent, confident and strong," she said in a media statement.
Tao Wang is one of China's most celebrated and accomplished designers by pioneering an exhilarating change in women's fashion in China.
With the launch of her namesake brand, Taoray Wang, she brings her collection to a global audience of women who appreciate refined tailoring, sophisticated silhouettes and luxurious fabrics.
After graduating from East China Normal University, Tao Wang trained at Japan Tokyo Mode Gakeun, where she was awarded five international fashion awards. From there, Wang led the studio for Junko Koshino, the highly acclaimed Japanese designer. Wang was recruited as chief designer for a women's wear brand in London. Recognized for her skills, Wang became creative director and CEO for broadcast (bo), a successful Chinese women's label.
Over the past decade, Wang has grown from an aspiring designer to one of Asia's most successful female entrepreneurs. Her goal for her namesake brand is to create collections that draw independent, international women.
Tao Wang is opening her first U.S. location at Soho, New York City, according to The Real Deal, a New York real estate news website.
(Reporting from New York City)