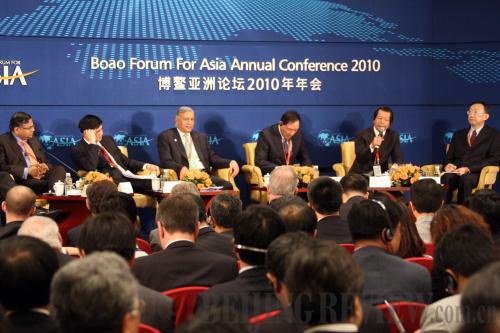 PAN-ASIAN COOPERATION: At the session of Rethinking Growth during this year's Boao Forum for Asia, panelists proposed to help promoting industrial upgrading in Asia by making closer financial cooperation and a free trade area (HUANG YIMING) 
While the 1997 Asian financial crisis gave birth to the Chiang Mai Initiative, a foreign currency reserve pool to address short-term liquidity difficulties in the region, the 2008 global financial crisis promoted Asian political leaders, bankers and scholars to seek closer regional financial cooperation based on the initiative's framework.
"But we should not exaggerate the role of the Chiang Mai Initiative or even compare it to the International Monetary Fund (IMF) because it has yet to start any definite regional financial cooperation," said Zheng Xiaosong, Director General of the International Department under China's Ministry of Finance, at a session discussing regional financial cooperation during this year's Boao Forum for Asia, which was held in Boao, Hainan on April 9-11, with Asia's green recovery as its theme.
Opinions varied on what direction the initiative will take and what else it is capable of in promoting common prosperity among its members, but panelists agreed that this arrangement is evolving with focus on participation and mutual benefits. Its most important goal is to achieve win-win results.
The Chiang Mai Initiative was set up by the Association of Southeast Asian Nations (ASEAN), China, Japan and South Korea in 2000. It recently became known as the Chiang Mai Initiative Multilateralization (CMIM) as members expanded the resource pool to $120 billion as of March 2010.
CMIM is a regional liquidity cushion mechanism established as a security guarantee system, said Yasuyo Yamazaki, President of the Sun Based Economy Association, at the session.
There are three layers of the CMIM's functions: the role of an insurance company; the model of a central bank; and the role of asset liquidator, said Yamazaki.
"But it is not an Asian monetary fund or the central bank for Asia," he said. "Although East Asian countries have the largest reserve pool, these reserves are in the form of U.S. dollars."
Using China's yuan or Japan's yen for the large reserve pool has become the initiative's latest topic of discussion, especially if the U.S. dollar peg is abandoned, he said.
Compared with treating the reserves as a liquidity pool only, panelists suggested better ways to use it to promote regional economic development and cooperation.
Tun Abdullah Bin Haji Ahmad Badawi, former Prime Minister of Malaysia, said he thought it should be treated as a special fund and investing it in infrastructure constructions or green, environmental protection technologies for long-term returns on the pool.
The goal of such measures is to create jobs constantly, he said.
Zheng Xinli, Vice Chairman of the China Center for International Economic Exchanges, proposed large holders of foreign exchange reserves, such as China, Japan and South Korea, combine part of their reserves and the CMIM fund to jointly commit resources to an investment bank for infrastructure, an investment bank for agriculture, and a modern development bank in Asia.
"This will create competition between the three banks in promoting development of infrastructure and agriculture in Asia, and help cultivate growth momentum and boost demand within the region, which, I think, is much more beneficial to Asia's financial stabilization," Zheng Xinli said.
Concerning the future of the CMIM, Zheng Xinli put forward three goals: to diversify its functions away from merely a risk-proof tool; to evolve from a bilateral agreement into a multilateral one; and to expand its focus from cooperation with Asian countries to granting Asian countries a larger voice in the IMF.
ASEAN countries, China, Japan and South Korea may soon set up a research center on financial monitoring, said Zheng Xiaosong. "But we should prevent it from intervening in other countries' internal affairs, because the so-called monitoring function is, in other words, only a supervision or performance tracing role in order to provide necessary consultation to relevant countries," he said.
If the CMIM's monitoring function plays a dominant role in asset liquidation as was the case with the IMF two or three decades ago, it could give rise to misgivings across the region and interfere with agreement among the nations involved, Yamazaki said.
Zheng Xinli listed three conditions for closer regional financial cooperation and the establishment of a central bank for Asia: regional economic integration; political commitments to strengthening cross-region cooperation; and a free flow of labor and capital.