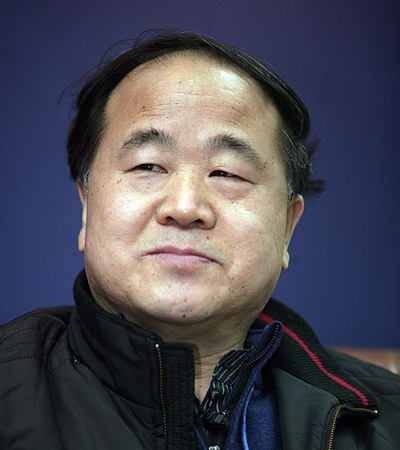 Mo Yan (CFP)
Chinese writer Mo Yan was awarded the Nobel Prize in Literature on October 11. Before the announcement was made, his novels had already sold out at bookstores across China.
"About 5,000 copies of one of Mo's novels have sold out," said Tang Zhengyu, Director of the Marketing Department at the Shanghai Literature and Art Publishing Group.
Buying Mo's novels online isn't easy either because many of his works have also sold out on the leading Chinese e-commerce websites.
On learning from the bookmaker Unibet that he was likely to win the Nobel Prize, Mo returned to his hometown, Gaomi County in east China's Shandong Province, to stay with his father and out of sight from the media. He heard the news on TV.
"Winning the Nobel Prize means that I would have to meet many journalists in the following days," Mo said. "Undoubtedly, the Nobel Prize in literature is the world's highest award in the field. However, in history, many great writers never had the chance to win the prize, such as Leo Tolstoy and Franz Kafka, while not all the winners of the prize deserve the title."
Mo's win has elicited a variety of responses from writers and literary critics.
"In the past, the Nobel Prize in literature was mostly awarded to European writers. The Chinese have always wished that the judges would pay more attention to Chinese writers," said Wu Di, Director of the Institute of Comparative and World Literature at Zhejiang University.
"It's surprising that the Nobel Prize for literature is awarded to a Chinese. It indicates that Chinese literature has grabbed worldwide recognition. From now on we don't need to care much about winning the Nobel Prize but can focus more on our writing," said Zhang Yiwu, a professor at the Department of Chinese Language and Literature at Peking University.
Editor in Chief of Lifeweek Zhu Wei said on his micro-blog that the Swedish Academy has recognized Mo's in-depth analysis of the Chinese way of life.
"Mo's winning has aroused the Chinese people's love for reading. People can get immersed in reading books again like they did in the late 1970s and early 1980s," said Sun Yuemu, Director of China Book Business Report.