An ocean-going cargo ship in Lianyungang, Jiangsu Province (WANG CHUN)
 Picking Up Steam
The Chinese economy, which suffered a slowdown in the first three quarters, picked up steam thanks to pro-growth measures and policy loosening. Economic indicators in the fourth quarter showed that the country was on a moderate path of recovery.
China's economy grew 7.4 percent year on year in the third quarter of 2012, slower than the 7.6-percent growth in the second and the 8.1-percent growth in the first. Third-quarter GDP growth marked the slowest quarterly growth in more than three years.
China has rolled out an array of measures to buoy the slowing economy, including two cuts to its benchmark interest rate, an easing of reserve requirements by banks and the approval of infrastructure projects worth more than 1 trillion yuan.
China's consumer price index grew 2 percent year on year in November, up 0.1 percent from a 33-month low of 1.7 percent in October.
November's purchasing managers index, a gauge of performance in the manufacturing industry, edged up a notch from its flash reading of 50.4 to 50.5, the highest in 13 months.
China's value-added industrial output rose 10.1 percent year on year in November, picking up from 9.6 percent in October and 9.2 percent in September.
A worker checks equipment at a new ENN Group energy workshop (YANG SHIYAO)
While some traditional industries under-performed due to sluggish overseas demand and a plunge in investment, China pinned its hopes on strategic emerging industries.
On July 20, the State Council unveiled a sweeping national development plan for strategic emerging industries during the 12th Five-Year Plan period (2011-15), in a bid to make them new growth engines of the Chinese economy.
Strategic emerging industries, including information technology, biology, advanced equipment manufacturing, new energy, new materials and new-energy vehicles, accounted for less than 4 percent of the GDP in 2010. The plan sets a target of 8 percent of the GDP by 2015 and 15 percent by 2020.
According to the State Council, spurring the development of emerging industries means greater market reform and freedoms, and a market admission mechanism for private capital will be needed.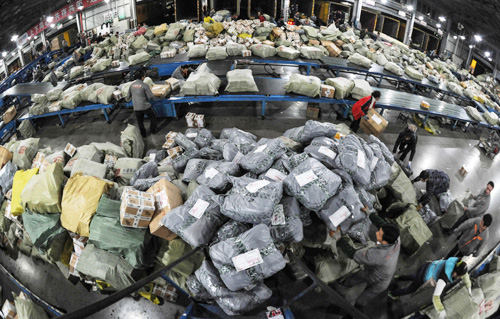 Parcels pile up at a logistics company in Zhejiang Province after November 11, the Singles Day (HAN CHUANHAO)
Chinese citizens' consumption power, especially over the Internet, was on full display in 2012, illustrating the potential for increased domestic consumption as the country attempts to shift its economy away from a reliance on manufacturing exports.
Sales revenue for the retail and catering sectors totaled 800.6 billion yuan ($127.3 billion), up 15 percent year on year, during the 2012 Golden Week, which ran from September 30 to October 7.
A total of 425 million Chinese traveled during the period, up 40.9 percent, resulting in 210.5 billion yuan ($33.47 billion) for the tourism industry.
November 11 is dubbed Singles Day, and it means massive discounts for online shoppers nationwide.
The 2012 Singles Day saw over 213 million Internet users swarm Taobao and Tmall, two websites operated by the Hangzhou-based Alibaba Group, for its 24-hour 50-percent-off carnival. Together the sites raked in a record 19.1 billion yuan ($3.07 billion), up 260 percent year on year. Other major e-commerce players all reaped record-breaking profits, which marked the biggest e-commerce sales day on record.