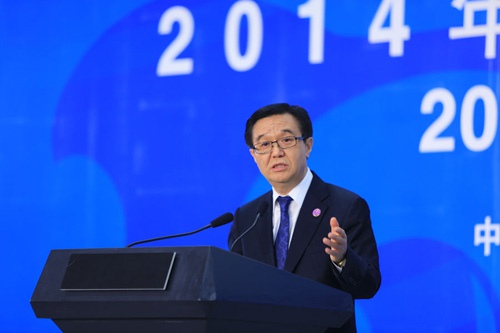 Chinese Commerce Minister Gao Hucheng at a news conference on November 8 (CHINA.ORG.CN)
Officials at the APEC Ministerial Meeting have reached a consensus on the Beijing Roadmap for APEC to achieve the Free Trade Area of the Asia Pacific (FTAAP), said Gao Hucheng, China's Commerce Minister at a press conference on November 8.
APEC ministers have also agreed to launch and "comprehensively and systematically" push forward the FTAAP process, Gao said.
The roadmap, defining the guiding principles and action rules for advancing the FTAAP process, will be submitted to the upcoming APEC Economic Leaders' Meeting for approval.
"We're glad to see that all APEC ministers have adopted the roadmap and have decided to launch joint strategic research, establish the FTA information exchange mechanism, start the multi-year capability building on FTA negotiations and promote cooperation in services, investments and rules of origin," said Gao.
"As we know, the APEC has been called the 'incubator' of an FTAAP for years," said Gao. "Launching the joint strategic research on FTAAP issues marks a progression of the APEC's role from being an 'incubator' to being the researcher and maker of an action plan for the FTAAP. "
Trade and investment facilitation was set as the objective when the APEC was established 25 years. In 2006, APEC economic leaders put forward the vision of an FTAAP, but it was not an objective that can be achieved immediately.
In 2010, the APEC Economic Leaders' Meeting agreed to accept regional FTA negotiations, such as ASEAN plus Three and the Trans-Pacific Partnership, as potential pathways to the FTAAP and make APEC an incubator of the FTAAP. But no real progress has been made.
In recent years, all kinds of regional FTAs have thrived within the Asia-Pacific region, which have facilitated trade and investment. However, Gao said, due to different rules, standards and development levels of regional economies, they failed to bring convenience for companies to enjoy preferential cross-border trade and investment policies.
"All economies in the Asia-Pacific region hope the FTAAP can come to fruition as soon as possible after being incubated for years to bring greater benefits to companies and people in the region," said Gao.