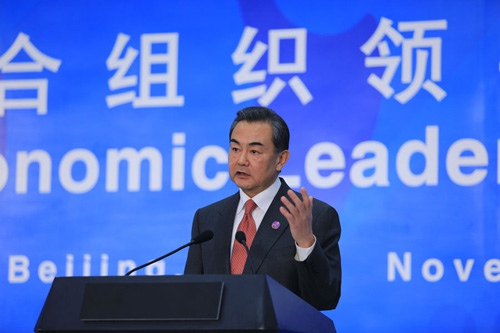 Chinese Foreign Minister Wang Yi at a news conference on November 8 (CHINA.ORG.CN)
China has played a leading role, embodied a strategic vision, shown an innovative spirit and adopted a practical approach while preparing for the APEC Beijing meeting, said Foreign Minister Wang Yi at a conference on November 8.
"Innovation is a prominent feature of our preparations," said Wang.
China has proposed to issue a commemorative statement for the 25th anniversary of APEC. It has also promoted cooperation in frontier areas including Internet economy, green economy, blue (maritime) economy and urbanization. 
By being practical, China has put forward several proposals with specific numerical goals: more than 800 million international tourists within APEC member economies by 2025, doubling the share of new energy in total energy consumption in the Asia-Pacific region and expanding the validity period of APEC business travel cards from three years to five years.
"These proposals are down-to-earth, tangible and measurable, which can play an important role in promoting economic growth and improving people's livelihood," said the foreign minister.