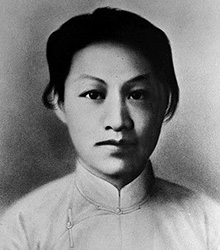 (FILE)
Zhao Yiman (1905-1936) was born in Yibin County, Sichuan. She became a member of the Communist Party of China (CPC) in 1926.
Zhao went to the Sun Yat-sen University in Moscow for study in 1927. She returned to China in the winter of 1928, and engaged in the underground revolutionary work in Shanghai, and then in Jiangxi.
After the September 18th Incident, she was sent to northeast China to start up struggles against the Japanese aggression.
In November 1935, the Japanese aggressors and the puppet troops encircled the 2nd Regiment of the 3rd Army of the Northeast Anti-Japanese Allied Forces. Zhao commanded her troops to fight fiercely against the enemies and killed more than 30 enemies as the political commissar of the regiment. In order to cover the troops to break through enemy's encirclement, Zhao was seriously wounded.
Several days later, the enemy found her in a farmhouse where she stayed to heal her wound. In the fighting, she was wounded again and captured by the enemy. Cruelly tortured by the enemy, Zhao would have rather died than yield. In order to extort a confession, the enemy sent her to a hospital to receive treatment. In the hospital, she gave wide publicity to the principle of resisting against the Japanese aggression and saving the nation. Han Yongyi, a female nurse, and Dong Xianxun, a guard, were deeply moved by Zhao's spirit and helped her to escape. Unfortunately, Zhao was captured again by the enemy and suffered even crueler torture. But she never gave in.
On August 2, 1936, Zhao wrote her last words, asking her children to continue the struggle. On her way to the execution ground, she sang loudly the Internationale and the Ode of the Red Flag, and shouted loudly "Down with the Japanese Imperialism!" and "Long live the Communist Party of China!"
(Source: PLA Daily)