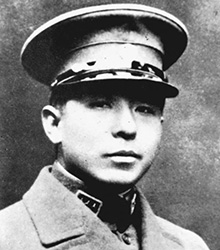 (FILE)
General Zhang Xueliang (1901-2001) (better known as Chang Hsueh-liang), Commander of the Northeastern Army and co-organizer of the 1936 Xi'an Incident, and son of Zhang Zuolin (1875-1928), a powerful warlord then in northeast China.
Together with General Yang Hucheng (1893-1949), Zhang helped the Communist Party of China (CPC) to pressure Chiang Kai-shek, leader of the then Kuomintang regime, to sign an agreement, on December 12, 1936, to fight against the aggressor in the Chinese War of Resistance Against Japanese Aggression.
According to records, Zhang was put under house arrest by the Kuomintang regime after the Xi'an Incident, which is regarded as a great boost to the War of Resistance Against Japanese Aggression, and brought to Taiwan in 1949.
On December 15, 1993, Zhang left Taiwan, for the first time in 44 years, to visit his relatives in the United States, and in 1995, settled in Hawaii where he died in October 2001.
(Source: Xinhua)