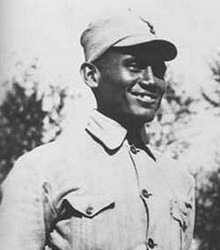 (FILE)
Dr. Dwarkanath Shantaram Kotnis (1910-1942) was one of five Indian physicians dispatched to China to provide medical assistance during the Chinese War of Resistance against Japanese Aggression in 1938. He is regarded as an example of Sino-Indian friendship and known for his dedication and perseverance.
The five physicians were sent to Yan'an, the revolutionary base, in 1939, where they were warmly welcomed by Mao Zedong (1893-1976) and other Communist Party top leaders. They were the first medical team to come from another Asian country.
Dr. Kotnis worked as a battlefront doctor where he frequently faced acute medicine shortages. He treated more than 800 wounded soldiers and performed operations for up to 72 hours without sleep during one long battle against Japanese troops in 1940. He was eventually appointed as the director of the Dr. Bethune International Peace Hospital named after the famous Canadian surgeon Norman Bethune.
In 1940, Dr. Kotnis met Guo Qinglan (1916-2012), a nurse at the Bethune Hospital. They married in 1941 and had a son on August 23, 1942, who was named Yinhua, which means India (Yin) and China (Hua).
His job as a battlefield doctor eventually took a toll on him and severely affected his health. He developed epilepsy just three months after the birth of his son. A series of epileptic seizures killed him on December 9, 1942.
Dr. Kotnis is buried in a courtyard for China's heroes in Shijiazhuang, north China's Hebei Province.