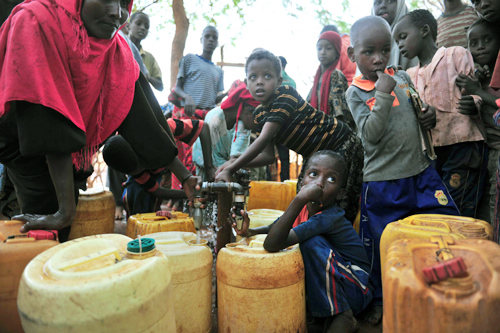 WATER FOR LIFE: Somali refugees fetch water at the Dadaab refugee complex in Kenya on August 6. Residents in the complex are chronically short of water and food (ZHAO YINGQUAN)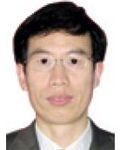 Worsening famine in the Horn of Africa, which threatens the lives of millions in countries including Ethiopia, Djibouti, Kenya and Somalia, has again sounded alarm bells over food security in Africa.
Since last year, the region has experienced its worst drought in six decades, resulting in a severe food crisis. UN statistics show drought and food shortages have affected 12 million, with Somalia being the worst hit. About 3.7 million of the country's 9.1-million population are suffering from hunger. Large numbers of Somalis have fled their homes to neighboring Ethiopia and Kenya looking for aid.
As Somali refugees keep pouring in, refugee camps along the Kenya-Ethiopia border have become so overcrowded that they are hard pressed to meet humanitarian needs. For instance, the number of refugees at the Dadaab refugee complex in Kenya has far exceeded its designed accommodation capacity of 90,000. The camp is now the world's largest and has over 440,000 people.
Since many refugees do not have access to sufficient food and drinking water, they are at high risk of starvation. In addition, epidemics caused by hunger are spreading in refugee camps. Children are particularly vulnerable to malnutrition, and many are near death. Jacques Diouf, Director General of the UN Food and Agriculture Organization (FAO), said on August 18 it is "unacceptable" famine continues to ravage the Horn of Africa.
Multiple causes
The severe drought is not the only reason for the famine. African countries' defective economic structures, social instability and failure to attach importance to food production are also to blame. Although agriculture remains the pillar industry in most African countries, they tend to focus on cash crops instead of staple food. Kenya, for instance, has promoted the planting of flowers, coffee and tea, products that can be exported for foreign exchange.
In Somalia, the long-fought civil war has not only devastated food production but has also hindered progress in international humanitarian aid. In its Resolution 2002 adopted on July 29 this year, the UN Security Council condemned the targeting and obstruction of relief-aid delivery by armed groups, while reiterating its concern over the worsening humanitarian situation in Somalia.
Global inflation resulting from developed countries' attempts to deal with their economic crises has also increased the impact of the famine. Many Africans cannot afford to buy food because of skyrocketing prices. Food prices in the Horn of Africa rose 33 percent over last year—84 percent for corn, 62 percent for sugar and 55 percent for wheat.