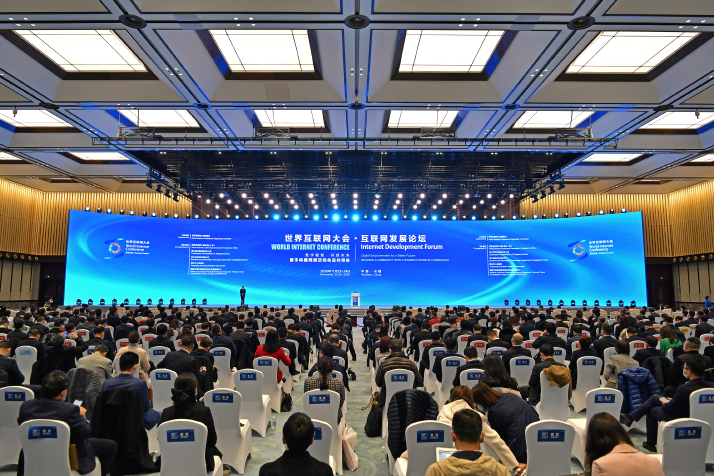 The 2020 World Internet Conference and Internet Development Forum open in Wuzhen, Zhejiang Province in east China, on November 23
(XINHUA)
When the Light of Internet Expo opened in the water town of Wuzhen in Zhejiang Province in east China on November 22, local star Xiaomanlu or Little Donkey was the cynosure of all eyes.
It is a logistics robot developed by e-commerce giant Alibaba's innovation institution DAMO Academy, a jaunty self-driving van with a glass front, enabled by artificial intelligence (AI) technology. Launched to improve logistics for the Double 11 online shopping festival on November 11, it has been delivering parcels to students at Zhejiang University in provincial capital Hangzhou and getting rave reviews. Xiaomanlu can choose the best traffic route and deliver up to 500 parcels a day. Xu Liang, an engineer with the academy, told Chongqing-based Shangyou News it can run 100 km on only 4 kWh of electricity. During the shopping festival, 22 such robots were put into use in a campus of Zhejiang University.
The autonomous vehicle is also in use in universities and communities in cities such as Beijing, Tianjin and Shanghai. With mass production in progress, the delivery robot will be more widely used next year.
The three-day expo, part of the 2020 World Internet Conference (WIC) and Internet Development Forum, showcased the latest trends in the Internet industry as well as cutting-edge Internet technologies presented by some 130 renowned companies and institutions, including Alibaba, Huawei, Tencent and Baidu.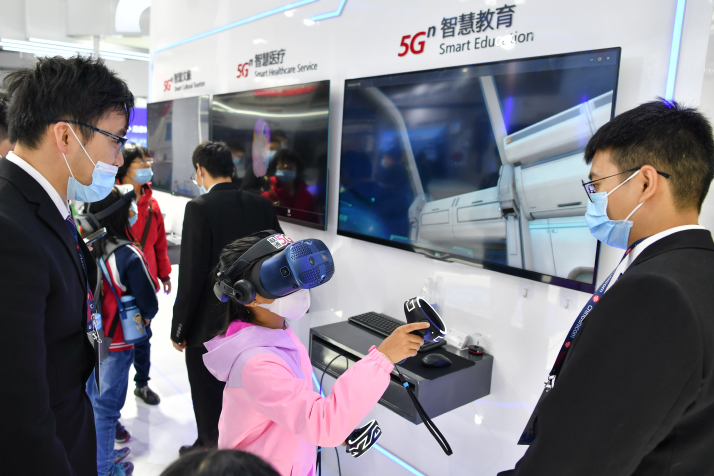 A display of smart education at the Seventh Light of Internet Expo in Wuzhen on November 22 (XINHUA)
The conference, first held in 2014, is also known as the Wuzhen Summit, named after its permanent site. A platform for discussing cyberspace development trends, showcasing information technology innovations and conducting cyberspace cooperation, the summit has become one of the most influential Internet meetings in the world.
Digital transformation
This year's summit was mainly themed on cyber security and global cooperation. China is ready to work with other countries to create a new paradigm for cyber security as well as a community with a shared future in cyberspace, President Xi Jinping said in a congratulatory letter to the forum.
"China is ready to work with other countries to seize the historic opportunities presented by the information revolution, foster new growth drivers through innovation, break new ground in digital cooperation, create a new pattern for cyber security, build a community with a shared future in cyberspace and join hands to create a brighter future for humanity," he said.
At the forum's opening ceremony, Liu Zhenmin, UN Under Secretary General for Economic and Social Affairs, said via video link, "As the world embraces digital transformation, the need for international cooperation has become more urgent than ever. The international community welcomes China's initiative and engagement in global Internet governance."
This year, the forum had to be adjusted due to the novel coronavirus disease (COVID-19) pandemic. "We changed this year's WIC to a two-day forum and also reduced the number of guests and activities," Zhao Zeliang, Vice Minister of the Cyberspace Administration of China (CAC), the nation's top Internet regulator, said at a press conference on November 2. He said that Internet technologies would be fully used to help people who could not come to Wuzhen to participate in the event
online. Subsequently, the agenda also included science-based anti-COVID-19 measures.
Xi hailed the important role of the Internet in promoting economic recovery, ensuring social progress around the world and promoting international cooperation against the pandemic.
Since the COVID-19 outbreak, telemedicine, e-learning, sharing platforms and collaboration systems have been widely used, he said in the letter.
Notable projects
Five projects that have made great contributions to the fight against COVID-19 were recognized as the world's leading Internet scientific and technological achievements at the forum. They included Tencent Meeting, a cloud-based video-conferencing software that makes it possible for meetings to be held anywhere anytime. During the epidemic on the Chinese mainland, Tencent Meeting provided free services for many large-scale important events. One of them was a video conference featuring renowned respiratory disease expert Zhong Nanshan and doctors around the world, in which he shared China's experience in battling COVID-19.
According to a report published by the Internet Development Research Institution at Peking University in September, Tencent Meeting saved 71.4 billion yuan ($10.8 billion) in social costs from January to May.
Food delivery giant Meituan's autonomous delivery was another of the five projects. Meituan used unmanned vehicles to deliver daily necessities in communities and at hotels and restaurants, contributing to epidemic prevention and control.
"China's science-based epidemic control has proved successful and we have had a deeper understanding of the power of digitalization than at any other time," Alibaba Chairman and CEO Daniel Zhang said at the forum.
Thanks to the wide application of digital technologies, health codes are being used for epidemic prevention and control, online stores have remained open when offline stores were closed, and people have grown accustomed to telecommuting and online education. People's way of life and work has all become more digitalized because of the epidemic, while digital technologies have increasingly become an infrastructure serving the whole society, Zhang said.
Li Zixue, Chairman of ZTE Corp., a major Chinese telecom equipment maker, said digital technologies such as 5G and big data have played important roles in the fight against the epidemic. Epidemiological survey has been conducted with the help of big data to trace close contacts of COVID-19 patients, which greatly improved the accuracy and efficiency of epidemic control. Medical care based on 5G technology has enabled doctors from multiple disciplines to remotely diagnose and treat critically ill patients, improving the treatment rate. Smart solutions have cleared obstacles in logistics and guaranteed supplies of anti-epidemic materials such as protective suits.
"We have built 4G and 5G networks in over 210 hospitals across the country. In Xiaotangshan Hospital in Beijing, we built 5G networks in three days and in Leishenshan Hospital in Wuhan, Hubei Province in central China, medical experts treated patients remotely using 5G technologies," Li said.
New models such as telecommuting and online education have thrived during the epidemic. According to statistics from the China Internet Network Information Center (CNNIC), China had 381 million online education users and 199 million telecommuting users as of June. Telecommuting and online education apps have great potential for development. They both prevented infections and helped with resumption of work and schools during the epidemic.
Compared with the severe acute respiratory syndrome epidemic in 2003, more complete Internet infrastructure and stronger computing capacity of Internet platforms have made it possible for several hundred million people to telecommute at the same time.
Data from the forum showed that China's digital technologies and Internet expansion are both developing rapidly despite the epidemic. China has the world's largest commercial 5G network. As of June, there were 940 million Internet users, according to the CNNIC.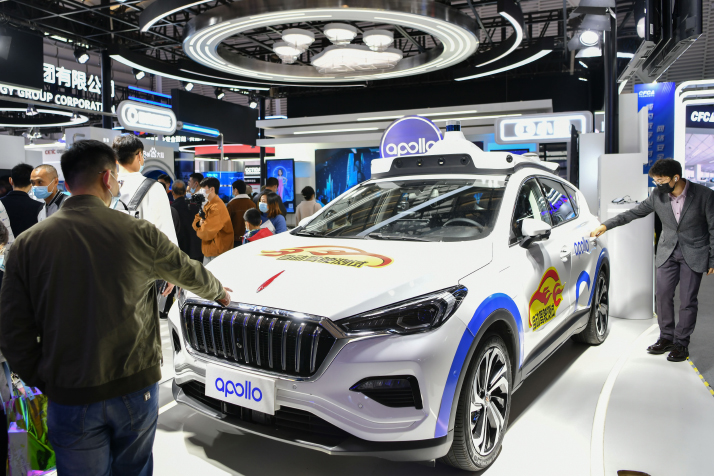 Visitors admire an autonomous test car developed by Internet giant Baidu at the Seventh Light of Internet Expo
(XINHUA)
A shared future
On November 18, ahead of the conference, the organizing committee issued a proposal
on building a cyber community with a shared future. The proposal stresses joint efforts to advance the development of the Internet, protect cyber security, participate in cyber governance, and share the development dividends.
The divide-and-rule policies of some countries in cyberspace have made the Internet a new front of international conflicts. Although the Internet has brought great convenience to people's lives, its potential to make the world a better place for all people is yet to be fully tapped. So it is necessary for countries to work together to accelerate the construction of information infrastructure and advance the development of 5G, the Internet of Things and the industrial Internet.
Zhuang Rongwen, head of CAC and chair of the WIC organizing committee, underlined the importance and urgency of building a community with a shared future in cyberspace in a written interview with the media. The international society also wishes to strengthen cooperation to confront the risks in and challenges for cyberspace together, he said, adding that China welcomes all countries to support and participate in the proposal, strengthen global Internet infrastructure construction and promote innovation and development of the digital economy. Countries should strengthen dialogue and consultation and promote a fairer and more reasonable global cyberspace governance system. They should also try to bridge the digital gap to realize common prosperity.
Tatjana Matić, State Secretary of the Ministry of Trade, Tourism, and Telecom-munications of Serbia, said through video link that technology is an important means to overcome political divide and geographical distances. Serbia will continue to maintain communication and cooperation with China to advance digitalization in future.
The integration of big data, cloud computing and AI with transportation, healthcare, and education has not only fostered the digitalization of the whole society but also deepened cooperation between countries.
The COVID-19 pandemic has accelerated the digital transformation of the global economy. It is likely to become a key force that reshapes the economic system and enhances governance capacity, said the World Internet Development Report 2020 released during the forum.
According to the report, the pandemic has stimulated the demand for cloud-terminal coordination and intelligentization, while Internet-related industries face new development opportunities.
The digital economy accounted for between 4.5 and 15.5 percent of the world GDP in 2019, according to the Digital Economy Report 2019 released by United Nations Conference on Trade and Development.
It ranked China second in Internet development globally, with the U.S. ranking first. Germany, the UK and Singapore followed. The ranking was based on evaluations of 48 countries and regions in infrastructure, innovation capacity, industrial development, Internet application, cyber security and cyberspace governance.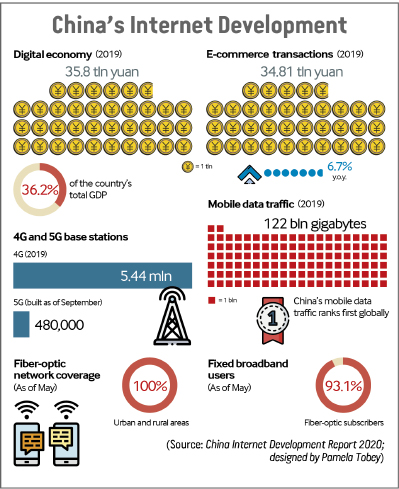 (Print Edition Title: Foundations for Future)
Copyedited by Sudeshna Sarkar
Comments to jijing@bjreview.com