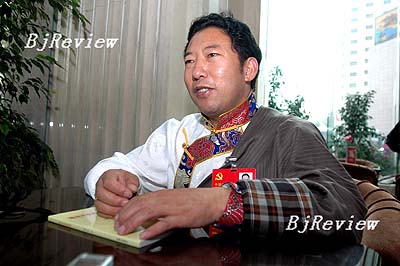 It's an eight-hour drive along a winding plateau road from the nearest business hub to Lhozag, one of China's most secluded county-level administrations in south Tibet. Lhozag Town, where the county government is situated, borders Bhutan to the south of the Himalayas. Even getting post and newspapers to isolated Lhozag is almost impossible and the town languishes in a world far different to the rest of the planet.
"Things will soon change here," Tibetan Garma Dengba, Secretary of the Lhozag County Committee of the Communist Party of China (CPC), told Beijing Review. On October 15-21, the 44-year-old attended the 17th National Congress of the CPC in Beijing, along with almost 2,200 delegates from across the country. Among the delegates, 10.9 percent are ethnic minority Party members, from 42 of China's 55 minority ethnic groups.
Lhozag County, which has a population of 18,000, covers an area of 5,031 square km. The Central Government has financed infrastructure construction in the area. In the last two years alone, renovation of roads stretching 698 km was completed, along with the building of five more hydropower stations. With transportation, electricity and telecommunications networks connected, small towns and villages are now optimistic about their future and the alleviation of abject poverty.
In a move to respond to the Central Government's call for revitalizing the country's vast countryside, the Tibet Autonomous Region's Government initiated a housing project last year, in hopes of resettling 80 percent of low-income local Tibetans to new houses. Under the five-year program, families with poor living conditions in Lhozag County are subsidized by 10,000-20,000 yuan ($1,333-$2,667) for house building or renovation. More than 1,300 households have so far been resettled in new houses, where family livestock is separated and kitchens and bathrooms are provided. "It looks much better than what our neighboring Bhutanese live in, apart from having enough food and more clothes," Dengba said.
"For ordinary people, what matters to them are real life problems-whether their children can go to school or whether medical service is accessible and affordable," he said, applauding the central leadership's prudent approach toward the issue of people's livelihood. "The Party's determined attitude to resolve problems concerning people's livelihood has been fully demonstrated in the political report made by General Secretary Hu Jintao at the latest Party Congress."
Dengba highlighted the point of coordinated development of different regions and the strategy of integral development of urban and rural areas. "Without policy support of the Central Government and assistance from more developed areas, the Tibetan people could not enjoy what they have today," he said.
Dengba also speaks highly of the proposal of the Scientific Outlook on Development that puts people's interests first and focuses on harmony between man and nature, saying it is significantly associated to future development of Tibet. On a plateau at high altitude, where frequent natural disasters occur, the ecological environment is evidently fragile. Once collapsed, it would be very hard to restore. Artificial plants and forestry cannot survive the extreme weather conditions in Tibet, thus protection is vital. "From the very beginning, 5 percent of the funds for construction of the Qinghai-Tibet Railway have been invested in defending the ecological system. Since the opening of the rail line one year ago, the number of Tibetan antelopes is adversely increasing in a well-preserved environment," he said.
Dengba feels the CPC has become more open, and the leadership has paid increasing attention to boosting interethnic harmony and expanding religious freedom. "Most Tibetan people follow Buddhism, so for Tibet, a more tolerant society of integration and diversity will help it develop stably and consistently," he said.
A more self-disciplined Communist Party of China was another focus of the 17th CPC National Congress. Regarding this, Dengba attaches great importance to maintaining Party integrity and social justice in advocating harmonious development. "Current problems challenging the Party are the implementation and enforcement of laws and Party institutions," he said, emphasizing the reinforcement of the anti-corruption campaign for a more clean and disciplined Party.