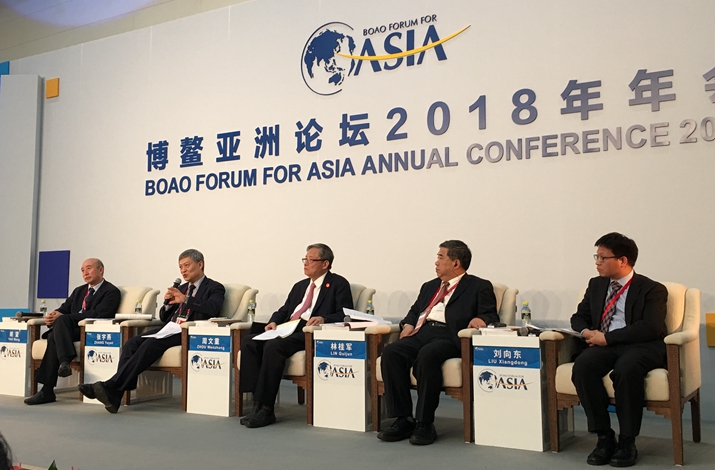 A press conference for the Boao Forum for Asia Annual Conference 2018 is held in Boao, Hainan Province, on April 8 (YUAN YUAN)
U.S. President Donald Trump is prescribing the wrong remedy for a real problem, according to Zhou Wenzhong, Secretary General of the Boao Forum for Asia (BFA). At a press conference in Boao, south China's Hainan Province, he pointed out the U.S. economy's excessive consumption and its declining savings rate.
"Trade protectionism can't solve the problems facing the American people…what Trump really cares about is domestic politics since he needs to live up to his election campaign promises," Zhou said.
Zhang Yuyan, Director of the Institute of World Economics and Politics at the Chinese Academy of Social Sciences, agreed. "Excessive consumption and a declining savings rate inevitably result in a deficit," he said during the press conference on April 8. "If the consumption structure doesn't change, the deficit will remain. The United States will have to import from other countries if it stops importing from China."
The United States has recently proposed additional tariffs on products imported from China, sparking opposition and countermeasures from the Asian country.
Founded in 2001, the BFA is a non-governmental and non-profit international organization committed to promoting regional economic integration. Its annual conferences take place in the resort town of Boao. This year's conference will last from April 8 to April 11, focusing on the theme "An Open and Innovative Asia for a World of Greater Prosperity."
The gathering aims to deliver the message that despite the rise of anti-globalization sentiment and trade protectionism, the international community--especially Asia--needs to be more open and connected than ever before, according to a BFA news release. Globalization and free trade are irreversible and unstoppable, it continued. Governments of all countries should actively participate in and promote cooperation; develop an open economy with higher standards; and thus reap the benefits from globalization, the statement said.
In addition, the BFA released its flagship reports on Asian economic integration, the development of emerging economies, and the competitiveness of Asian economies. According to the Asian Competitiveness Annual Report 2018, Singapore, the Hong Kong region and South Korea top the list of Asian economies. China ranks ninth on the list.
Copyedited by Rebeca Toledo
Comments to ffli@bjreview.com