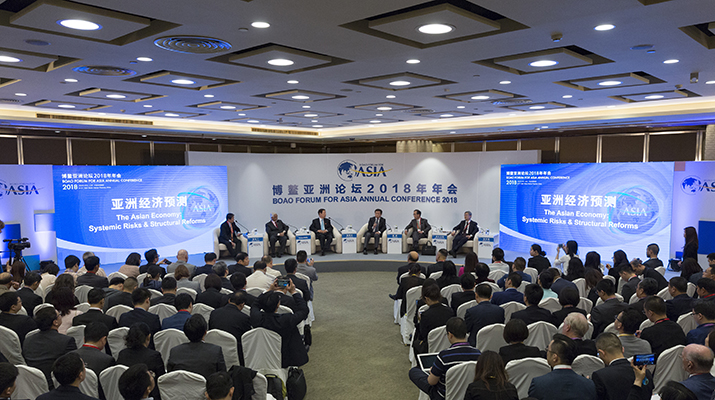 Economists share their opinions at a session on the Asian economy at the Boao Forum for Asia Annual Conference 2018 on April 9 (COURTESY PHOTO)
The recent China-U.S. trade dispute has triggered hot discussions at many sessions of the Boao Forum for Asia (BFA) being held from April 8-11 in south China's Hainan Province. Experts from China and abroad gave their analyses of the effects of the dispute on Asia and China's long-term solutions to the potential risks.
"We have a high level of wealth due to our savings rate remaining steady at over 10 percent for the past 15 years. We would rather invest in real assets such as infrastructure in neighboring countries than in U.S. treasury securities," said Fan Gang, Director of China's National Economic Research Institute at a BFA session on Asia's economy on April 9.
"In this way, the economic growth of our neighbors as well as those countries along the Belt and Road can be stimulated. This is part of our appeal for a community with a shared future for mankind," Fan added.
"What we are seeing is a translation of the impact of U.S. domestic politics and geopolitical risks between the United States and China," said Sanjaya Baru, Secretary General of the Federation of the Indian Chambers of Commerce and Industry. "China has a wise leadership. I don't think China sees this as a purely economic problem, thus I assume the solution will be more a political solution than an economic one."
Japanese economist Masaaki Shirakawa, former governor of the Bank of Japan, maintained that a country should not overly focus on political issues. "We should look at fundamentals. We should be reasonable," he said.
According to Dai Xianglong, former governor of the People's Bank of China, in the past 20 years, the Asian economy increased at an average growth rate of 6.8 percent and it will lead the globe in economic growth in the next 20 years.
At the session, economists also shared their opinions and forecasts on Asia's economy, particularly about how to prevent and control risks.
"The whole of Asia has become integrated. All of the economies interact with each other on one supply chain," Fan said. The trade friction between China and the United States will bring massive uncertainties not only to China's economy, but also to the entire Asian economy, which should be on high alert, he said.
Zhang Yuyan, Director of the Institute of World Economics and Politics at the Chinese Academy of Social Sciences, said that the U.S. monetary policy cannot be ignored and must also be strictly monitored. "The change of the U.S. monetary policy is an important variable in Asia's development," he said.
However, Dai also said the positive side of the Asia economy must be highlighted. "Besides risks, opportunities in Asia's economy should also be seen," he said.
His confidence in Asia comes from the strong development momentum in China; enhanced cooperation among China, Japan and South Korea; as well as new opportunities stimulated by the Belt and Road Initiative.
From rapid growth to quality growth, Dai said that China is taking the initiative to effectively adjust its economic development strategy. "I think in the next decade, China's growth rate will stay at around 6 percent."
Copyedited by Rebeca Toledo
Comments to ffli@bjreview.com